Into the Community: Moravian College's Off-Campus Housing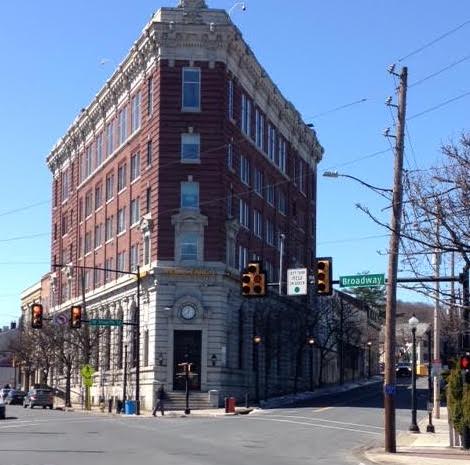 Hang on for a minute...we're trying to find some more stories you might like.
In fall 2015, Moravian College proudly welcomed 619 first-year students, its largest incoming class ever.
Deans and faculty members shared the palpable excitement of the new arrivals.
However, upperclassmen would soon feel the strain of an overpopulated campus.
With an increase in class size comes a shortage of available dorm rooms. Although the College guarantees housing for all students, the freshmen are the priority for dorming, causing upper-classmen to feel the strain of waiting lists. This influx of freshmen can also mean that upperclassmen get placed into overflow housing, which the College website states is typically for students who wish to live in the community within two blocks of the College.
To ease the strain on housing, the College decided to re-introduce off-campus housing.
The College ended off-campus housing in 2010 when the Hurd Integrated Living & Learning (HILL) building was constructed, a compound of both dormitories and classrooms. This new building guaranteed a bed for every student.
However, the increase in class size created a shortage of beds on campus, prompting the College to re-open the off-campus housing program.
The program is offered to rising juniors and seniors who have a minimum cumulative GPA of 2.5 and who are in good financial and academic standing with the school and community. The College only considers students who apply for off-campus housing, to ensure that they're eligible to leave campus and join the surrounding community.
Students apply to Resident Life early in the spring semester and are notified whether they are accepted or not when they receive their lottery tickets for the housing selection process.
In addition to addressing the shortage of beds, the off-campus arrangement has the potential to aid a student's personal development.
Amanda Merson, associate director of housing and event planning, states that off-campus living is intended to positively involve students in the community. "Being an off-campus resident increases your ability or awareness of what it means to be a neighbor," she said. "It's [about] trying to be respectful and civil with people you don't engage with all the time."
Students who opt for off-campus living are required to provide their housing address to the school approximately one month before the beginning of the fall semester.
To locate affordable housing in Bethlehem, the College encourages students to use Places4Students.com. Moravian partnered with the site because of its strong reputation and reliability, as well as its current connections with other colleges in the Lehigh Valley. Lehigh University also uses Places4Students for off-campus housing.
Moravian students will find that most of the places on the website are located on the south side of Bethlehem.
According to Merson, Moravian hopes to be able to offer living options on the north side in the future. To do that, the College plans to take advantage of the North Side 2027 project, which is the city's plan to revitalize the neighborhoods surrounding the William Penn and Thomas Jefferson Elementary Schools and Moravian College.
The task of finding an affordable apartment weighed heavily on the mind of Moravian College senior Kaitlin Stefanski. Intending to live in the area for a few years after graduating, Stefanski opted to find an apartment on her own rather than use Places4Students, which primarily offers short housing contracts tailored to college semesters. The only difference Stefanski found between living in the apartments offered on Places4Students and living in a college dorm was the cost of rent and location.
"I don't think they considered a lot of stuff, like the cost of living in Bethlehem," she said. "Most landlords require your combined income to be triple the rent, which makes it difficult for college students to afford places in Bethlehem."  
Despite the high rent, Stefanski does not regret her decision to live off campus as it is still cheaper than living on campus.
"I miss the convenience of being close to classes, but tuition-wise you can't really beat it, especially if you're living with a roommate to cut the cost of living. I don't know about other off-campus students, but living off campus saves me about $6000 every semester," she said.
Moravian College junior Zechariah Schweitzer is considering living off campus for his senior year.
"I'm hoping it will give me a sense of independence," he said."You don't have the same resources to fall back on, so you'll have to think not only about your school work but how you're going to take care of yourself."
Schweitzer hopes that living off campus will provide him with space for peace and quiet, away from the ruckus of campus life.  
According to Merson, 30% of students are living off campus for the 2017-2018 academic year. The College is looking to gradually increase the number of students living off campus in the next three years.