Margaret Atwood Visits NCC to Talk About 'The Handmaid's Tale,' Writing, and Social Issues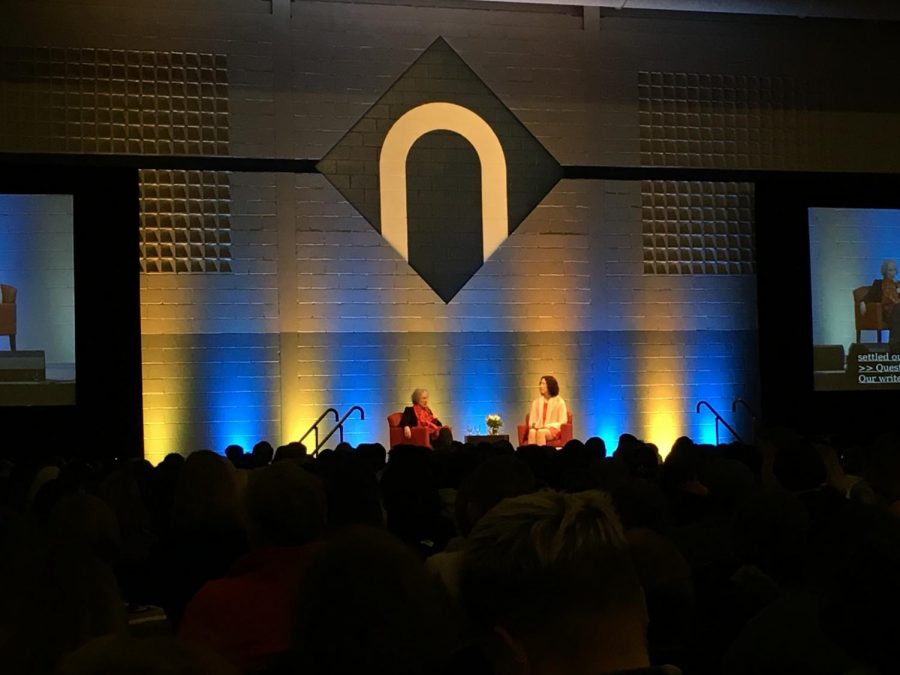 Margaret Atwood Visits NCC to Talk About 'The Handmaid's Tale,' Writing, and Social Issues
Hang on for a minute...we're trying to find some more stories you might like.
Margaret Atwood's novel "The Handmaid's Tale"  has become a bestseller in the world of fiction, especially with the hit Hulu TV show that adapted the book. The dystopian blockbuster about a world where most women cannot conceive and therefore makes slaves out of women who can conceive has become a cultural phenomenon, motivating women activists to make their voices heard in pro-choice and pro-life movements.
On Tuesday, April 17, 2018, the famed author visited Northampton Community College to make a keynote speech on the college's visiting speakers theme, "Exploring Identity Through the Humanities." The event, attended by hundreds of students and community members, was sold out.
Introduced by Northampton Community College student Melanie Kelleher, Atwood started her  address by considering what it means to create a character in a story. "How do you know who I am?" she asked. "How do I know who you are?" Humorously, she noted in relation to creating supernatural characters, "You can't be a secret zombie. If you are a zombie, everyone knows it." More importantly, Atwood said that, "We are what we have, but we are also who we have lost."
Atwood went on to discuss the world of "The Handmaid's Tale," which takes place in dystopian America, known in the book as The Republic of Gilead. Atwood discussed how the frightening world that the novel takes place in was not one without precedent: "Nothing goes into 'The Handmaid's Tale' that didn't have a precedent in real life." The names given to the characters are meant to erase their identities, just as names given to slaves and Jews did. The colors that each of the characters wear have their own meanings, especially that of the handmaids' themselves, who wear red to represent the biblical Mary Magdalene, a prostitute. "In 'The Handmaid's Tale'," she noted, "you are what you wear, or you are supposed to be what you wear."
After the speech, Atwood fielded questions from the audience. The topics of the questions ranged from the current political climate in the United States and her writing process to the influence of technology and the internet on writing.
Atwood's response to a question about the 2016 presidential election received a lot of applause: "I'm hopeful that people in America are still dedicated to the idea of living in a democracy and that they will push back against any attempts to destroy that," she said. "And what would that include? It would certainly include respect for human rights and some understanding of what free speech is supposed to mean, and some respect for truthfulness in journalism."
Atwood received even more applause for her take on the notion of the "perfect woman." "Okay, there is no perfect woman, you can relax," she said. "A lot of what you see in magazines is makeup, lights, and camera angle, and filler. So there are images of perfection, but they're just images."
Atwood's address was an immense success. She presented herself not only as a master of fiction but a master speaker as well. Well-spoken, humorous, and relatable, Atwood is sure to continue to be a respected literary figure. This event at Northampton Community College just skimmed the surface of Atwood's genius, and attendees surely left with more inspiration than they could have expected, along with the desire to explore more of Margaret Atwood's work.