John Desmond Discovers the Perfect Fit at Moravian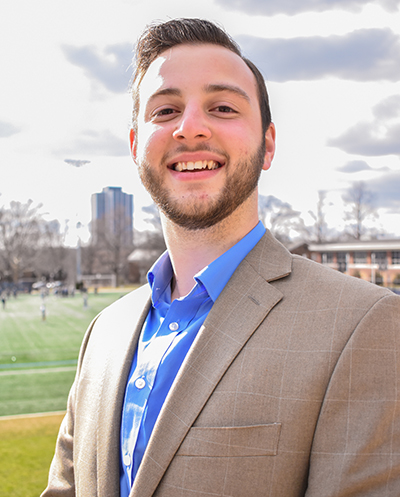 Hang on for a minute...we're trying to find some more stories you might like.
Before deciding that I was going to spend my college career at Moravian, I first had to fill out the application, take a tour of the campus, and speak with professors and current students to evaluate just how well Moravian College would suit my needs as an intended Accounting major, right? Well, I did not do a single one of those items, with the exception of applying to Moravian College. My journey at  Moravian has been an interesting one, so let's start from the beginning:
Senior year of high school in February 2015 in Ms. Manzo's AP Psychology course, I received an email about a free application for Moravian College. I wasn't familiar with the school prior to receiving that email, and I had already submitted all my college applications, or so I had thought. I knew Ms. Manzo had attended Moravian for her Master's, so I questioned her about her thoughts on the school; she spoke positively and mentioned that all her experiences at Moravian were enjoyable ones. She advised me to apply because why not take advantage of  a free application?When I returned home from school that day, I filled out an application to Moravian College.
Early March appeared on my calendar quicker than I expected and before I knew what was happening, I received a thick large envelope from Moravian College:my acceptance letter. The letter congratulated me on my high school achievements and offered me a position to attend the sixth-oldest college.  President's Grigsby signature was on the bottom of the letter with a kind regard about welcoming me to the pack. I now had to make a decision between the school I thought I was set in stone going to: Bloomsburg University, or taking a chance and attending Moravian College.
My offers from the two schools consisted of various scholarships and awards which helped reduce the cost of attending both institutions significantly. Being the numbers guy I am, I calculated the cost of commuting to Moravian College and living at home compared to moving an hour and a half to a campus in Bloomsburg, Pennsylvania. The most economically efficient choice was Moravian College, so the deposit was mailed to 1200 Main Street.
Most prospective college students will take a tour of the campus before coming. I mailed in the deposit around mid-March and still had not seen Moravian, nor did I have a good grasp on where the school was located until a rainy night in April. I was presented with an extra credit opportunity, for my AP Government course, where had the chance to listen to the former Bethlehem Mayor, John B. Callahan. He sat on a panel with two other politicians and  spoke about current politics and the direction the city of Bethlehem was headed in. My best friend Tom drove a car full of our friends and classmates to Moravian; it was on that dark, rainy April night I was able to "see" Moravian College for the first time.
May registration came quicker than expected, and it was a surreal experience to select classes for my first semester at college; fast forward three years later to 2018 and I'm a senior getting ready to graduate. Reflecting on my journey to Moravian and all that I have done here at the College has shed some light: there's no place I'd rather be.
In my short tenure at Moravian, I have had a wide array of opportunities: I was president of the Amrhein Investment Club and the Amrhein Trustee to the Investment Committee, a representative of the United Student Government, a reporter and photographer for The Comenian, a staff member for The Benigna, and a member of the Accounting Club. My time at Moravian has been well-spent by interacting with staff, faculty, and students. So, before I leave this wonderful place that I call home, I do have a few tips and pieces of advice for the hounds of tomorrow:
Talk to anyone and everyone: regardless of whether they are part of the faculty, staff, or office  personnel. Everyone at Moravian has a story. No two stories are alike and you can learn something by listening to the experiences of others. The professors here are experts on their chosen subject matters, so if you truly want to learn, be sure to visit them during their office hours.

Get involved: you'll be busy every single day on campus, but being active and staying connected to the campus community will help pass time. Participate in everything from recreational sports, MAC events, and various clubs and organizations. Take the opportunities that Moravian has to enrich your mind, sharpen your leadership skills, and immerse yourself in a community of people who will challenge your thinking.

Speak your mind: this college was founded upon the revolutionary idea that a 16-year- old girl was going to educate the women of tomorrow. We trace our roots back to 1742 and we have been revolutionary ever since. Question policies, ideas, agreements. State your argument and support it with factual evidence and concise details. Now this one may have you a bit stuck and it may bring on the critics, but college is about shaping yourself as a person and taking control of your future. You can be complacent and go about your merry business, but if something does not seem right, or if the implementation of some programs or services the college provides (i.e., an email policy and faulty app) doesn't sit well with you, then speak your mind and  come up with a solution. We are here to educate and enrich ourselves for the future.
As much as I complain, I have made the most of my college career and could not imagine going anywhere else other than Moravian College. People ask me: are you ready to graduate? Yes I am, but the moment I cross the stage and receive my diploma will be bittersweet. I would advise future Hounds to leave no stone unturned and explore Moravian College and all of its offerings; when people ask you if you're ready to graduate, make sure your answer is  yes.
My time at Moravian has been much too short, but it is time to start my professional career and sing the praises of the education and quality of Moravian College to the corporate world. Moravian has provided me with everything I could have needed. I've made the most of my college career, so now I challenge you to make the most of yours.