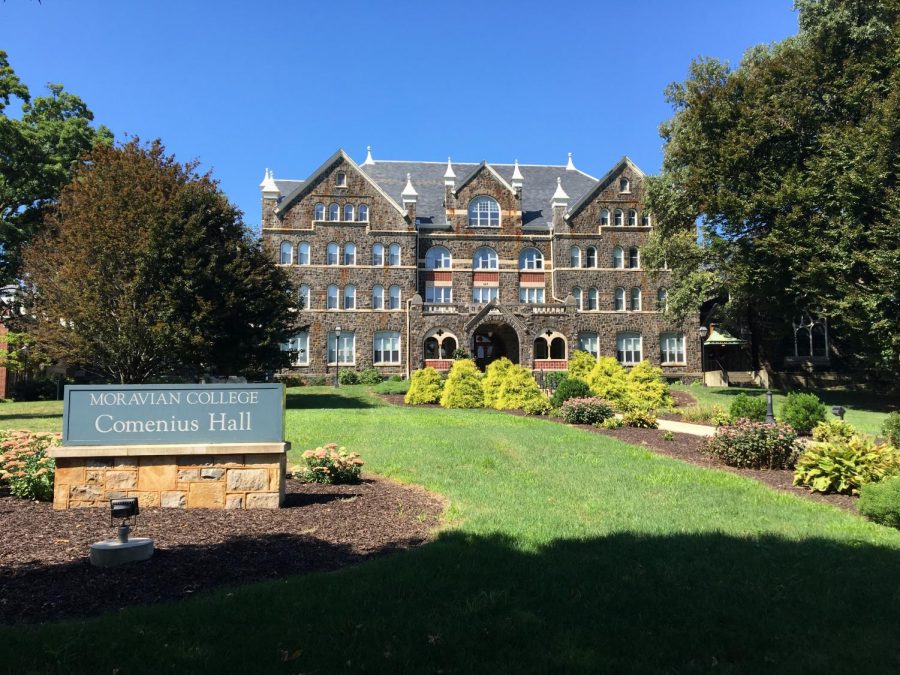 Kaytlyn Gordon
Deciding one's future career path at the mere age of eighteen is a lot to ask of an incoming college freshman.
Thus, until recently, typical Moravian College students would find themselves declaring a major in the second semester of their sophomore year, the same time frame as the nationwide average. For the Class of 2019, for example, 3% of students declared in the second semester of their freshman year. By the second semester of the Class of 2019's sophomore year, 43% had declared.
By declaring this late, students are exposed to a variety of disciplines, as delineated in the Learning-in-Common requirements. Indeed, introducing all students to a broad range of disciplines — some of them surely new to incoming freshmen — is one of the goals of a liberal arts college.
That model, however, is changing. More and more Moravian students are declaring their major earlier than the end of their sophomore year.
In fact, a growing percentage of students enter Moravian with a major or program track already in mind. This is especially true for those entering pre-professional programs such as nursing and business.
The numbers are stark: by the beginning of sophomore year, nearly half the Class of 2021 was considered to be declared.
"[In regards to students entering college for the first time], I would say many students have a professional direction in mind," said Dr. Nancy Allen, Director of Academic Advising at Moravian College.
Why the new trend? Most of the reasons lead back to one answer: students wanting to be employable right out of college. By declaring early, students reassure themselves that they will be able to find a job soon after they graduate and thus be able to begin paying off their student loans.
The popularity of majors at Moravian such as nursing and those in the various business tracks point to this new trend, as they are more likely to lead directly to specific jobs in ways that traditional liberal arts majors, like English, psychology, and sociology, may not.  
"One of the big ones is the health fields. As you know, we have some new programs in physical therapy and speech pathology, and students are attracted to them as they are fields they feel pretty confident that they can get a job in," said Dr. Allen.
The second most popular major at Moravian is business. Usually students who major in business find themselves going back to school to earn more specialized and advanced degrees. However, the business and economics department at Moravian already offers programs that allow students in these programs to receive both their bachelor's and master's degrees in 5 years. These programs are referred to as the "Dual Degree 4+1" and are offered along with any business bachelor's degree. The master's programs include a Master of Business Administration, Master of Science in Predictive Analytics, Master of Science in Human Resource Management, and Master of Health Administration.
According to the department's web page, "enrolling in the 4 + 1 program will save you a total of 44% off your graduate degree tuition. Additionally, completing the graduate degree in just one year will save you one year of living expenses while qualifying you for master's degree-preferred or -required job opportunities." This opportunity to earn two degrees in five years is quite appealing to incoming students as it allows them to save money and time and receive an education that my increase their odds of getting a job soon after graduating.
The top majors at Moravian are in nursing and the applied sciences fields (PT, OT, etc.). Allen isn't surprised. "The interest in health sciences is a national trend," she said.
To declare majors in these programs, students are required to submit an additional application to  the College. According to the nursing department's web page, the application must show that students have at least a 3.4 high school GPA, a SAT score of 540 in math and a 560 in evidence-based reading and writing, or an ACT score of 24 or above.
Once accepted into the nursing program, students are put on a nursing track with access to the recommended courses so they can complete the major in four years. For those interested in  health fields, Moravian's nursing program is quite appealing because it offers a clear path to a degree, an all-but guaranteed job after they graduate, and the possibility to specialize.
The new health sciences building, with its innovative technology, including an electronic cadaver lab, likely helps attract future nursing students to Moravian. By emphasizing health sciences, the College draws incoming students who declare their interest in a major before stepping onto campus.
"A student who has a really focused idea in nursing usually stays with that, opposed to a student who usually has a more general interest in the health sciences. They usually seem to move around in the health field," said Allen.
What does the trend to declaring early mean for schools like Moravian? One possibility is that the liberal arts college as we have understood it may increasingly become a training ground for proven professions.
"I would say having a general plan matters in order for a student to feel more comfortable in coming to college," said Allen. "It is good to think, 'Well, this is something I am interested in. I am going to flock to that area and that faculty and get to know some other students interested in those areas.' However, I also believe in an ideal world, students will also give [themselves] a chance to explore, and I think our Learning-in-Common requirements help to facilitate that."