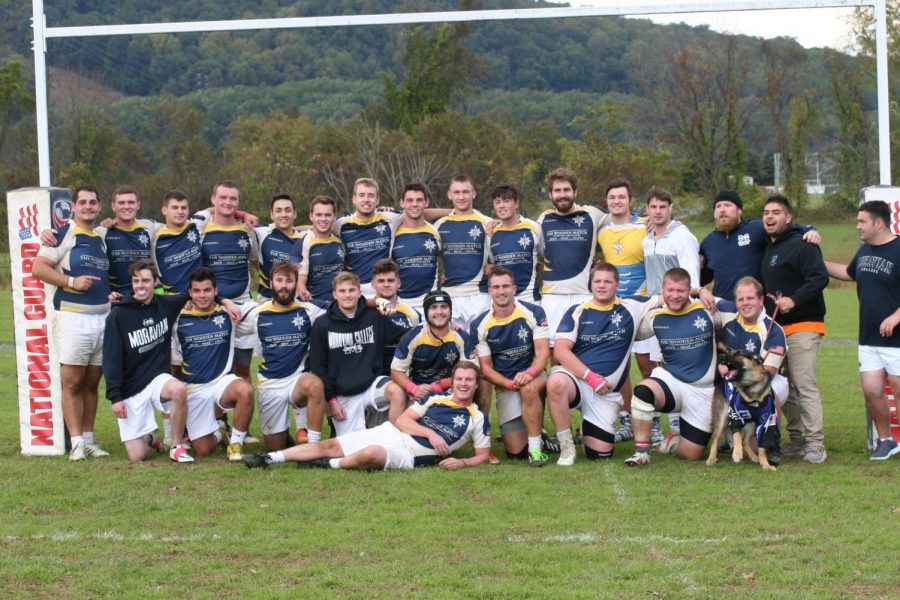 If you've walked past Betty Prince Field, you've probably seen the Moravian Rugby Club practicing.
For three days out of the week, this club meets to train like any other sports team here on campus. Unlike soccer, basketball, baseball, or lacrosse, however, rugby is not recognized by the NCAA, which means that rather than a team they are considered a club. 
Before Irish-born Shane Casserly founded the Rugby Club here at Moravian in 2015, if you wanted to play rugby, you would join the Lehigh Valley Rugby Club. Representing both men's and women's rugby, the Lehigh Valley Rugby Club accepts everyone who wants to get involved in the community and have fun. 
Like most sports on campus, the Rugby Club relies on the passion and drive of the players to work hard. The responsibility of maintaining the club is up to teammates and their advisor Beverly Greer-Hockemeier who, over the past four years, has seen this club has come a long way.
For the rugby team, there isn't much of an off-season. "In the fall we have 15s," said junior Evan Weiss. "So it is 15 vs. 15, and in the spring we play 7s which is 7 vs. 7. We play five to six games a day on Saturdays."
Starting as Division III, the Rugby Club won championships and crushed rivals. While victory is sweet, the club wanted a little more competition. Starting in 2018, it was promoted to Division II, taking on bigger and better teams. After defeating Bloomsburg 22-0 on April 13 of this year, Moravian secured their first Division II 7s Championship.
In addition to working hard and competing in tournaments, this club offers a strong brotherhood. "You definitely find your family," said senior Clay Lewis. "It's just great friends playing a beautiful sport." 
Rugby is a game based on talent and physicality. While they claim their fundamentals come second to their physical strength, they have proven themselves on more than one occasion.
The highlight of their season was their victory over Lehigh. Sophomore Sean Gaida says, "We went 2 and 4 but we beat Lehigh and that's all that matters; winning the battle of Bethlehem."