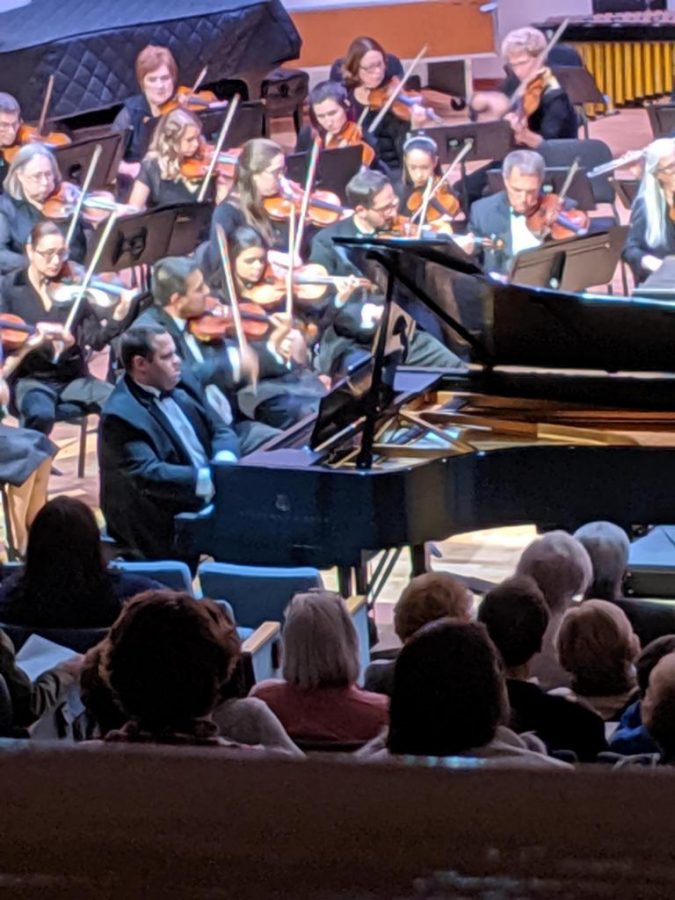 On November 10, the Moravian College Community Orchestra performed a concert featuring the 2019 Concerto Competition winner, Julius Sarkozy. 
Under the direction of Donald Spieth, the Moravian College Community Orchestra (MCCO) features both Moravian College students and community members who come together with the common goal of performing great classical orchestral music at the highest level possible. Their repertoire focuses on works from Baroque to contemporary, and features premieres of works by Moravian College faculty and students. 
In the first half of the concert, MCCO performed Modest Mussorgsky's "Night on Bald Mountain," which was a terrific way to start the concert as it is a high-intensity piece featuring intricate harmonies. They finished their first half of the concert with Georges Bizet's "L'Arlésienne Suite No. 2," which featured flutist Rachel Cupp and saxophonist Daniel Schirripa. 
The second half of the concert was different than previous semester's orchestra concerts, because it featured Sarkozy performing Camille Saint-Saëns's "Concerto for Piano & Orchestra No. 2, Op. 22, in g minor."
The Concerto Competition is held every year for classical music majors, who perform a large solo work accompanied by either the Moravian College Wind Ensemble or the Moravian College Community Orchestra. Every year, several students audition for this honor, but only one student receives it for that upcoming academic year. 
This year's winner is pianist Julius Sarkozy, a junior music major with concentrations in both piano performance and sacred music. He currently studies piano with Dr. Arianna Goldina and organ with Rebecca Lepore, who is a Moravian College alumnus. Last year he was the 2019 recipient of the Betty Aierstock Moore Prize, which is awarded to the most outstanding pianist in his or her junior year. In addition to his other accomplishments, Sarkozy has musically directed several musical theatre productions around the Lehigh Valley, both for high schools and community theatres. He has also participated in a continued position as a studio intern for the Walt Disney Music Group.