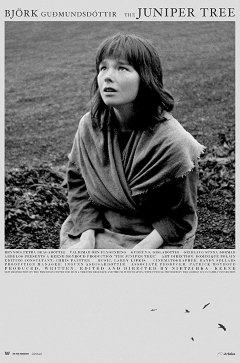 On February 3, as part of its International Film Series, the Frank Banko Alehouse Cinema in Bethlehem screened the Icelandic film "The Juniper Tree." 
Directed and written by Nietzchka Keene, the 1990 film features a cast of five characters, one of whom is played by the Icelandic singer-songwriter Björk. 
Set in medieval times, "The Juniper Tree" explores the Brothers Grimm fairy tale of the same name and tells the story of two sisters, Margit and Katla, who escape their home after their mother is burned at the stake for witchcraft. They meet Johan and his son, Jonas, who offer them shelter and protection. As the movie progresses, the sisters set up a new family unit with Johan and Jonas, until Katla's budding witchcraft powers start to create problems. 
While the February showing was the film's first premiere in Bethlehem, the movie has had connections to both Bethlehem and Moravian College since its initial release in 1990. 
Dr. Larry Lipkis, a professor of music at Moravian and the College's composer in residence, played an integral part in the film's development, composing all of its music. 
The Comenian sat down with Lipkis in order to learn more about the film, the process of composing music for film, and some of Lipkis's other achievements. Below is an edited version of our conversation. 
How did you come across the opportunity to score for "The Juniper Tree"?
I was at UCLA as a visiting professor in 1989 and 1990 [when] the filmmaker Nietzchka Keene contacted me. Her studies were in Icelandic folklore, and she had gotten a Fulbright grant to go to Iceland to make a film based on the Grimms' fairy tale "The Juniper Tree." I got involved in the project after it had been filmed, work[ing] from the film's rough cuts. I did not actually go to Iceland, unfortunately.  
What was your process like for composing the score?
I wanted to make my music integral to the film itself, which takes place in medieval Iceland. The landscape is stark. The film is in black and white, [with] very few sets and no costume changes to speak of. So, I knew I wanted to keep [the music] simple. 
Some folk songs were sung during the film. For example, Björk and the actor playing the father sang some songs, which are Icelandic folk tunes that Nietzchka introduced to them. So, I based a couple of my pieces on those songs or some variations of the songs that were already there.
Then I researched the musical instruments that may have been in Iceland at that time, some string and flute instruments. I tried to create a sound world that matched the setting and the theme of the film. I used flute, women's voices and a wordless choir, and then a string quartet playing very simple music that did not have a lot of vibrato, so it did not sound as rich and romantic and more thin like medieval music. I also had a little bit of percussion just for the scene with the Northern Lights, but otherwise I tried to keep it very simple. 
I actually wanted there to be a little more music then wound up being in the final version [of the film.] I once said to Nietzchka, "This scene could use a little music," and she said, 'No, no. I want it to be silent." She was very much into Ingmar Bergman, the Scandinavian filmmaker whose film "The Virgin Spring" is quite similar to "The Juniper Tree," as they are both in black and white and very little music is featured. I think Nietzchka had that image and sound world in mind. She wanted to let the action and the closeups and the very harshly beautiful Icelandic landscape speak for itself without the underpinning that fills a lot of American movies.  
What were some of the more challenging aspects of film scoring? 
I didn't use any electronics [although] I could have. I took a film course while I was at UCLA as a student; I knew how to use click tracks and synchronization. This project was all acoustic, so simply rehearsing and getting the musicians to play the way I wanted to was one challenge. 
For the film as well as in general, who have been your compositional inspirations? 
I guess my background in playing early music was helpful because I was using that as a sound model. I play the viola da gamba, which is an early string instrument from the Renaissance. So, I'm used to a thinner, lighter sound. That was my sound idea for the strings. I don't play flute, but I play recorder, specifically Renaissance winds. I wanted that kind of sound. Something airy, not terribly rich and sophisticated, almost folklike in some ways. I do like a lot of ethnic folk music, so that influenced me as well. 
Has this experience with film scoring impacted your composition process in any way?
Not really. You lose quite a bit of control when you are writing a film score because you don't have the final word. There is always the director who says, "Thank you for writing that, but I don't think we will use it." Unless you're really famous, like John Williams, film composers have very little say in what is going to be used and how much is going to be used. I like to have autonomy over my music and control it. 
What has been your most memorable project that you have composed for? Are you working on any projects at the moment?
I wrote an opera, a chamber opera, several years ago that will be performed in New York in October. It will also be performed in Allentown, along with some educational outreach. So, I am spending a lot of time with that and re-orchestrating and working on aspects of that because I need to get it out pretty soon to the singers and instrumentalists. Writing operas is very different from writing just instrumental music or vocal music. It combines a lot of things. It's fun. You can see why Mozart wanted to write so many of them, but you can also see why he died at age 35. 
Besides composition, what are some of your other musical interests? 
I play in a professional early music group called The Baltimore Consort, which I  have been in for 35 years. We are still very active. We do concerts all across the country and we have some in Europe this summer. So, that has been a great source of pleasure and music-making for me. 
There are three sides of musical life: teaching, composing, and performing. I try to keep them all in balance. I love teaching and I try to make them all relate to each other. I teach composition and I bring my own pieces in to my students. When I teach I [often] use the early music, like with the Monteverdi and the Baroque ensemble that I coach here at Moravian. 
What advice do you have for students who want to become composers or score films in the future?
If you are asked to score a film, get to know the director and get to know the project very, very well. Try to live in the world that the filmmaker is producing. You have to check your ego at the door and get into the world that is being created in the film. That would be my first advice. Also, figure out the sound world that you want to create and try to find the right instruments, material, and program that will help you with that. Lastly, be very patient and flexible and work very hard.