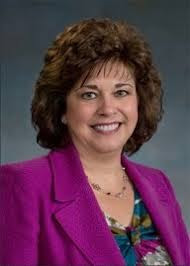 For this alumni spotlight I interviewed my mother, Carolyn Furst, who graduated Moravian College as Carolyn Frisoli.
Furst grew up in Salisbury Township, Pennsylvania, and was a first generation college student. She graduated in 1987 with a juris doctor degree from the Dickinson School of Law. and now lives in Allentown, where she works as an attorney specializing in family law, personal injury, workers' compensation, wills and estates, real estate, and general civil litigation. 
What year did you graduate Moravian?
I graduated Moravian in 1984. 
What was your major here at school?
I majored in mathematics and minored in Spanish.
What clubs and activities were you involved in while a student?
I was involved in the Moravian College Dancers, Sigma Tau Sigma [which was the service sorority at the time], the Math Honor Society, and the Honors program. 
What has changed the most since you were a student?
The widespread use of technology. When I was in college, there was a central computer lab, but we didn't have individual computers. We were very limited in regards to computers. Also, there was no such thing as the internet or cell phones. I was a commuter, so if I needed to call home or get a ride, I actually had to use a pay phone on campus. If you wanted to research something, you actually had to go to the library. Having the ability now to research something at our fingertips is the biggest change since I was a student.
What seems to have stayed exactly the same?
I think the close-knit, small community atmosphere of the college has stayed the same. The campus also still has the same charm and beauty it had when I was a student.
What were your favorite classes as a student?
 I was a math major, so I enjoyed my math coursework a lot.
How did Moravian prepare you for your future after college?
I think it instilled in me a work ethic, good study habits, and a drive to excel academically.  
What is your funniest story from being a student here?
I can't really think of a funny story, but one of my fondest memories was covering a relative's Volkswagen Bug in aluminum foil to make it look like a spaceship for use in the homecoming parade as part of Sigma Tau Sigma. One of our members dressed up as ET, which was a popular movie at the time.
What do you wish you could tell your college self?
I would have told my college self that hard work is very important, but taking some time to relax and enjoy social activities is also important to finding a balance.
Who was the professor who had the biggest impact on you and why?
Dr. Marialuisa McAllister was one of my math professors who had a big impact upon me due to her love of math and commitment to higher education. I recall traveling with her and another student to Miami University in Ohio to give a presentation at a math conference. I also have to mention Dr. Janet Loengard, who was my honors advisor senior year.  She provided a great deal of guidance to me in completing my honors project and served as a role model as she too had attended law school.