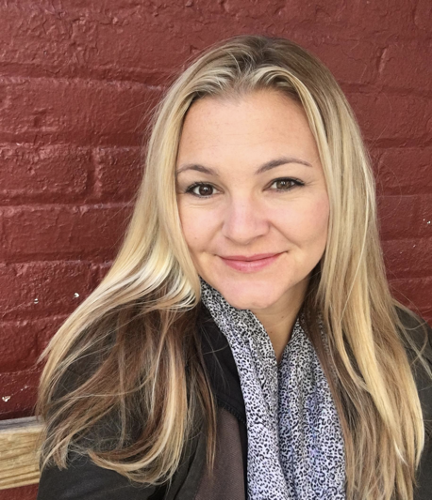 Camille Murphy is an associate professor of art, acting department chair, and head of the Graphic and Interactive Design track at Moravian College. She has a Master's in digital communication design from Pratt Institute and over twenty years of graphic design experience. Her specialties include branding, marketing, publishing, and art direction. She designs at her studio Hammer + Nail in New York City, and her work can be found at www.skybluepink.co. She has taught at Moravian College for five years.
What inspired you to go into your field of study?
Around the time I was finishing college, I started to hear about this thing called the Internet. It was so interesting and new. I was so inspired that I enrolled in graduate school to study Digital Communication Design at Pratt.
What projects are you currently working on?
I just curated a major exhibition in Payne Gallery here on campus, titled, "The Urban Forest Project," featuring the well known designer and AIGA medalist, Mark Randall. This exhibition is also part of InFocus. It will be at Payne Gallery until April 1st, 2021. If you are on south campus, please stop by to view it.
I also work in the design studio of legendary designer Seymour Chwast. And, I recently finished several websites for a design firm in New York called Langton Creative.
What do you think is the most recent important development in your field of study?
I think that COVID has fundamentally changed the way that people work together and interact with each other. It has made the use of digital platforms like Zoom ubiquitous. Years ago designers would show their clients their designs printed out on boards that they would take to a meeting. Now we can share a Google doc or XD prototype and edit content in real time together.   
What job would you have if you couldn't be a professor, regardless of salary and job outcome? Why?
If I wasn't teaching design I would be doing design full time. I would go back to being a creative director at a design firm or company because I love design.  
What do you know now that you wished you knew when you were in college?
That there is no rush. It's ok to major in one thing and then go to graduate school for something else. There is plenty of time to figure it out. 
What is your biggest student pet peeve?
Students that are really noisy in class . . .  humming, tapping, singing, talking . . . it can be distracting.
What was the last streaming show that you binge-watched or the last good book that you read?
I loved watching "Peep Show," the British Comedy Show. And, the last good book I read was "Just Kids" by Patti Smith.
For design-related answers, I loved the Netflix series "Abstract," and Michael Beirut's new book, "How to Use Graphic Design."
What is something interesting about you that most people don't know?
I spent part of my childhood living on a Hindu Ashram (commune) where we didn't watch TV and ate a vegan diet. 
What animal do you relate to the most and why?
Cats. I relate to their demeanor and to how much they sleep. 
If you could collaborate with one artist, dead or alive, who would it be? Why?
It would be Seymour Chwast, and I am already doing it! I've worked in his design studio for the past 7 years.