Colors of the East
Hang on for a minute...we're trying to find some more stories you might like.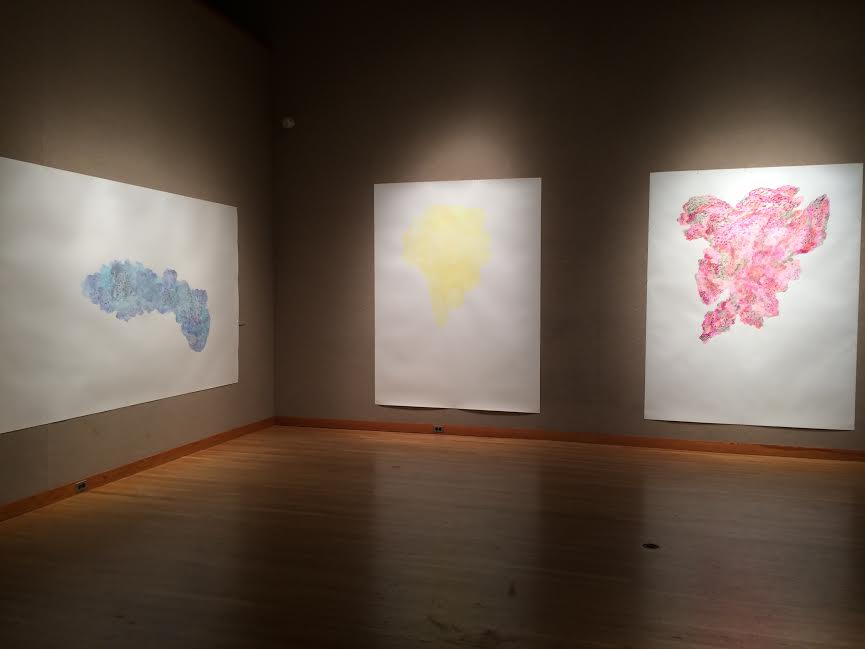 Sarah Atwood
Arezoo Moseni's "Paradise: Large Works on Paper" and Bill Carroll's "Persian Color" can be seen in Payne Gallery, located on the south campus of Moravian College. The art display will be open for a month, from Oct. 13 to Nov. 13.
Moseni is an Iranian-born photographer, painter, and video artist based in New York. Her work displays a series of single-colored shapes on large pieces of white paper. The shapes are tiny diamonds and rectangles that are built up into singular, organic shapes. They are reminiscent of multicolored photos of bacteria in science textbooks. Each is one solid color, and the variations come from changes in density rather than shading.
Moseni uses dyes and inks for most of the shapes, and she uses red ink in  "Grow #7," "Grow #14," and "Intelligence #7." The simplicity of the overall form and color keeps the detail from becoming too busy. These organic forms can have a calming effect and give the impression that if you stood there long enough, you would be able to watch them grow.
Carroll is the curator of  "Persian Color," a selection of pieces from a variety of artists. "Persian Color" is located in the the upper gallery and has seven exhibiting artists, which unify their works with a connection to the Middle East. "Beset On All Sides," by artist Samira Abbassy, is based in medieval Persian miniatures.
At first glance, the work seems to be a quaint recreation, but it is startlingly violent. It is more surreal than the work it is based on, with Abbassy's work featuring a disembodied hand stabbing and slicing at the main figure. The hand has punctured the chest multiple times and the figure's arms are lying on the grass beneath them, with the eyes staring placidly at the viewer, giving the sense that they blame the viewer for their tribulations. The figure is sitting on a fire-breathing manticore, which is failing to attack the hand.
Others works are more abstract. "Shahbazi" by Artemis Akchoti, is a long, narrow figurative painting. The thick, haphazard brushstrokes and intimidating green face can make viewers uncomfortable, as can the placement. An untitled sculpture by Armita Raafat appears to be an abstracted castle, complete with turrets and spikes that point up and down and jut into the viewer's space. "Naren-G #2" by Moe Shahheidari is bright white and red with abstracted forms. This is intentional, so viewers are forced to observe the piece and come to their own conclusions, rather than glancing and moving on.
"Paradise" offers a serene, almost cellular, environment, while "Persian Colors" demands more attention from viewers. Most of the work is abstract, which allows for each viewer to come to a different conclusion. The show at Payne portrays different artists' work that offers a variety of experiences for each person.