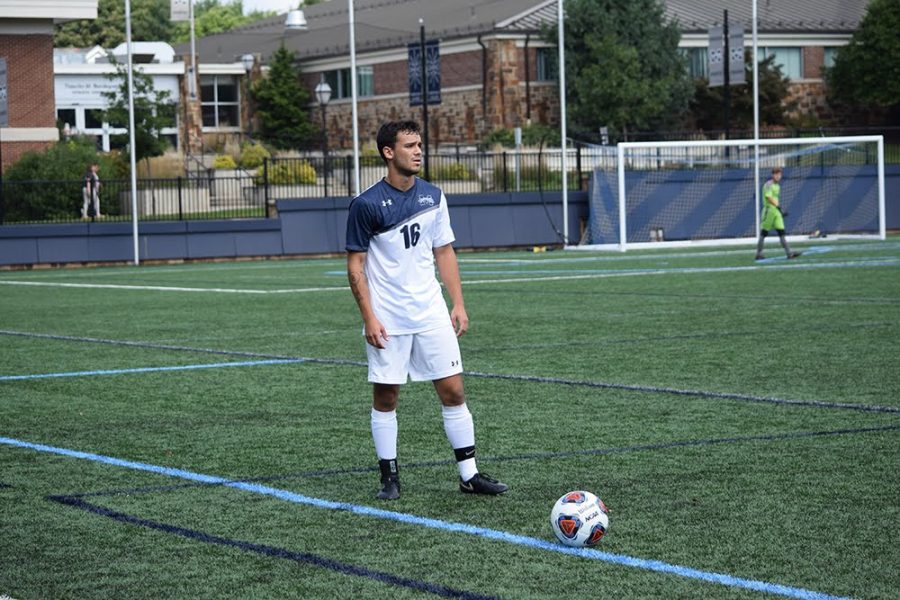 Michael Guarino, number 16 senior defender on the Moravian College men's soccer team, shares some of his best moments as a player and what drew him to soccer. Guarino is an English major with a minor in photography.
How did you get into playing soccer? What still draws you to the sport?
My dad played soccer. He was a goalie and he played for Marist College. He played most of his life and got me into it when I was like five years old. I've just been playing since then. My dad was the main reason why I began playing and kept with it. My mom didn't play a lot of sports, but she supported anyway. My brother is actually on the tennis team here at Moravian; he's a freshman this year. My sister's a little bit less athletically inclined.
What has this season been like?
Well we're 3-2-2 so we dropped two tough games. One was against Montclair and one was really early in the season against Salisbury. We have a new coach this season, so in the beginning of the season we were adjusting and even now we're still getting in the rhythm of things. But it's all coming together, I think. We're getting better and better as we go along. Hopefully with our first Conference game against Juniata tomorrow, we'll kick it into high gear.
What would you say the team's biggest accomplishment this season was so far?
The meat of our season hasn't really started yet, but we shut out Berkley 4-0 earlier this season.
What's a team goal this season?
In my time playing soccer for Moravian, we've never made the playoffs. So making the playoffs would be a big accomplishment.
What is the best memory you have playing soccer for Moravian?
When we go into overtime, we have this thing called the golden goal, so when you score the game is over. I scored a golden goal my sophomore year and everyone freaked out. All my teammates ran onto the field and tackled me. We were in a huge dog pile.The only goal of my career so far.
A general good team memory is just being with the guys. We've had a real good group of guys every year I've been here. It's just fun hanging out with everybody. They become your best friends.
What do you plan on doing post Moravian?
I honestly have no idea right now. I'm going to take the next couple months after soccer season ends to figure it out. I'm an English major so journalism might be fun. I love writing and photography so something that involves both of those would be great.
Any internships? Where?
Over the summer I had an internship at ArtsQuest  in South Bethlehem. They run Musikfest which is a big music festival. I did photography and some marketing stuff for them. It was unpaid, but I got a stipend through Moravian, so that was nice.
Do you have any unusual interests and/or talents?
I'm like the only English major I know that plays soccer. There's so few of us English majors in athletics. I have tattoos. One that reads, "To strive, to seek, to find, and not to yield." I also have a compass and Winnie the Pooh floating up on a balloon that reads, "Think, think, think."
Best advice you've received from a coach or teammate?
Some advice that I've received from teammates and coaches is to just calm down. I tend to get really tense and hot-headed when I'm playing. It took me a good four years to learn that I don't need to be angry all the time on the field.