Moravian to Jam with Young Jazz Artist Steven Feifke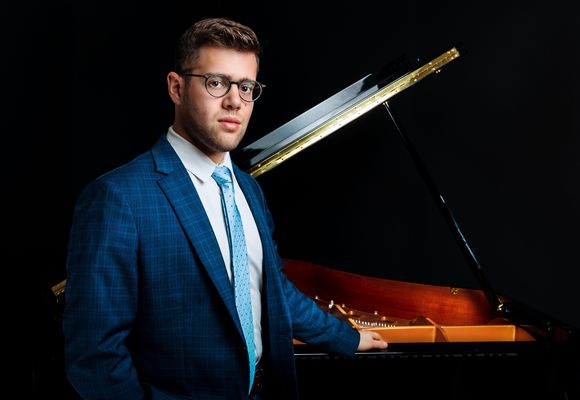 On November 15 at 7:30 p.m., Foy Concert Hall will again be filled with the sound of swing when Moravian's BIG Band hosts and plays with New York City jazz musician and composer Steven Feifke.
The Moravian College BIG Band is directed by Dr. Neil Wetzel, who is the head of both the music department itself and the jazz studies program. 
The BIG Band is stylized after a traditional big band with five saxophones (alto, tenor, and baritone), four trombones,  five trumpets, and a full rhythm section consisting of vibes, guitar, piano, bass, and drums. Their repertoire combines jazz standards and other more modern jazz compositions.
Over the years, Moravian's BIG Band has welcomed numerous world-renowned jazz artists to be guest artists at their concerts. They include composer and band leader Maria Schneider, saxophonist Dave Liebman, trumpeter Wynton Marsalis, trombonist Robin Eubanks, saxophonist Phil Woods,  and guitarist Vic Juris, among others. 
Throughout the semester, the BIG Band performs at such venues as Bethlehem's Ice House, the Allentown Jazz Festival, and the world-famous jazz club, The Deer Head Inn, in the Delaware Water Gap 
Feifke is this semester's BIG Band guest artist
Unlike in previous years, this semester's guest artist is more of the students' choice. Co-student director for the BIG Band, guitarist Kellen Pisani, first mentioned to Wetzel the idea of bringing Feifke to campus, because Feifke is a favorite artist of both Pisani and other members of  the band. 
"I talked with Dr. Wetzel about playing one of Feifke's big band compositions, and then Dr. Wetzel suggested that we should have him as our guest artist. said Pisani. "[We] I agreed . . . that would be beneficial to us to work with a younger jazz musician."  
Feifke is a pianist, composer, orchestrator, and band leader. He has written numerous compositions in different genres and mediums, and has composed some original ones for big band and combo.
In addition to writing big band music, Feifke has written for orchestra, television, and film. Feifke has also been a featured pianist on numerous albums, including "Onward" by saxophonist Chad Lefkowitz-Brown, "Falling Forward" by drummer Ulysses Owens Jr., and "First Things First" by saxophonist Andrew Gould, as well as on his own solo septet album "Peace In Time," which features his original compositions. Feifke is planning to release another album featuring the big band he leads playing some of his big band arrangements and originals.
A high-demand artist, Feifke has performed all over the world, including in the U.S., Egypt, Japan, and Italy. He has also performed at local, iconic jazz clubs in New York City, such as The Django, Smalls Jazz Club, Mezzrow, Birdland, The Blue Note, and Dizzy's Club at Jazz at Lincoln Center.
In the first half of Feifke's concert at Moravian, Jazz Combo I and some of the jazz studies faculty will have the opportunity to perform with Feifke. 
They will be playing some of Feifke's original combo compositions with him on piano, as well as debuting original compositions by members of a septet comprised of artist lecturer and saxophonist Tony Gairo, artist lecturer and trumpeter Tony DeSantis. Saxophonist Dan Schirripa, guitarist Kellen Pisani, guitarist Cayden Wisner, bassist Matt Hotchkiss, and drummer Matt Miller-Brown. They will rehearse with Feifke during the day on Thursday, November 14.
"We are really excited to play Steven's compositions in Combo I," said Pisani. "It has been a great challenge for us, and it's even more exciting to get to play them with the man himself."

Besides performing Feifke's music with him on stage, Moravian jazz students will have the opportunity to sign up for private lessons with Feifke on anything relating to composition, improvisation, piano, or music business. 
Feifke will also be giving several clinics to high school students from Phillipsburg, Lehigh Valley School for the Charter Arts, and Pocono Mountain East, as well as to Moravian College Students on Thursday, November 14 and Friday, November 15. Faculty members of the jazz studies program at Moravian will also be running master classes on beginning and intermediate jazz improvisation. They will also be running a master class on the rhythm section.
The BIG Band will perform "Second Wind," which is one of Feifke's original charts, in addition to some of his arrangements based on popular jazz standards such as "On The Street Where You Lived," "Stardust," "Nica's Dream," and "Caravan." Combo I will  perform one of his originals "Wollongong," as well as another one of his arrangements "Autumn in New York."
The November concert is a great opportunity for Moravian's BIG Band to play more challenging modern jazz charts and to expand their repertoire to include music that is played in the jazz scene right now. It is also provides them with direct access to a young jazz musician who can teach — and show — them what the current expectations are for a jazz musician. 
Tickets for the November 15 concert are $15 for general admission and $10 for seniors/students (and it's free if you have a Moravian ID) They are available online at www.lvartscouncil.com or at the Moravian box office before the concert.