The Moravian College App Goes Live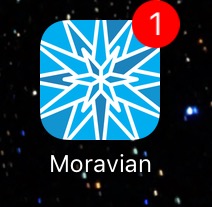 As of now, most of the Moravian College community is aware of the Moravian App, which was launched last spring. The app is a new addition to the College, which hopes it will  benefit the entire Moravian community.  
The Moravian App is supervised by Moravian's Django Site Administrator, Colleen Marsh. Involvio, a company started by Philadelphia college students who are now based in New York City, assisted in its creation. 
"The Moravian App was developed with a number of reasons in mind," said Marsh. "First and foremost, we wanted to make sure information was getting to students in the most user-friendly, accessible way possible." 
Although the idea of the app has been on the minds of administrators for some time, it was officially launched last spring. It was meant to ease the pathway of communication for new students during Orientation, which took place this August.
The app was also created to help reduce the volume of emails that students receive.
Another goal for app is to provide an overall platform that will help streamline communication for Moravian College students, clubs and organizations, faculty, and departments such as the dining services.
The community will be notified with schedules of upcoming events and other activities  in a more efficient manner.
"I enjoy the concept of the app very much," said Liz Mogollon, '20. "It has actually helped me in terms of getting more involved on campus. I am now part of the LatinX Student Union, which I probably would not have even known about if it weren't for the app."
There are many other features that come with the app, such as discussion channels, groups, calendars, and a guides tab. Through them  students are able to ask questions, sell items, and keep up to date with current events on and off campus.
Students even have the opportunity to be reimbursed for certain cultural arts programs they attend within the Lehigh Valley. This includes concerts, art exhibits, theatre productions, and film screenings.  
Already more than 1,300 users  have created an account for the app. This is primarily due to word-of-mouth advertising.
"The feedback we've received is overwhelmingly positive, and it's hard to keep up with the number of offices and organizations that want to learn how to get their information into the app," said Marsh. "We're glad to see the discussion channels being used and events being added all the time."
The app is still relatively new and is still growing. It will soon feature other programs, including MoCoGo, the shuttle service app. 
Leave a Comment