4 News Items You Might Have Missed This Past Week
Jim Nabors dead at 87:
Jim Nabors, best known for playing the character Gomer Pyle, died Nov. 30 in Hawaii. He was 87 years old.
Born in Alabama, Nabors attended the University of Alabama and was a member of the Delta Tau Delta fraternity. It was during his time at the University that Nabors first started acting.
Nabors got his first job in the film industry when he moved to Tennessee and started working as a film cutter. He soon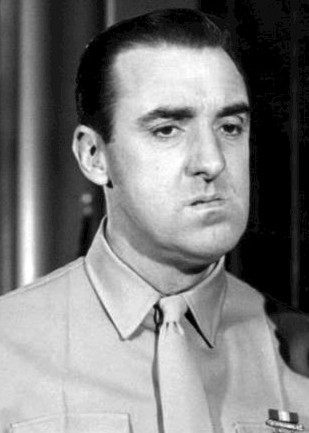 moved to Los Angeles to continue working as a film cutter, this time for NBC.
Early on in his time on the west coast, Nabors worked at a Santa Monica tavern known as The Horn. He sang and acted in cabaret theater.  
Andy Griffith saw Nabors one day at The Horn, and hired him to play the one-off role of Gomer Pyle on "The Andy Griffith Show." Pyle became such a popular character, though, that Nabors became a member of the main cast and even got his own spin-off, "Gomer Pyle, U.S.M.C."
After that show ended, Nabors found himself typecast and was commonly given comedic roles. He moved to Hawaii with his partner Stan Cadwallader in 1976.

Up until 2014, Nabors sang "Back Home Again in Indiana" before each Indianapolis 500.
Speaking of his partner, Cadwallader said, "Everybody knows he was a wonderful man. And that's all we can say about him.  He's going to be dearly missed."
A "Tattooed" Lobster:
A lobster fished off the coast of New Brunswick, Canada, is reminding people of the issue of garbage in our oceans.
As lobster fisher Karissa Lindstrand was banding lobster claws, she noticed a lobster with an unusual physical characteristic.
A photograph taken by Lindstrand shows what seems to be a Pepsi can imprinted onto its claw. One can see the details of the top of a Pepsi can and a small segment of the logo. It is unclear how this marking got there.
The photograph of the lobster's claw may now be used as an example of the effect our garbage has on the oceans.
Senate Tax Plan Passed:
The U.S. Senate, seen as a large barrier to passing the GOP's tax reform bill, voted 51-49 in the early morning of Dec. 2 to pass the bill. With the House of Representatives having approved its own tax reform bill in November, the two bills will soon be reconciled.
The bill passed along party lines. Before the vote, only three Republicans senators were expected to vote against it: Jeff Flake (R-AZ), Susan Collins (R-ME), and Bob Corker (R-TN). In the end, both Flake and Collins voted for the bill, making Corker then only Republican senator to vote against it.
Out of fear that the bill would raise the U.S. deficit, Corker demanded last minute amendments to the bill and talked on the floor of the Senate while an amendment vote was held. According to one aide, GOP senators were "furious" at Corker's actions on the floor. Corker maintained that he was unable to put aside his "fiscal concerns and vote for legislation that…could deepen the debt burden on future generations."
Senate democrats, meanwhile, complained about the last-minute revisions, saying they were unable to fully read through the bill before voting on it. They asked for a postponement on the vote until Dec. 4, but Republicans refused.  
Several photographs, some posted by senators such as Kamala Harris (D-CA) and others posted by news agencies, circulated on Twitter of pages of the tax bill with sections crossed out and with handwritten notes in the margins.
Later the same day, President Trump applauded the bill's passage, saying "something beautiful" was going to come out of it.
The Rise of Bitcoin:
While many are touting the growth of the American stock market, in particular the Dow Jones Industrial Average, there is something else that they should be paying attention to: the price of Bitcoin.
Bitcoin, the popular cryptocurrency, recently saw its price soar past the $10,000 mark. It is an incredible achievement, considering that in Jan. 2017, its value was around $1,000.
Vocal critics have been quick to denounce Bitcoin as a fraud, but others feel that it may be here to stay. One technical trader called the 2017 rise of Bitcoin "the biggest bull market" he's seen during his career in finance.
David Shrier, academic and CEO of Distilled Analytics, does not think that Bitcoin would lose all of its value if the bubble

were to burst. "There is enough utility and utilization of Bitcoin that it will retain some kind of value, even if the price settles down a bit," he told CNBC. Shrier then mentioned Amazon, which did lose value when the dotcom bubble burst, but did not go to zero. He believes that Bitcoin will follow the same trajectory.
The volatility of Bitcoin's value keeps many from thinking of it as a normal currency. Some, like Dominic Williams, chief scientist at the DFINITY Project, feel that Bitcoin may end up leaving early users rich and later users with no value. Fund manager Michael Novogratz, though, has told CNBC that Bitcoin could reach $40,000 within a year.
View Comments(1)