Featured Athlete: Brian Stock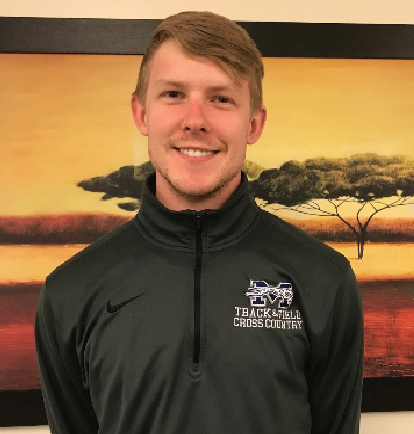 Brian Stock is a dedicated athlete on the Moravian College Men's Track & Field team. Stock's main specialty is the long-jump, but he also occasionally runs in the 100m, 200m, and the 4x100m and 4x200m relays. Stock is from Morris Plains, New Jersey. He is currently a junior, planning to graduate in May of 2019. He is in secondary education, majoring in English.
When did you first start long-jumping?
I first started track & field way back in 6th grade at Memorial Junior School. I actually began as a distance runner in the fall of sixth grade, and then when spring came around, I fell in love with jumping.
What inspired you to start long-jumping?
There was a moment in 6th grade. It was my first time ever doing track, and some big, cool eighth grader jumped like 15 feet in front of all of us. Everyone was like, "WOW! 15 FEET!" and so I was like, "Wow, I want to make people say 'wow'," so I decided to try and get as good as I could get from then on.
What do you feel are your main strengths as a long-jumper?
Definitely my motivation. I really want to be as good as I can be. I set high goals that are still reasonable, but they definitely require a lot of work. I'm good at motivating myself and my teammates. I can get behind teammates and get them excited as well.
What areas do you feel that you need improvement in?
It's easy to get myself in a slump, saying to myself, "Awh, man, that jump was terrible." But you still need that motivation, saying, "How am I going to make the next jump better?"
What is your favorite part about long-jumping?
When I know I just made a big jump, the anticipation of the officials' pulling out the measuring tape is really exciting and fun. After I know I landed a nice jump, as they're pulling out the measuring tape, I'm like, "What is it? What is it?" It's just really exciting.
What do you like about training?
I enjoy training. It's different every day. We don't just jump every day. Some days we'll have tempo workouts and occasionally we'll have pool workouts. Pool workouts are always fun because we'll have relays and diving contests at the end. For me, training is always fun, but there's also always a purpose behind it. You're having fun, but you're working hard.
Do you have any pre-jumping rituals?
I just do my warm-up and try to get as sweaty as possible. If I'm not sweaty, then I don't think I've warmed up enough. Also, I don't like hearing other people's marks because I don't want to know what I have to jump, I just want to know what I need to do to jump as far as I can.
How do you manage both your schoolwork and playing a sport?
I kind of just do it. There's definitely some long nights sometimes, some napping during the day after a long night of working or studying, but I just get it done.
What do you think is the biggest challenge about long-jumping?
For sure, the biggest challenge is when you get in your own head. When you get in that slump and start having those negative thoughts, it can be difficult to pull out of. Coming into college, I was in a slump for about three years, beginning with my senior year of high school when I had a hamstring injury. That injury motivated me to have a comeback in college, but then things didn't go my way when I got here. I was jumping two feet below my personal best, I continued to have on and off hamstring problems, and then sophomore year, I got tendonitis going into the spring season. It was a long, sad three years because I just really wanted to be good at jumping. It took three years and it was so hard, but I finally did it. There were times when I didn't feel like I belonged on the team and I wanted to quit, but I kept telling myself I had to beat this, and I did.
What has been your favorite memory while jumping for Moravian?
I had a beautiful, turning-point moment at the very end of my sophomore season. During conferences, I qualified on my very last jump to make it into finals. Then, in finals, I fouled my first two jumps again, so I had one more jump left. There was a lot of pressure, and the whole team was there, cheering me on. This had never happened before, but during that moment, I remember looking down the runway and smiling. I couldn't stop smiling, and I didn't know why. I just knew it would be my best jump ever, and it was at 21 feet, 10 inches. I had beaten my personal best by three centimeters. I cried, and it was just a really awesome moment where all the struggle, hard work, and dedication of the last three years finally paid off.
What have been your major highlights/achievements in athletics?
I've only ever won three medals my whole career. One of them was first place for first team conference in the 4x200m relay this past indoor season, and second team long-jump for conferences this past March. And then, 6th place at ECACs last spring. That medal was a personal reminder of accomplishing getting past those three, difficult years prior.
What are your goals for this season?
This season, I would very much like to win conferences with a jump that exceeds 7 meters, or about 23 feet. My personal record right now is 6.67 meters, or about 21 feet, 11 inches. I want to win conferences, and I want it to be over 7 meters. If I win with like 6.8 meters, I would've done it, but I wouldn't have completely fulfilled the goal. I would also like to qualify for nationals. To do that, you have to be in the top 20 out of all of the NCAA. So it's definitely not going to be easy.
What are your long-range goals in athletics?
Becoming an All-American. So that means going to nationals and jumping well. Also, I'm currently training to become a high-school English teacher, so I would love to coach long-jump at that level in the future.
What do you feel is the most valuable lesson that you have learned from long-jumping?
There's good times and there's bad times, and you just have to roll with it.
Leave a Comment