Appreciating The Man Behind Your Laundry Loop: Athletic Department Spotlight of Josh Baltz
"No news is good news." This is the motto of the head equipment manager of Moravian College's Athletics Department, Josh Baltz, who has been in this position for six years. He is a Moravian College alumni from the Class of 2008, who majored in business with a minor in accounting. Baltz's job is all-encompassing, from managing all the sports gear for our athletics teams to advising and coaching student athletes. He's become the unsung backbone of the athletics department. He's not alone, though; Baltz's assistants/interns, Sean Cole and Eddie Hudak, while pursuing their MBA's, contribute to the efficiency of the equipment room as well. Read more below to learn about the man behind the scenes of our athletics department.
 Can you explain your position and when you first began your position as equipment manager? 
As the equipment department, we're in charge of all the athletic gear for all the athletics teams, so a large part of my day involves making sure all the teams have what they need for practice, games, etc. But my first job out of school was at Muhlenberg College as an assistant baseball coach, and I also worked in the equipment room there. I enjoyed working [there] because I'm a big sports guy; I enjoy all sports and interacting with all the athletes. So, my experiences at Muhlenberg led me to pursue the position as head equipment manager at Moravian. I was hired in December 2014.
What are your typical day-to-day activities?
It's my job to take a burden off of the coaches and student athletes by making sure they have whatever they need. Each day, we wash practice gear for all the teams that are in season. When there's a game, we organize, fold, and hang up all their game uniforms for that day. We also wash the coaches' loops and the trainers' and fitness towels. 
It's also just a matter of keeping everything organized for all the teams. Whenever something comes up, we need to be prepared with all the equipment. For example, we need to have "blood bags" ready for away games in case there's blood on a uniform.
What activities are you involved in at Moravian, outside of your position as equipment manager? 
I am the game manager for football and basketball games, and I am the assistant coach for softball. As game manager, I oversee the games and meet the visiting teams and officials before games. For softball, when we're in season, I go to all the practices and games. It puts more on my plate, but I really enjoy it, and I'm happy that I'm allowed to do it here. I watch all our other sports teams too because I love to be around sports in some sort of capacity. 
What do you like the most about your position? The least?
I like interacting with the student athletes the most. All of them are a little different in their own way, and it's nice to see them mature over their four years here. I like to see them have success on the field or court, but it's also cool to see the growth of all our athletes from freshman to senior year. I see kids that come in as freshmen and they're really shy, but by the time they're juniors and seniors, they won't get out of here; they're always stopping in the equipment room wanting to talk. I talk to athletes about everything. Sometimes I joke that I'm a life coach for them because they'll come in and talk about their relationships, their sport, and/or school, so I try to give them the best advice that I can give because I've gone through it. 
The thing I like the least is probably the hours. It's not a forty-hour-a-week job because we do all the behind-the-scenes things, so if there's a late game, for example, then we're here quite late. At times, it gets hard because it takes away from your personal life, but I knew what I was getting into, and I wouldn't change it.
I also have two great interns, Sean and Eddie, who help out quite a bit. It's good for them because it gives them experience in a college setting in an athletic department while they're studying for their MBAs.
What are some of your pet peeves of student-athletes?
SOCKS. It's pretty nasty to have to put my hand inside a sweaty sock in order to turn it right side out. There's a lot of athletes that probably think that it's not a big deal, but when it comes to doing it for forty players on a team, it gets frustrating at times. No matter how many times you tell athletes that they need to turn their socks right side out, sometimes after games/practice they're not really thinking about those things. 
Are there any crazy/funny stories you are willing to share?
You'll see some interesting things on loops. I've gotten everything from jeans to polo shirts. Probably the most interesting one is when a kid tried to put his bed sheet on a loop. He got lucky because it got washed, but after that I told him that he'll have to wash his own sheets.
What are your favorite sports teams? 
All Philly– Eagles, Phillies, Sixers, Flyers. I also still root for my high school team; both of my brothers coach football at Easton Area High School.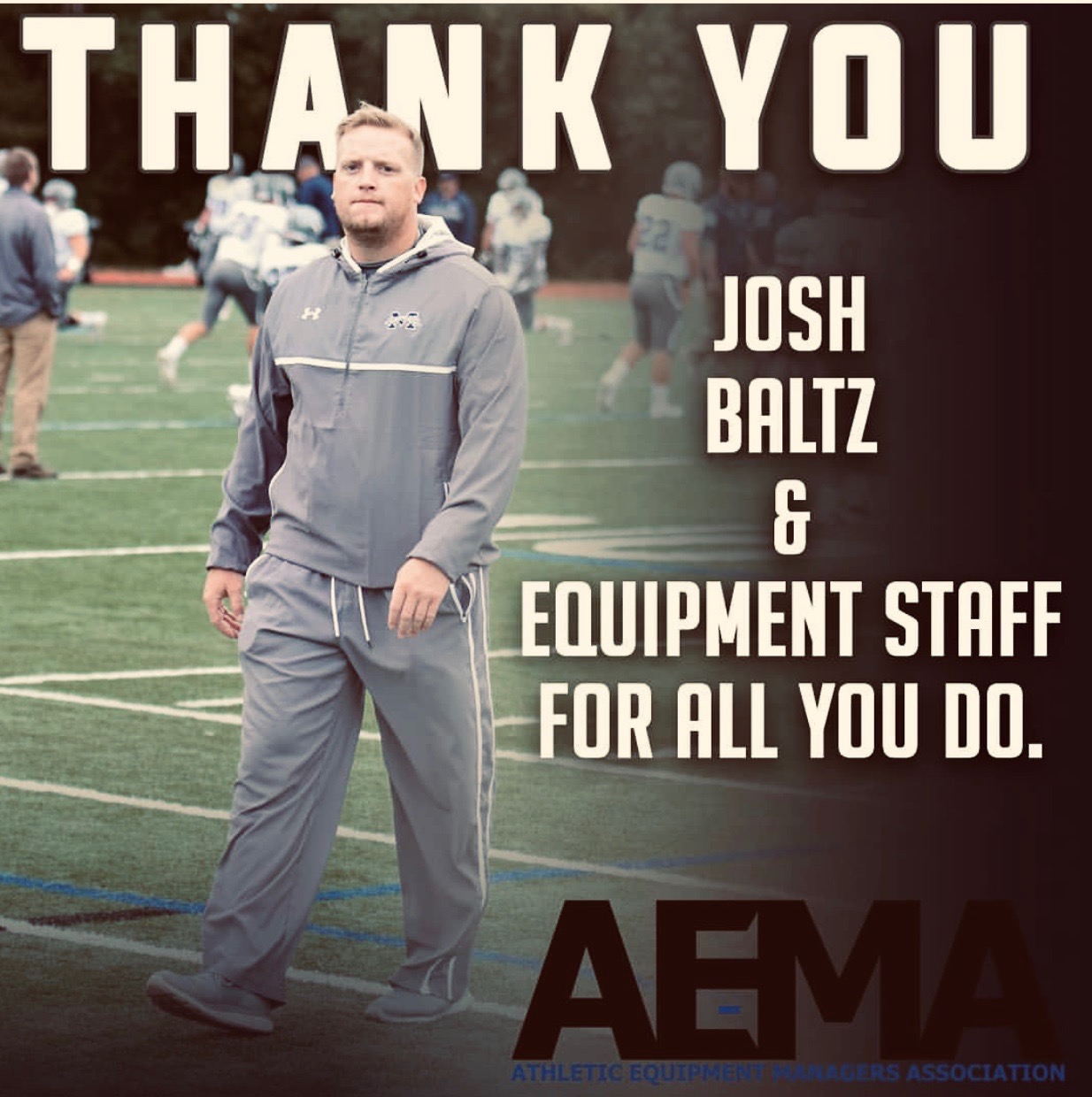 Do you have any hobbies outside of your work?
I enjoy being with family and friends. I have three young nephews that are seven months, three, and five years old so I'm always hanging out with them. I also love television. Right now, my top three shows are Snowfall on FX, Animal Kingdom on TNT, and all the Chicago Series on NBC. 
I enjoy cooking, too, especially grilling. I have a garden at home where I'm growing tomatoes, zucchini, eggplant, green peppers, yellow peppers, orange peppers and herbs like oregano and dill. 
What are two takeaways/lessons you've learned since you've started this position?
The biggest thing I've learned is the importance of effectively communicating with everyone. Every coach and athlete has a different personality so you learn a lot about yourself while you're communicating with them, and they teach you a lot too. 
What advice would you give to student athletes and/or students?
Enjoy your four years here because it's going to fly by, and don't be nervous to be who you are.
Leave a Comment