Best Beats: A Comenian Playlist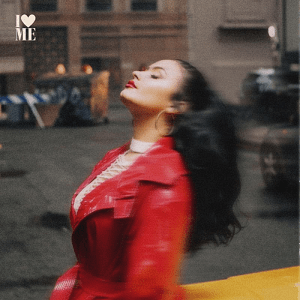 "I Love Me" Demi Lovato (2020)
*Warning: this article addresses mental illness, self-harm, and drug and alcohol abuse.*
Demi Lovato is well known for being an actress and singer on the Disney Channel in the early 2010s, later breaking away from the channel to focus on catering to a more mature audience. Around this time, Lovato began lashing out in public, and there was speculation of her having mental and emotional problems. It later confirmed that she was struggling with mental illness, more specifically bipolar disorder and depression. It was also confirmed that she was also being treated for an eating disorder and self-harm. 
If you're a fan of Demi's, you'll know this was not the first time she had to combat her demons. Throughout the 2010s, she struggled with trying to be healthy and work on herself. While trying to better herself, she produced multiple mentally and emotionally empowering albums, wrote a motivational book called "Staying Strong: 365 Days A Year," and even produced an official documentary,  "Demi Lovato: Simply Complicated" (2017), explaining her personal life from birth until 2017. 
In June 2018, Lovato released her single, "Sober" (2018), in which she admitted about relapsing after six years of sobriety. A month later, she was hospitalized and taken to an inpatient facility due to a substance overdose.
After a year or so, Lovato broke her silence and her fans went wild, myself included. Being a fan of hers since the late '00s, I was relieved to see her come back after a rough patch in her life. In late January of this year, she released "Anyone" (2020), which was written back in 2018 when she was going down a really dark path before her overdose. I highly suggest listening to the song, because it shows you how her mental health was back then.
On March 6, Lovato released another single called "I Love Me," but this time the song was more uplifting than her last release. This new song is a reflection on her life and addresses how she betters herself every day by having her own back and relearning to love herself again. 
In the first verse, she immediately addresses how the media tells her who she should be: a role model, a perfect woman, someone who does not have flaws. She continues talking about how the media does not help her mental stability, claiming they cause her to feel bad about herself and sabotaging her happiness. 
In both choruses, she explains that she takes everything out on herself and questions if she will ever love herself without question. 
My favorite part of the song is the bridge:
I'm my own worst critic, talk a whole lot of sh*t
But I'm a ten out of ten even when I forget
I, I, I, I, I (I'm a ten out of ten, don't you ever forget it)
I think these few lyrics can hit home for anyone who has ever had any self doubt. In the past, I have struggled with the issue of being overly critical of my intelligence, my body– everything. These words definitely ring true though because even when I don't believe in myself, at the end of the day, I am still the best person I can be, even if I don't see it.  
And if you don't care about the lyrics, I recommend you watch the music video. The lyrics actually go along with what is seen throughout the video, but there are subtle nods and Easter eggs about her life as well. In the beginning of the video, there are three Demis: the good, the bad and the original, which she references as "Me, myself and I." Neutral Demi is seen fighting with the bad side of herself, beating up the bad thoughts that keep penetrating her mind, and middle Demi wins. 
It then cuts to her dancing and singing on the streets of what looks like New York, where she passes a mother with two young girls who resemble her and her older sister. She then smiles while she passes a couple of teenagers, which is a reference to her Disney Channel days and working on the set of "Camp Rock" (2008) with the Jonas Brothers. She then passes three older men who resemble the brothers now because they have played a large role in her life. I think this symbolizes her making peace with them, because even though they were there from the start of her full-blown career, they continued on with their lives while she was trying to pick up the pieces of hers.
In the next scene, she walks past a woman on a stretcher being put into the back of an ambulance. This is most definitely a reference to her overdose in 2018. You see the singer rest her hand on the arm of the woman, before quickly walking away from the van. The last egg in the scene is a newly wed couple running past Lovato, which I believe is her ex-boyfriend, Wilmer Valderrama, and his new fiancee, Amanda Pacheco, who recently got engaged in January of this year. As Lovato spots the couple, she smiles to herself before she runs to meet her group of friends at the end of the street, acknowledging that he is also moving on with his life as well.
I, for one, am excited for her new album to drop soon. Lovato seems to be doing better than she was two years ago. Not everyone understands that relapsing is a part of recovery and sobriety. To anyone out there who is struggling with anything, just know you're a ten out of ten even when you don't think you are, and you will get through this tough time.
-Victoria Ritter
Leave a Comment