Mo's Cupboard: A Needed Resource for Hungry Moravian Students
One to two times a week for more than a year, Moravian College senior Miles Molerio walks to the College's food pantry, Mo's Cupboard, to pick up some necessities: fresh fruits, soaps, deli meats and other items.
Estranged from his family, Molerio relies on the free food to get him through the school year.
"I am an independent student, technically homeless, and I work at the College for all of my income," said Molerio. "Mo's Cupboard is a definite need for me. It's where I get all of my groceries, soaps, toiletries. Pretty much anything that I can't buy for my ESA [emotional support animal] I get from Mo's Cupboard."
Molerio was among more than 100 Moravian students who used the pantry hundreds of times in the fall of 2018, when the pantry officially opened in the Chaplain's Office at 1305 Main St. to support students who were struggling with not having enough to eat. Mo's Cupboard is part of a national growing trend to support students.
In 2019, a national survey of 167,000 students found that 39 percent lacked reliable access to a sufficient quantity of affordable, nutritious food in the prior 30 days, 46% lacked security in a shelter as a result of things like high housing costs and overcrowding, and 17% were homeless.
"It is hard to imagine, but some on our campus are hungry," said Bryon Grigsby, Moravian College's president. "Mo's Cupboard provides a resource for students so they can focus on their studies and not have to worry about food. It is a great testament to our community who give so much to so many others."
Molerio speaks about how the cupboard has helped him here.
"Other schools have been using the phrase 'closing the gap,' which basically means we are providing what's left of what scholarships and other aid does not cover," said Greg Meyer, Moravian's associate dean of students.
In 2017, Lisa Johnson, the transfer credit and articulation analyst at Moravian College, began gathering information about food instability on campus and started looking into which schools had food pantries and whether they were successful.
"When I was setting it up, I reached out to Kutztown University as they have a phenomenal pantry system," said Johnson. "I spoke to their director and spent a day there observing what systems they had in place and how their operations ran."
At Moravian, Johnson reached out to Gillian Sharkey, the director of civic engagement, and together they came up with a proposal for a food pantry. Grigsby approved it. 
Johnson immediately began sending out emails to those who had expressed interest in both using the pantry and donating to it, and suddenly, she said, her office was filled with food and other self-sustaining items, with some including toothbrushes, soaps, tissues, razors, and contact lens solution.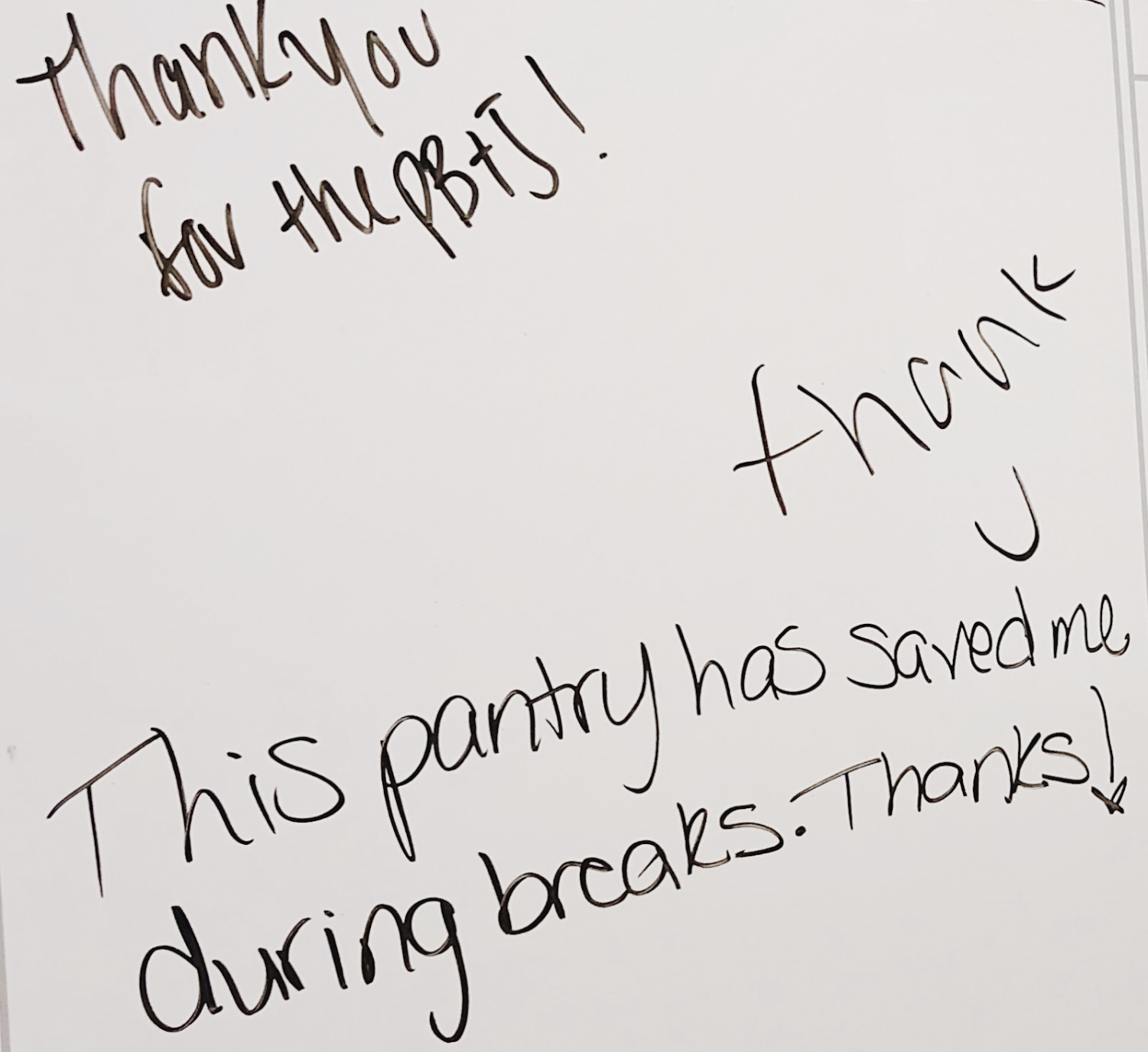 The pantry, which was named Mo's Cupboard after one of Grigsby's greyhounds, moved to the Student Life Office in the lower level of the HUB in the fall of 2019.
The cupboard itself is no bigger than a closet, but its shelves are stocked full of boxes of pasta, jarred sauces, soup cans, coffee, macaroni and cheese, and more.
In addition to being a weekly visitor to the cupboard, Molerio has also told many other people about it.
"Everyone I know I've talked to a lot about it. They just feel a little awkward about it sometimes, but the food's there, especially the fresh food," said Molerio. "That's just gonna go bad unless it's taken, so why not try and get people to come."  
Even in the crazy times of the coronavirus, Mo's Cupboard is still being stocked and is open from 11 a.m. to 1 p.m. every day to those who need it. 
To access the cupboard, all students need to do is swipe in using their student ID on the left side of the door.
"I am really proud of all the people who donate to the pantry," said Grigsby. "I am also so proud of Moravian students and staff and all they provide to those in need."
If you or anyone you know is interested in donating to Mo's Cupboard, contact [email protected].
Leave a Comment