Best Beats: A Comenian Playlist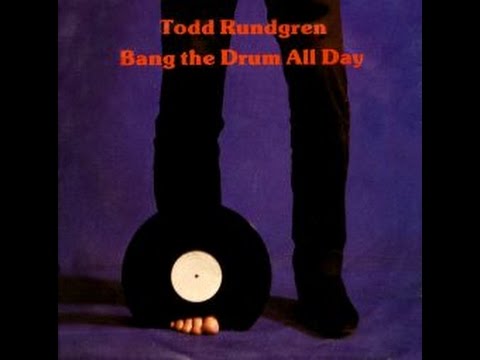 "Bang on the Drum All Day," Todd Rundgren (1983)
With the end of the semester looming on us and the promise of summer (albeit in quarantine) ahead, many of us are feeling the breath of life and celebration. There is no better song for this time of the year than Todd Rundgren's hit single "Bang on the Drum."
The song was released as a single off of Rundgren's 1983 album, "The Ever Popular Tortured Artist Effect." After this upbeat single was released, it quickly became one of America's top anti-work anthems, celebrating the joy of play and entertainment. 
The pop-rock song is full of twangy and fun sound effects, along with an upbeat, fast-paced rhythm that begs you to tap your fingers along with it, much like the main protagonist of the song wants to do. The poppy sound makes you just want to get up and dance, instantly lightening any college students' finals-induced stress and woes. 
The protagonist in the song is feeling the pressure of everyday life, complaining about everyone who tries to get him down. He's quite clear with the audience with what he wants — every refrain of the chorus, he echos, "I don't want to work. I want to bang on the drum all day." He gets in trouble at school because ever since he was a kid, he would dream of being a drummer and constantly tap his fingers in class. But fortunately for him, his "licks were so hot [he] made the teacher wanna dance," which always got him out of trouble. Unsurprisingly, this desire to slack off and drum followed him to his job, where his "boss is a jerk." But he finds a way to cope — he "bangs on the drum like it was [his] boss's head." 
So for any college student who's frustrated with the constant demands of school, especially during finals week, plug in your headphones, turn up the music, and dance it out to Todd Rundgren, who really understands what it's like when you just really don't want to work. 
-Elizabeth Horn
"Waving Through A Window," Dear Evan Hansen (2016)
Lately, I have found myself listening to music from "Dear Evan Hansen" nonstop. I had the opportunity to see the show last year for my birthday, and it was one of the most inspiring and moving musicals I have had the pleasure of seeing on Broadway.  One song in particular from the musical that I have on repeat lately is "Waving Through A Window."
"Dear Evan Hansen" opened on Broadway at the Music Box Theatre in December 2016 after it premiered in July 2015 in Washington D.C., as well as previous Off-Broadway performances that ran from March to May 2016. 
The music and lyrics were written and composed by Benj Pasek and Justin Paul. In 2017, it won six Tony Awards for Best Musical, Best Score, Best Actor in a Musical for Ben Platt as Evan Hansen, and Best Featured Actress in a Musical for Rachel Bay Jones. It has also been adopted into a young adult novel.
The musical details the story of a high schooler named Evan Hansen, who suffers from social anxiety disorder, and his journey in order to find himself and make meaningful connections in his life. 
When a fellow classmate named Connor commits suicide, Evan finds himself in the middle of the tragedy and turmoil. In order to comfort Connor's grieving family, he pretends to have been good friends with him and fabricates numerous emails. When a fake suicide note leaks online, Evan finds himself as the face of a viral video that features him talking about loneliness and the importance of friendship.
However, the lying gets to Evan and he eventually tells the truth about his fake friendship with Connor. In the end, Evan writes a letter to himself reflecting on everything that has happened with the impact he has had on his community and the hope he will inspire others. He ends his letter by finally accepting himself.
"Waving Through A Window" is the first solo song that is performed by Evan in the musical where his character is seen at a deeper level. The song details how Evan feels like he does not fit in, and because of this, he feels invisible. The lyrics are written in metaphors, which help to illustrate Evan's feelings without explicitly stating them.
Step out, step out of the sun
If you keep getting burned
Step out, step out of the sun
Because you've learned, because you've learned
These lyrics in particular illustrate that Evan feels that everytime he interacts with someone and tries to make a connection he gets "burned." He reminds himself to "step out of the sun" in order to avoid this rejection from others, which illustrates his avoidance of situations that might make him vulnerable. 
I try to speak, but nobody can hear
So I wait around for an answer to appear
While I'm watch, watch, watching people pass
I'm waving through a window, oh
Can anybody see, is anybody waving back at me?
Additionally, these lyrics show that Evan feels that he does not fit in and is an outsider to the world. Even though he is "waving through a window," he feels like no one notices him and instead he is staring back at his reflection, making him feel lonely. As a result, he believes he is the only one who can see him. 
The peppy pop groove that is predominantly featured throughout the song is a stark contrast from the deep and emotional lyrics. However, besides the lyrics, Evan's emotion is still felt through the intense and vocally demanding solo melody and the tight harmonies performed by the ensemble when Evan is singing the second chorus.
I enjoy this song because I find it moving every time I listen to it. Besides having beautiful instrumental accompaniment and harmonies, the lyrics remind me that I am never alone and many people struggle with the same feelings of loneliness and anxiety that I have felt myself at various times in my life. 
This song, and the whole musical itself, is relatable for anybody who has ever felt that they are invisible and alone. I believe it sends a hopeful message to audiences that you are never alone and things will get better even if they feel like they will not. 
 If you are ever in the mood for uplifting reflection and a new outlook in life, I highly suggest you listen to "Waving Through a Window" or any of the songs from "Dear Evan Hansen." I promise you will not regret it.
-Kaitlyn Furst
"Stand By Me," Ki: Theory (2013)
"Stand By Me" is an iconic song by Ben King that I would go as far to say everyone has heard. That's why when I heard its familiar notes on an episode of "Fear the Walking Dead," I was a bit confused at first.
Ki: Theory's cover of "Stand By Me" is definitely not as great as the original, but it's an interesting and enjoyable take on the beloved tune. "Fear the Walking Dead" is a tense, apocalyptic show in which its characters experience near constant conflict with both the living and the dead, so the soundtrack needs to reflect this. 
This cover was perfect for a show like this, especially since the song's vibe is eerie and not at all like the original. If you've heard Disturbed's cover of "The Sound of Silence," you may draw comparisons between the two in terms of the overall mood they exude; I certainly did. 
If you're looking for a song to take you back to your middle school emo phase, this one's for you. I'll always love the original the most, but I appreciate the unique twist Ki: Theory applied to such a popular song. 
-Christine Wieder
Leave a Comment