MoCo Football on Pause (But Not the NFL)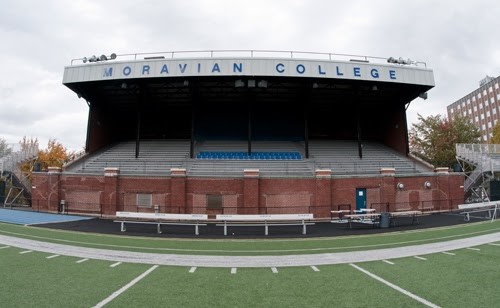 The NFL is BACK!
With Week 3 of the National Football League kicking off just last night, with a showdown between the Miami Dolphins and Jacksonville Jaguars, football lovers all around can rejoice in knowing America's favorite fall sport is back in full-ish swing.
I say full-ish because there is a looming threat waiting, potentially, in every locker room, team gym or team bus: COVID-19.
Moravian College has already felt the full effect of the virus.
Earlier in July, both the Landmark and Centennial Conferences were postponed, with a re-evaluation of continuing in the spring 2021 to be done at a later date. "We are hopeful that we will have a modified Centennial Conference spring schedule, which our players will certainly be ready for," said Jeff Pukszyn, Moravian's head football coach..
Moravian has fortunately made plans to try and contact some schools and schedule scrimmages to keep their players active in the sport they love, a gesture that the players are thankful to take part of.
Other than that, the only hope players have of a competitive season in 2020 comes in the scheduled October update as to whether or not a season will begin in the spring.
"The players were excited to come back to campus and have the opportunity to begin working out again with Tom Long, our strength and conditioning coach," Pukszyn said. "We will begin our practices in mid-October, which will be also beneficial for player development and building chemistry."
Now with many other big NCAA fall tournaments being canceled, it leaves a lot of players, and football fans alike, with a big question, "how do I scratch that competitive football itch?"
What better way than a chance to watch all of their favorite players dominate their rival team.
It is also an opportunity to really go all in on some fantasy leagues. I have a friend who decided to join ten this year with his newly found free time. Yes, you read that correctly and, also a yes, I typed it correctly. . . ten.
With the amount of team building and ludicrous trades that occurred during the offseason, it is bound to be a season to remember for both spectators and fantasy players.
Of course, COVID still lurks in the shadows.
If an outbreak happens in the NFL, what is going to happen? Will there be a total shutdown or will they adapt as the MLB has and have teams just miss games?
That may prove difficult for an organization that has a very small fraction of the number of games.
No one really knows, but for right now the NFL is going strong and prospering.
We've seen Tom Brady still throw despite trying every Target product to keep his gray hair at bay.
We've also seen Patrick Mahomes in action and why he's being paid enough to buy my parent's house three thousand times over (yes, I did the math).
We've also seen some very unfortunate and tragic injuries already in Saquon Barkley, Nick Bosa, Christian McCaffrey and many others.
Despite the injuries, fans all around can anxiously wait and watch week by week and wish for a full season.
Leave a Comment