Dom Reviews: "Nectar" by Joji
George Kusunoki Miller, better known as Joji, is a current singer, songwriter, and producer. He first gained online fame through his comedy YouTube channel in which Miller played a character named Filthy Frank. He also made comedy music under the alias Pink Guy. His more serious outings as Joji have led to the creation of one EP titled "In Tongues" and two full-length albums titled "Ballads 1" and "Nectar" since 2017.
I would somewhat consider myself a long time fan of Miller's content. I have been following him since his YouTube days all the way through the release of "Nectar". When Miller made the switch to music after creating content for YouTube, it was something almost no one saw coming. It was so different from the off-beat comedy we were used to seeing from him. 
While I really wanted to love Joji's previous album and EP, I felt that these projects were largely boring, monotone, and forgettable outside of a small handful of tracks ("SLOW DANCING IN THE DARK" is still a fantastic song to this day). I also wasn't a fan of Joji's vocals, overly lo-fi style, and repetitive trap drum beats. I needed some sort of change or evolution in Joji's music for me to really get into his sound. For a moment in time, it appeared as if my prayers had been answered. 
"Sanctuary", the first single released ahead of "Nectar" back in June of 2019, was the refreshing palette-cleanser that I wanted to see from Joji. It was a huge step forward in carving out a more fleshed-out and colorful sound. The chorus is damn near impossible to get out of your head, the production was much bigger and bolder, and Joji's vocals improved immensely. It puts me in a great mood everytime I hear it. As it stands, it is one of my favorite tracks on the album. 
Then, Joji dropped one of the best songs of the year on February 6th, 2020: "Run". This was Joji reinventing himself. This track has Joji's best vocal performance, a stellar drum beat, a menacing guitar riff, a jaw-dropping solo, and a gorgeously dark soundscape. This is easily Joji's best song. The layered vocals on the chorus are simply beautiful and, like "Sanctuary", will get stuck in your head like super glue. Lyrically, the song cuts deep for anyone who has gone through a breakup and has some of Joji's best writing. I cannot give this track enough praise. After this single, I was so extremely invested in this album's release and was so curious to see where Joji would go next. This is exactly what I was looking for in a Joji reinvention.
"Gimme Love" was the next single and, while it's my least favorite of the four singles, it is still an excellent song that didn't kill my excitement for the album. The song is split into two parts: a fast-paced, beat-driven section with a simple (albeit repetitive) hook, and a slow, guitar-driven balled with an ethereal and, frankly, magical vocal performance from Joji. I appreciate the production and beat on the first half of this track, but the second half really ties it together and makes this song stand out. The contrast between the two sections is jarring, yet it somehow works. The high note that Joji hits at the end with his immaculate background vocals impresses me everytime I hear it.
"Daylight," the fourth and final single, saw Joji teaming up with producer Diplo. This collaboration ended up working really well despite the differences in style between these two artists. Although it is a bit of an oddball in the tracklisting in terms of mood and tone, I cannot deny how much I love this song. "Daylight" is pop music at one of its highest points. The production is fantastic, Joji sounds extremely confident, and the huge chorus with strings and synths is both cinematic and beautiful. It makes you feel like driving down the highway on a hot, sunny day with the windows down. The bass guitar on the verses is clear and groovy while the guitar hits on the snare drum add so much character to the track. 
If Joji had released these four tracks on their own as an EP, it would be my favorite EP of all time. Unfortunately, this album is a classic example of putting your best songs out as singles and having the album feel underwhelming. I was fully expecting Joji to continue this unique and refreshing evolution in his sound. Unfortunately, "Nectar" doesn't entirely follow through on these promises.
"Ew" is a great start to the album because it sets the dark tone with reverb-soaked pianos and a killer use of strings. When the drums come in for the chorus, it hits really hard and Joji reaches the highest registers of his voice really well. It makes for a dramatically sad opener and it really feels like you are entering Joji's world. 
"Modus" starts very similarly to "Ew" with some lo-fi pianos. It is definitely a questionable decision to put these two tracks back-to-back because of this similarity. However, when the trap beat comes in the track quickly gains momentum. Joji's half-rapped half-sung vocals are hypnotizing on this track. The hook isn't the most memorable, but it is still sung well. I especially like the use of strings at the end of this track to give it a good climax before it ends with the same pianos the song started with.
"Tick Tock" is when I really started getting worried about the album. Joji starts to fall into his old sound, distancing himself from the excellent singles. The beat combined with the guitar is fun and unique, but the hook is weak like on "Modus". At just two minutes, this track just feels like filler. Lyrically, Joji doesn't say much either as he states over and over that time keeps slipping away from him. Combine this with the equally unnecessary song "Upgrade" just two tracks later and I am left scratching my head wondering why this album is as long as it is. (18 songs clocking in at a whopping 53 minutes)
"High Hopes" featuring Omar Apollo has a really interesting beat with the use of auxiliary percussion and what sounds like banjos, but it doesn't help when Joji and Omar sound extremely bored on this track. I don't hate the song, it just bores me as it tries to follow up "Sanctuary."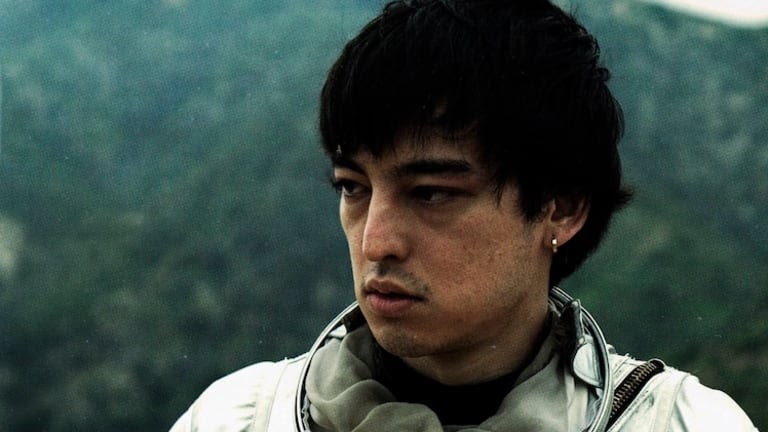 "NITROUS" feels like a leftover from "Ballads 1" right down to the title in all capital letters. Luckily, the hook is much more catchy than some of the other lack-luster moments on this album and it is a cute moment for Joji on the album vocally. His delivery on this track is playful and fun. Combine this with an innocent lo-fi beat and muffled synths in the background and you get a track that is just O.K. 
"Pretty Boy" featuring Lil Yachty is my least favorite song on the album. I hate the Lil Yachty feature (and it may be because I am not a fan of Lil Yachty) and the vocal effect on him is cringe-inducing. The hook isn't terrible, but I dislike the instrumental of this track. It feels too generic and abrasive at points. It, too, feels like a leftover from "Ballads 1." All of the extra vocals flourishes the two throw in such as the "hey"s and "woo"s are simply annoying. This song gives me a headache. 
The following track, "Normal People" featuring rei brown, is thankfully a much less offensive track. The rei brown feature works well for a track like this and they both nail it lyrically. Just read rei brown's verse, for example: 
New planet, yeah, we planted
Everything we wanted
Your fragrance, covalence
I'm bound to, I'm bound to you
But the longer that we hide
Everything starts to hit me harder, hit me harder
But we're safe on the inside
Yeah, I know we're fine
Instrumentally, it isn't anything special. We are once again met with a lo-fi beat and reverb soaked pianos. I'm sure I would have liked this track more if it weren't for the fact that it is so similar to the following track: "Afterthought" featuring BENEE. 
In fact, "Afterthought" works much better as a low-key, piano driven, moody pop song than "Normal People". They both have a similar feel instrumentally, but the beat is brought out further in this song and the chords and piano tones are much prettier. The hook is far superior on this track and it makes me wonder why these two songs were placed one after another. You could have cut out "Normal People" from this album and it wouldn't be missed because "Afterthought" works so much better. Vocally, Joji sounds a lot better on this track and the BENEE feature absolutely completes this song. These two have such great vocal chemistry and it is so refreshing to hear BENEE's gentile female vocals at this point in the album. She sings exceptionally well on this song. Furthermore, it really fleshes out the narrative of the relationship they are speaking about lyrically by having a male and female voice. This is easily one of the prettiest songs on the album and it cracks my top five songs on the album along with the four singles. I feel like I am floating amongst the clouds while listening to this song.
"Mr. Hollywood" recaptures some of the magic that I felt on the second half of "Gimme Love" with some beautiful layered vocals on the chorus that simply sound angelic. The production is fantastic on this track and the chorus is huge and gorgeous. The chorus is catchy as hell and Joji's vocals are extremely strong. Mood-wise, the song is very romantic and it sounds like Joji is really pouring his heart out. The decision to have the pitched up vocals towards the end of the track is a bit odd and annoying, though. 
"777" feels like a bad The Weeknd impression. I'm glad Joji threw in a fast-paced electro-pop song this late in the tracklisting to break up the monotony, but I don't feel as though it was done well. I absolutely hate the vocal effect on Joji's vocals at points. It leaves me disappointed because he spent a lot of this album proving he has improved his vocals, but will still make these strange decisions that don't pan out. This song feels a bit all over the place instrumentally. It shifts between tempos multiple times which I actually feel hurts the track. It would have stood out more if it didn't fall into the mid-tempo trap instrumental that we have seen so many times on this album. The chorus doesn't hit as hard as I would like it to and I feel that his vocals are too loud in the mix during the chorus. The only thing that stands out about this track is its tempo in an album filled with mostly slow and mid-tempo songs.
"Reanimator" featuring Yves Tumor is the strangest song on the track. It spends half of its just three minute runtime with a completely unnecessary, droning, dark synth-focused intro. When the intro finally does end, it doesn't fully pay off. I like how they brought the beat in, but Joji sounds too robotic and uninteresting on this cut. The beat does pick up a beat more and it is dance worthy, but at that point it's too late. The second half simply isn't good enough to make me sit through that intro, especially after it feels like it builds up to something much greater. 
"Like You Do" is the most emotional cut on the album and one of Joji's most impressive performances vocally. It is crushingly dark and sad. The chorus makes great use of the piano chords and has an interesting vocal melody. I love the natural crescendo that the song takes on from beginning to end. The second verse includes a boom-clap type beat, a nice choice after a mostly trap beat-focused album. His high vocals on the bridge make me audibly say "wow" everytime I hear them. Although this song is extremely sad, I feel like it should have closed this album. It feels very final and cinematic. Unfortunately, the song ends abruptly and inappropriately shifts gears to the terrible dance pop closer. 
"Your Man" is so out of left-field not just for this album but for Joji's music in general. It feels so strange having this follow up the emotional juggernaut that was "Like You Do". I am not a fan of the hook or even Joji's delivery on this cut. I was hoping for something as grand as the opener, but was left disappointed.
Final Verdict
"Nectar" is album that set my hopes way too high with its incredible singles. It feels like a kick to the groin to get an album that is much less interesting than I first thought. Although it is clear that Joji has evolved since his last album, I can't help but feel like he could have done more. This album is boring at its lowest points but it also contains some of my favorite songs of the year. In my opinion it is Joji's best offering, but it is hard for me to love. "Nectar" is the epitome of a mixed bag for me. 
Rating Scale:
0 – 4 = Negative feeling toward the record
5 = Middle-of-the-road
6 – 10 = Positive feeling toward the record
Final Rating = 6.0/10
Leave a Comment