2020 Election: Still Too Close to Call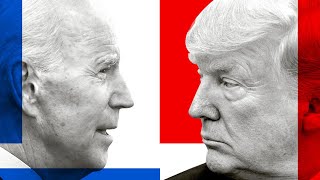 After a turbulent and divisive election season, on Tuesday, November 3, Americans across the nation cast their ballots for either Republican candidate President Donald J. Trump, Democratic candidate Former Vice President Joe Biden, Libertraian candidate Jo Jorgenson, or Green Party candidate Howie Hawkins.
Due to the nature of this election, major cities prepared for protests and possibly riots as most stores in cities such as Washington D.C., New York, and Chicago were boarded up and streets were being closed down — which showed the gravity of what was at stake with the results of this election. 
Social media was also buzzling more than usual with Americans encouraging their family and friends to get out and vote to make sure their voices were heard. 
However, as of Thursday, November 5, there still was no winner declared.
Former Vice President Biden has won the states of California, Oregon, Washington, Colorado, New Mexico, Minnesota, Wisconsin, Michigan, Illinois, New York, Hawaii, Vermont, Maine, New Hampshire, Rhode Island, Virginia, Connecticut, New Jersey, Maryland, Washington D.C, and his home state of Delaware. The electoral votes add up to a total of 253.
President Trump has won the states of Idaho, Utah, Wyoming, Montana, North Dakota, South Dakota, Nebraska, Kansas, Oklahoma, Texas, Louisiana, Arkansas, Montana, Iowa, Indiana, Ohio, Kentucky, Tennessee, Alabama, Florida, and South Carolina. The electoral votes add up to a total of 214.
In order to win the presidency, one of the candidates must receive 270 electoral college votes.
Biden has also broken Former President Barack Obama's 2008 record for most votes cast in the popular vote.
While both candidates have leads in key battleground states such as Arizona, Nevada, North Carolina, Georgia, and Pennsylvania, all the races are too early to call as absentee and mail-in ballots are still being counted. 
Political analysts have reported that the election could very well come down to whoever wins some combination of Arizona, Nevada, Pennsylvania, and Georgia. Biden could win by taking Pennsylvania alone. 
Additionally, some of these battleground states have stated that their counts might not be completed until Friday or possibly even early next week.
The number of both absentee ballots and mail-in ballots being requested and cast was astronomically higher this year than in previous years. This surge in mail-in ballot requests is due to COVID-19, as people were not comfortable going in-person to the polls like they usually do.
Voter turnout in general was also higher this year. The Bloomberg Business Report estimates that the total number of votes cast for the presidential election this year range from 157.1 million to 165.0 million, which would be about 68.6%–72.1% of the citizen voting-age population. As of Thursday, November 5 at 11:22 p.m. about 143.5 million votes have been counted. 
However, even if the electoral college declares a winner in the next couple of days, President Donald Trump has made it very aware that he is willing to take the results to the Supreme Court.
President Trump also made a speech early Wednesday morning falsely stating that he had already defeated Democratic presidential nominee Vice President Joe Biden, with millions of votes still yet to be counted in several states. He also claimed that some kind of voter fraud occurred.
"This is a fraud on the American public," Trump stated. "This is an embarrassment to our country. We were getting ready to win this election. Frankly, we did win this election. We did win this election. So our goal now is to ensure the integrity for the good of this nation…We want the law to be used in a proper manner. So we'll be going to the U.S. Supreme Court. We want all voting to stop. We don't want them to find any ballots at four o'clock in the morning and add them to the list. Okay?"
Since his speech, the Trump campaign has filed several lawsuits trying to stop the vote count in battleground states such as Pennsylvania and Georgia, as well as claiming voter fraud in other battleground states such as Nevada and Michigan.
Protestors in major cities are now outside polling locations blocking entrances and chanting "stop the vote" in alliance with Trump's claims.
Former Vice President Biden also made remarks on Wednesday morning, but with different rhetoric. He sounded confident about his chances of winning and that it is the American people's decision as to who is the winner of this election.
"As I've said all along, it's not my place or Donald Trump's place to declare who has won this election. That's the decision of the American people." Biden stated. "But I'm optimistic about this outcome. I want to thank every one of you who came out and voted in this election."
In addition to the presidential election, there were several elections with the house of representatives, senate, and governors.
As of November 5, the House of Representatives looks like it will remain in Democratic control. Incumbents like Alexandria Ocasio-Cortez (NY-14) and house majority leader Nancy Pelosi (CA-12) won their reelections.
In the congressional district that Moravian College is a part of, Republican candidate Lisa Scheller is beating incumbent Democratic Susan Wild by a small margin.
The Senate looks like it will remain in Republican control with incumbents like Mitch McConnell (Kentucky) and Lindsey Graham (South Carolina) winning their reelections. However, history was made with Sarah McBride (Deleware), the first openly transgender legislator, winning her election and beating Republican Steve Washington.
Pennsylvania had no senators up for reelection, as well as no governor election.
2020 has been a challenging and chaotic year for everyone, and the chaos is still continuing in our election. Hopefully, the presidential election will be decided by next week, but there is still a chance for the results to be changed depending on what the courts rule.
Stay tuned for the next refresh for Moravian College's reactions to the election.
View Comments (1)