Dom Reviews: "Positions" by Ariana Grande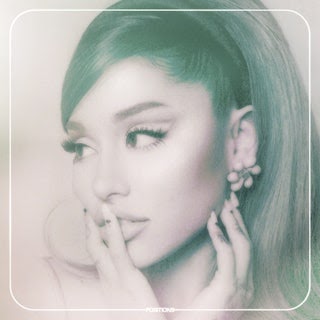 Ariana Grande is a singer, songwriter, and actress whose name is synonymous with modern pop music. Her latest project titled "Positions" came as a bit of a surprise to the world with just one single before the album's release. Regardless, the album has been dominating the charts since it dropped on Oct. 30.
I really enjoyed "positions" as a lead single. It has one of the most infectious hooks of the year with an extremely fun chorus and a plucky string section. Her vocals are soaring by the final chorus and the harmonies she creates on this track are beautiful. It's also lyrically fierce and amusing as Grande sings about being able to perform both in the kitchen and in the bedroom. 
As a result, I was expecting even more lovable pop tunes on this album. However, what we got was a largely boring pop album that left me thoroughly disappointed outside of a few highlights.
Track by Track
The song "shut up" starts out with some dreary violins before breaking out into some more plucked sections like in "positions." However, "shut up" doesn't really go anywhere sonically and you pretty much know what the song is about just from reading the title. I'm not sure why she chose to open the album on such a lackluster note. It could have easily been cut from the project. The chorus is quite annoying as well as she stretches out the words "shut up" to eye-rolling lengths. 
"34+35" combines the string section of "shut up" with trap and hip-hop style production. I found the beat in this song to be really generic, going so far as to include default 808 sounds. The hook is a bit weak, but I must admit that Grande's vocal harmonies continue to be the quality that we expect from her. Unfortunately, this song completely disappears from my mind three seconds after I'm done listening to it as it doesn't have a single thing that makes it stand out. 
Doja Cat joins Grande on the song "motive," which has a dance beat that occasionally shifts to this half-time trap beat in the pre-chorus. I'm willing to bet Grande took influence from her collaboration with Lady Gaga on this track as it feels like a merging of those two artists rather than a merging with Doja Cat. Regardless, this is one of the better tracks on this album. Grande's vocals fit really well with the genre of dance-pop and the chorus, while not the most memorable on the album, is fun and makes you want to move. Doja Cat's verse on this song provides a nice counterpoint to Grande vocally. Her delivery during the half-time portion of the bridge is sharp and extremely satisfying. I feel if it weren't for Doja Cat being on this song, it would have been a forgettable track.
"just like magic" starts with some twinkling synths before a hard-hitting beat comes in with deep bass and some finger snaps. This song is pop R&B perfection from Grande and is definitely one of the album's highlights. The hook is catchy, her vocals on the bridge are absolutely gorgeous, and the production sounds crisp and expensive. 
When I saw that The Weeknd was featured on the track "off the table," I got really excited to see what these two popstars were going to cook up together. My excitement only half paid off. This song is a slow burner so it won't be for everyone, and the first time I heard it, I was pretty bored about halfway through. However, I cannot deny the quality of the vocal performance on this track. Grande's vocals towards the back end of the song are amazing. The Weeknd is… well he's exactly what you'd expect from The Weeknd on a track like this. That's not to say he didn't perform well, he just didn't "wow" me like Grande did. While this track did grow on me, I do think that it takes too long for this track to really shine. I really only listen to this track for the last minute. At four minutes long, it can feel like a drag at points. The instrumental is just fine. I do enjoy the swelling synths in the background, but it's Grande's vocals that do the heavy lifting. 
The song "six thirty" is plagued by some painfully cringy and generic lyrics. Grande asks "are you down?" over and over on the chorus and it's here where I start to experience PTSD from the opener "shut up." She tries too hard to be relatable with lyrics about video games and the rest is just generic. I want to rip my eyes out as she sings: "you know I'm very delicious." Are we kidding? The beat sounds like something off of Justin Bieber's last album (which in case you didn't know, was generic and boring). 
"safety net" with Ty Dolla $ign has a bumping beat that includes some auxiliary percussion flourishes, giving the song a good momentum. The ghostly background vocals give the track a lot of character, but both Grande and Ty Dolla $ign sound like they aren't giving much of themselves on this track. Because of that, I find this track largely forgettable. I also consider it a crime to be this deep into an Ariana Grande project with so few choruses that really stick in my mind. 
The song "my hair" is Grande's single biggest statement as a pop artist on this album. It ditches the typical pop themes we've been hearing and we are delivered a straight-up soul banger. This is undoubtedly one of Grande's best performances. She belts out during the chorus and even reaches her whistle tones at the end of the song. The lyrics are intimate and sexy while Grande gives us complete confidence in her delivery. This song is a testament to Grande's range as an artist and as a singer and I can't help but wonder why the rest of the album wasn't this bold. Easily the best song on the album with "positions" coming in a close second.
The next two songs, "nasty" and "west side," are so generic and forgettable that I can't even tell them apart. I'll give Ariana Grande one thing – she's brave for putting these two songs after the perfection that was "my hair." The drop in quality was unfortunate to hear. The hook on "nasty" is bad in all the same ways "shut up" is and "west side" is so boring it's offensive.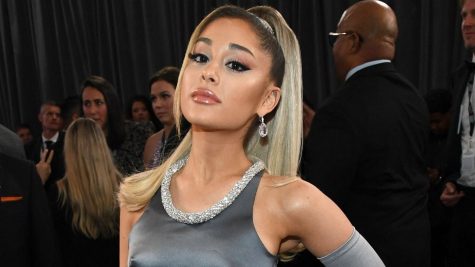 "love language" is one of the more unique sounding songs on the album with a disorienting yet oddly fun violin riff and playful keys in the background. The chorus is sharp and the drums are crisp and danceable. The track feels almost disco-inspired. On its own, "love language" isn't anything mind-blowing, yet I really like how it stands out stylistically from the rest of the tracklisting. The song then fades out before introducing a short, slow, trap beat-driven outro as Grande sings about wanting to find a home with the person she is singing about. It doesn't really make much sense to end the song like this but her vocals sound good enough to the point where I don't mind it all that much. 
The penultimate track "obvious" has a silky smooth beat (like something you would find on Logic's "No Pressure") and gorgeous vocals combined with occasional piano chords in the background. This song is so sweet to the ears and I love the little drum fills before the chorus kicks in. It's both performed well and written well. On this track, Grande asks if it could be more obvious that she wants the relationship she is in. It's exactly the kind of sound we needed this deep in the album. 
The album ends with "pov" in which Grande sings about how she wishes she could see herself from her lover's point of view to fully understand their mutual love for each other. It's a slow burner but provides a satisfying closer with a lovely melody on the chorus and great use of the string section. Grande once again delivers us some great vocals on the back half of the song and I really feel the emotion bleeding out of this track. 
Final Verdict
Overall, I was expecting a more engaging and consistent pop album from one of the world's biggest pop stars. The album has its clear victories with "my hair," "positions," "pov," and "obvious," but it also has too many moments that left me unimpressed, bored, or straight-up rolling my eyes. Grande clearly has the voice and creativity to pull off some bold and amazing work, yet she only does so selectively. 
Rating Scale:
0 – 4 = Negative feeling toward the record
5 = Middle-of-the-road
6 – 10 = Positive feeling toward the record
Final Rating = 4.3/10
Leave a Comment