Vespers Goes Virtual
After a long semester of hard work and preparation, the Central Moravian Church and the Moravian College music department are back with their annual Christmas Vespers celebration–but this time it's online.
The Moravian Vespers service is an annual event that welcomes the Moravian community for a night of worship, song, and a candlelight service to welcome the Christmas season.
This tradition of song and candlelight prayer stems from the Church's "Christmas Eve Candlelight Service" which originated in Marienborn, Germany, in 1747 before being adopted by the Moravians of Bethlehem in 1756. Since then, this celebration has become a major part of what gave Bethlehem, PA the title of "The Christmas City." 
On a "normal" year, members of the community would have gathered at the Central Moravian Church to attend the service in person, but with the Covid-19 pandemic still in full swing well into 2020, this year's Vespers was forced online so as to maintain the health and safety of the student performers as well as the attendees.
To set up and successfully pull off what was already a large musical event, Moravian's choir director Dr. Paula Zerkle had to get creative.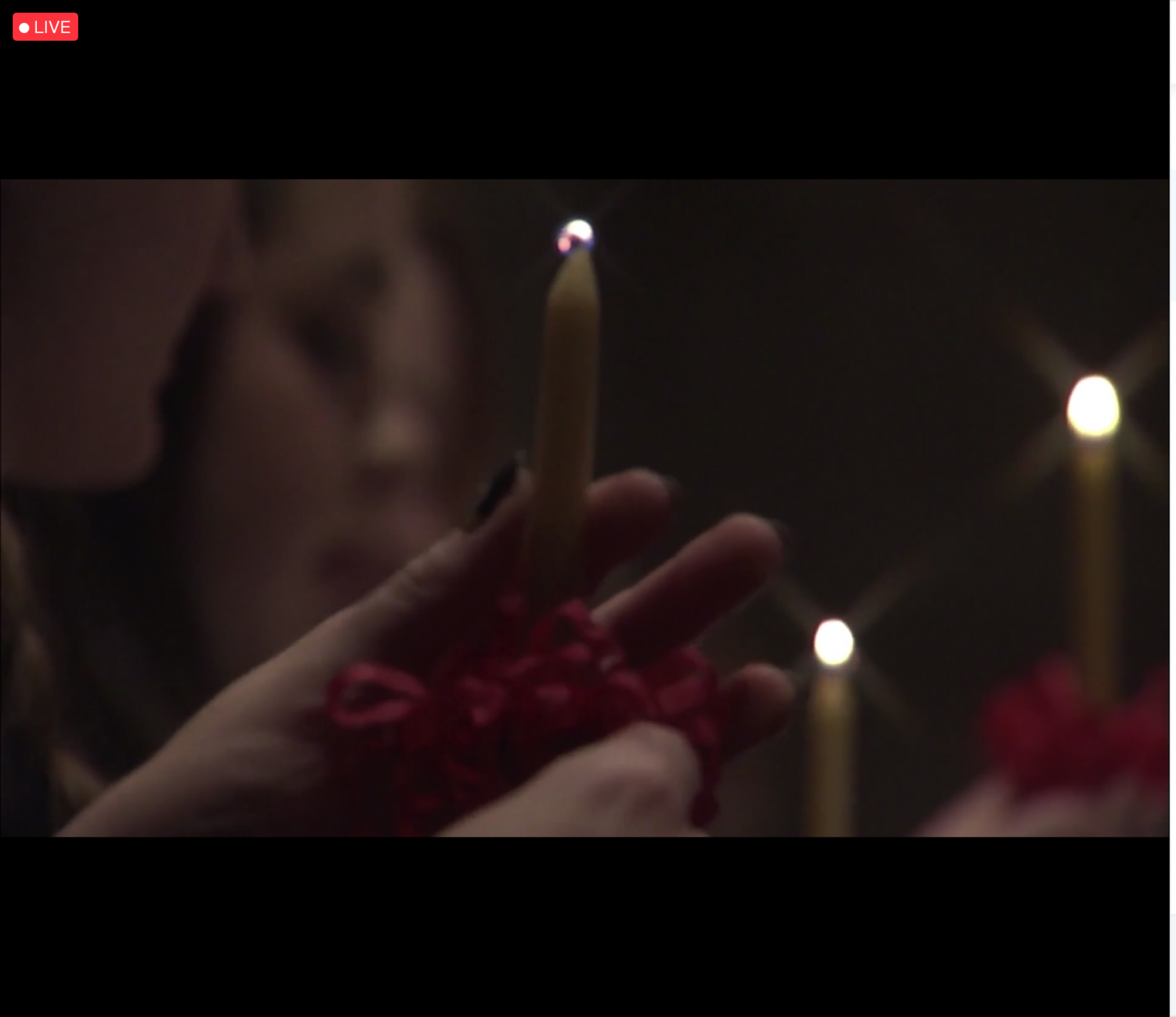 Bryan Holten, the keyboard accompanist for the Moravian College choir, recorded a multitude of separate tracks of each piece in order to allow students to practice individually.
"The choral groups were too large to meet at one time safely this semester, so we had to do everything in pieces," said Zerkle. "Students were asked to upload recordings to Soundtrap (a collaborative online music recording platform) to demonstrate that they had learned their parts. Once the singers were comfortable enough with notes and rhythms, I brought them together in small groups for sectionals, where they rehearsed 10-15 feet apart with masks." 
Once the students were performance ready, they recorded each piece in small groups of 10-12 masked singers at a time with help from Ryan Harding, the choir sound technician. After five weeks of recording sessions, Harding stitched each group's sessions together in order to end up with a final, polished song file for each piece of the Vespers concert.  
After the Vespers service audio pieces were finalized, choir students met at Peter Hall on South Campus in small, masked, and distanced groups to record footage of their performance with help from Blue Ridge Communications. In editing, Blue Ridge Communications included footage of hymns and the spoken Liturgy from Vespers years past to help simulate as much of the full Vespers experience on screen.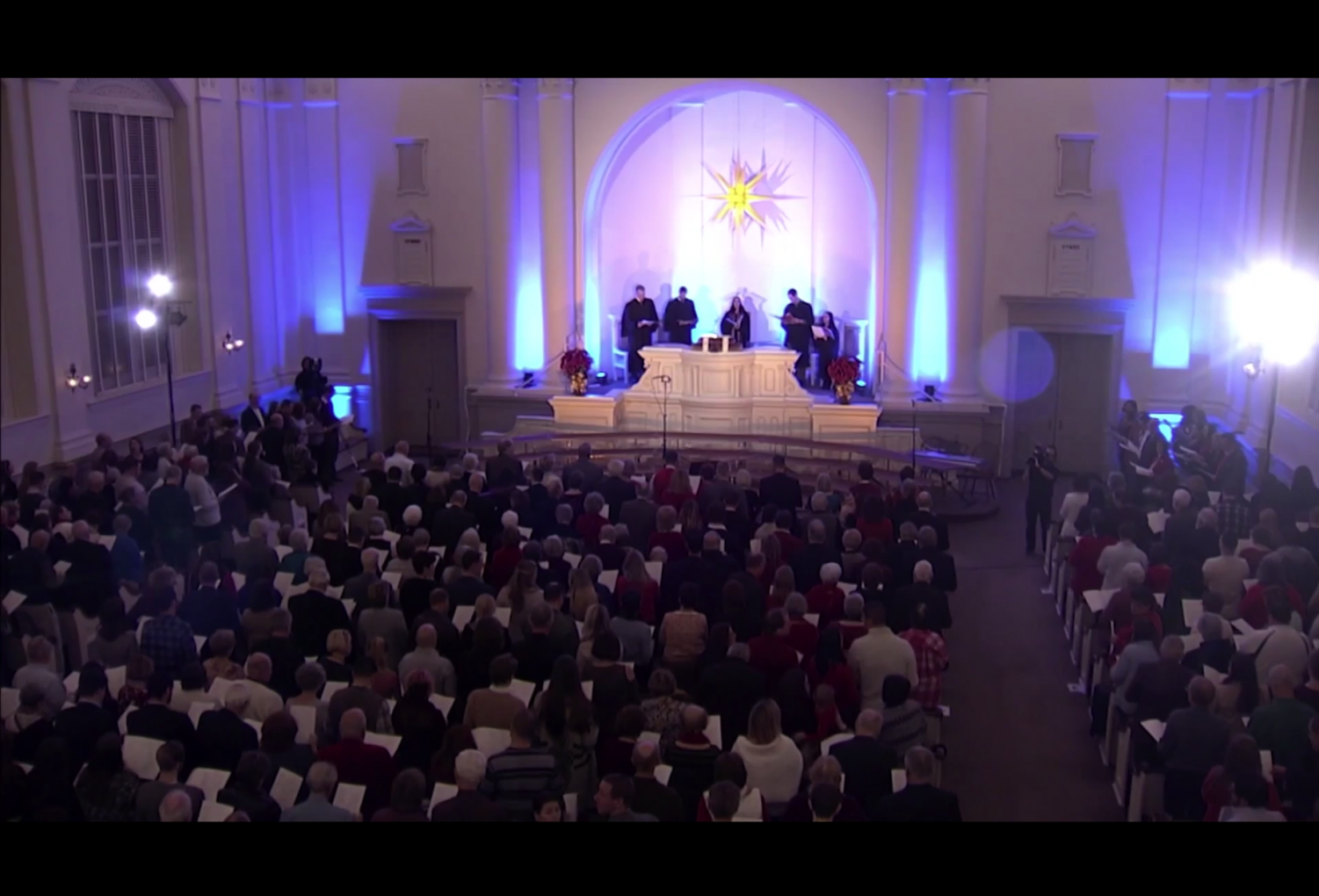 "I appreciate that Vespers [was] professionally filmed," said music major Liam Mulligan `21. "If the individual choir members recorded their separate parts from their bedrooms with a Nick Jonas poster in the background, the whole aesthetic and serenity of Vespers as a worship service would have been ruined."  
Such preparation does not come without its own challenges of course.
Some choir members, like music education major Reid Clymer '24, felt that they missed out on the true Vespers experience of being able to perform for a live audience inside the Central Moravian Church alongside fellow choir members.
With an event like Vespers being heavily geared towards celebrating the community, this feeling of disconnect with the audience is only natural when the performers are unable to directly interact with those they're performing for. "So much of choral singing is about creating community and bringing voices together into a seamless, unified whole," said Zerkle. "I think a lot of us missed that musical and social connection."
But despite these struggles, the Moravian College choir was able to put together a beautiful performance that, given its new online platform, is able to be accessed by everyone in the community. Live Streaming via Vimeo throughout early December, this year's Vesper performance will also be made permanently available to everyone after the last day of Vespers performances. 
"I hope everyone enjoys watching this year's Vespers performances from the comfort of their own homes," said Clymer '24. 
Vesper's Live Viewing services will take place on Dec. 4,5,11, and 12th at 8pm and on Dec. 6th at 4pm on Vimeo.com.  
View Comments (2)