Dom Reviews: "Ok Human" by Weezer (2021)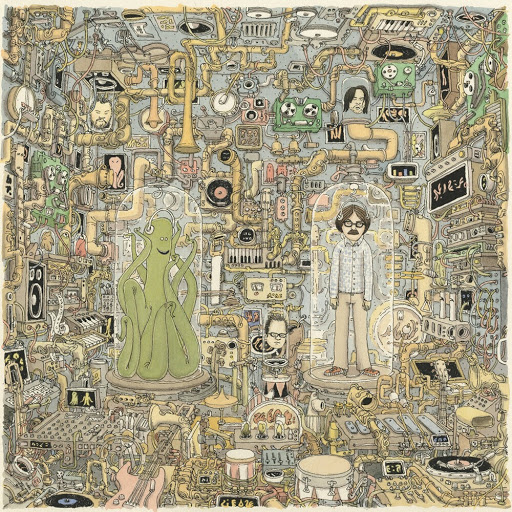 The famous California-based rock band Weezer have decided to approach their latest album, Ok Human, in a more orchestral direction. While the album is still undeniably Weezer and has many of the same characteristics as their previous work (both the good and the bad), Ok Human is a rather refreshing entry in their catalog.
The album's release was a bit of an unfortunate detour for the band. Their original plan was to release their more rock-focused album "Van Weezer" first. Then, they were supposed to go on tour with Fall Out Boy and Green Day in support of those new songs. However, COVID-19 had other plans, and Ok Human was released to hold fans over.
Luckily, this album could not have come at a better time. It's filled with commentary on mental health, technology, isolation, and sadness. In fact, it's one of Weezer's most sad albums lyrically.
Track by Track
"All My Favorite Songs" is a solid opener for the album, setting listeners up for the more introspective and melancholic themes of the album. Rivers Cuomo sings on the chorus that all of his favorite songs are "slow and sad" and that he doesn't know what is wrong with him. The strings, piano chords, and background vocals all combine to make a memorable and catchy chorus. It's a pretty straightforward song all things considered, but the last thirty seconds are magical and where the concept of the album first clicks. The sharp strings are most pronounced in this section of the song and Cuomo's "woahs" are infectiously fun. It all feels very grand, yet lonely at the same time given how isolated Cuomo feels through its lyrics.
A seamless transition into "Aloo Gobi" begins with a sharp cello line and a simple drum beat that compliments it well. It's worth noting here that every song transitions nicely into one another, a satisfying touch that makes this album an easy listening experience front to back. As the song progresses to the chorus, the strings swell and it feels like a song you want to march along with given its tempo and overall cheery tone. The chorus begs to be sung along with friends, almost like a sea-chantey. The instrumental break on the bridge with the sharp piano work is a nice touch. When the final, delayed chorus hits, it is pure euphoria and almost always makes me smile. However, the lyrics, in typical Weezer fashion, are hit or miss. There are some genuinely funny moments like when Cuomo sings, "Gosh darn this cast iron lounger, my butt will bruise", even if it feels like he's trying too hard to be that signature "Weezer" brand of quirky. The lyrics at the beginning of the song are also a bit phonetically awkward to sing. However, the lyrics on the chorus are all too relatable for today: "Same old dull routines, same aloo gobi."
"Grapes Of Wrath" is my favorite song on the album. We are once again treated to a razor-sharp cello line that acts as the song's bass line. When the beat comes in and the violin riffs between Cuomo's vocal phrases play out in quick, sharp bursts, it makes for a very satisfying verse. The chorus of this song has been stuck in my head since I first heard the track. Strangely, the song lyrically reads like an advertisement for Amazon's audiobook service "Audible". No joke. This is what is sung on the chorus: "I'm gonna rock my Audible/Headphone, Grapes of Wrath/Drift off to oblivion/I just don't care, I just don't care". I feel like I should be angry at this level of lyricism, but, strangely, I'm not. It's likely because everything else about the song is great. The strings are pronounced on the chorus's upbeat to give it this bouncy feeling. It's very satisfying to the ears. The vocal melody is superb and Cuomo sounds confident. The post-chorus call and response between Cuomo's "I just don't care" and the violins is simply perfect.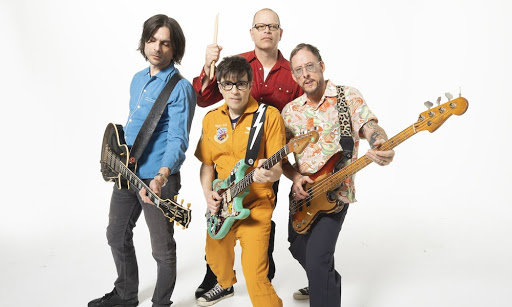 Unfortunately, everything after that impressive three-song winning streak is hit or miss. To make matters worse, Weezer follows up my favorite song on Ok Human with my least favorite: "Numbers". When it comes to ballads, Weezer has a tendency to either hit it out of the park or fail miserably. "Numbers" is of the latter category. My main problem with this song is the vocal performance. It is so terribly miserable and whiny that it's hard to get through the entire song. It's a really shallow song about how we use "numbers" to judge people on a daily basis. I appreciate the sentiment of the song, but it didn't have to be so "on the nose" lyrically. The theme of numbers is crammed down the listener's throat from start to finish. It's like repeating the same punchline over and over again and expecting your audience to be impressed every time. The strings sound good enough but aren't nearly as expressive or unique as the previous three tracks. It's a clear low point in the tracklist.
"Playing My Piano", conversely, is one of Cuomo's best vocal performances to date. It is a soulful performance and displays his range quite well. To complement the title, the piano performance in this song is quite impressive. I like that the drums are held off for the first half of the song to spotlight how well the piano and strings work together. Weezer really shows off how less is more in this song. 
"Mirror Image" is a transitional track about Cuomo's significant other. The best part about this song is the drums. I wish the impressive and clean drum fills that show up on this track were spread out throughout the album in greater frequency. Other than that, it's a totally forgettable track that doesn't do much for me. It's essentially over before you know it. 
"Everything Happens For A Reason" is another transitional track that happens later in the album. Personally, I don't think it adds anything to the album and could have easily been cut. I see it as unnecessary fluff to an already short album.
"Screens" begins with a great shuffling drum beat and yet another killer bassline from the cello, yet this time it's paired with a piano. Lyrically, it comes off a bit too much like something a baby boomer would belittle you for. Essentially, the song can be boiled down to "phone = bad". Despite that, I do like the instrumentation and vocal melody on this track. The chorus is large and the drums carry the track, making it feel quite lively. However, at just two minutes in length, it feels a tad shallow. 
"Bird With A Broken Wing" is an example of Weezer doing a ballad right. It blows "Numbers" out of the water. The lyrics are quite compelling while still having that Weezer charisma. The chorus feels like Cuomo is really singing from his heart with a great vocal melody to boot. I'll admit, it was a bit of a tease for them to throw in an acoustic guitar at the bridge and not bring it home with an electric guitar or a more rock-centered ending, but I liked this song overall.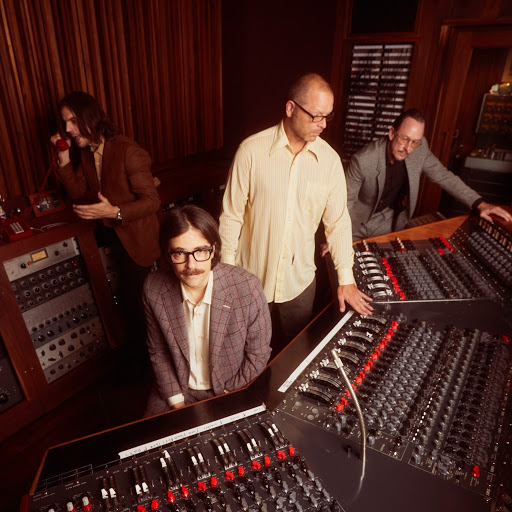 "Dead Roses" has a really dark tone that sets it apart from the other sad songs on this album. I like the subdued percussion for this song. The bass drum, stick clicks, and tambourine hits match the tone of the song really well. The strings do most of the heavy lifting on this song, building out a simple soundscape that is slightly unnerving yet easy to listen to. It's not all that catchy, but it's one of the more unique songs on the album both tonally and instrumentally. 
"Here Comes The Rain" is the most cheery song on the album with its overtly happy lyrics. In fact, I think the only downfall of this song is that it might be too cheery. I like happy songs, but this track is so sugary sweet that I have to be in the mood to listen to it. It does remind me of something I would hear off of 2016's The White Album, which is an album that I love, so I can't say I dislike the song. Cuomo sounds like he's straining a bit in the chorus when he sings the word "here" in the chorus, which makes me cringe a bit. However, I'd be lying if I said this song didn't reinforce my happy mood when I do occasionally throw this song on.
As for the closer "La Brea Tar Pits", it's quite boring. Even for an incredibly short, 30-minute album, it feels like they've visited every avenue they could with their orchestral sound. You could ask me what I remember about this song five minutes after I listen to it and I couldn't tell you a single thing. A disappointing finish for sure. I was hoping for something epic and grand from the orchestra to end this album, but it left on an anti-climactic note.
Final Verdict
Although this album makes for a mostly fun and easy listening experience with its short runtime and seamless transitions between tracks, there are too many moments that feel cringy, forgettable, or straight-up boring for a 30-minute album. You should definitely come for the standout tracks, which are fantastic (i.e. "All My Favorite Songs", "Aloo Gobi", "Grapes Of Wrath", "Playing My Piano", and "Bird With A Broken Wing"), but the rest I could take or leave. 
Rating Scale:
0 – 4 = Negative feeling toward the record
5 = Middle-of-the-road
6 – 10 = Positive feeling toward the record
Final Rating: 6.2/10
Leave a Comment