Professor Spotlight: Dr. Seth Finkle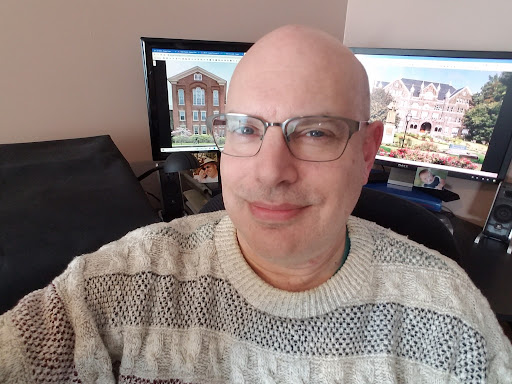 Dr. Seth Finkle is an adjunct professor at Moravian University in the psychology department. He earned his B.A. from Tufts University, double-majoring in psychology and music. He then earned his M.A. and Psy.D. from Widener University in clinical psychology, with a concentration in school psychology.
What inspired you to go into your field of study? 
I've had an interest in the human mind for as long as I can remember. How our memory works, how personalities are formed, how our conscious experiences are assembled from bits of sensory input– I've been fascinated by this stuff since I was a young child. Also, I was a sensitive, anxious kid and I often took comfort from helping others, so a field that combined powerful insights about the mind and a chance to be of service to other people as a clinician? For me, that decision was a no-brainer (so to speak).
What projects are you currently working on?
I'm employed full-time as a clinical and school psychologist in addition to teaching at Moravian, so there's always a lot going on in my professional life! Over the past year, I've been asked by a number of people to be a guest on podcasts and a speaker at several virtual events, including a few coming up. And I'm exploring the possibilities of reopening a small private practice.
What do you think is the most important recent development in your field of study? 
As a clinical psychologist, the past year has highlighted the vital importance of mental health services. Misunderstanding the nature of mental illness has led to famously tragic outcomes for a number of individuals, and the growing mental health needs of our society are outstripping the available pool of treatment resources. The need for mental health clinicians is greater than ever.
While wearing my school psychologist hat, I'm paying close attention to the vast, sudden changes to our education systems, from early childhood right up through higher education. New technologies and innovative teaching strategies are being shared daily, and frankly, I'm excited to be a part of it. Nevertheless, I'm also very aware that these are relatively uncharted waters and I'm deeply concerned about the students (and parents and teachers) who are struggling to keep up. The next several years will be bringing lots of insight about how we learn, along with better tools for students and teachers.
What job would you have if you couldn't be a professor, regardless of salary and job outcome? Why? 
One of the advantages of my current professional life is that I'd be able to continue to work as a psychologist, regardless of whether I'm a college instructor. If I couldn't be a psychologist any longer, though, I'd probably become a music producer. I've been a musician for well over 30 years and I maintain a small home studio, where I record some of my own work and occasionally help out friends with their music projects. Psychology is my heart, but music is my soul.
What do you know now that you wished you knew when you were in college? 
Don't let your own anxieties, indecision, and self-doubt stand in your way. Life is shorter and more fragile than you realize, and you often don't get a second chance for a do-over. Plan and prepare, sure. But don't keep standing on the side of the pool. The only way it gets less scary is when you just close your eyes and jump in the water. Our insecurity lies to us. Trust yourself, take a deep breath, and go for it.
What is your biggest student pet peeve? 
I'm not sure I have one! I have the luxury of teaching only a couple of courses each semester, which allows me to appreciate and enjoy my students without having to deal with those pesky peeves very often.
What was the last streaming show that you binge-watched or the last good book that you read?  
I just finished WandaVision, which I really enjoyed, although it took a few episodes to figure out what was happening. I'm usually reading several books at once; right now, I'm in the middle of Louise Penny's Inspector Gamache series, Colin Cotterill's Dr. Siri Paiboun series, Andrea Camilleri's Inspector Montalbano series, and the Fox & O'Hare series by Janet Evanovich and Lee Goldberg. All are excellent.
What is something interesting about you that most people don't know? 
I have 33 teeth, which I'm told is rather unusual. The fact that they all fit in my face perhaps indicates that I have a rather big mouth. That checks out, I think.
What animal do you relate to the most and why? 
While I really enjoy dogs, I'm probably more like a cat. I'm an introvert who enjoys people on my own terms. I'm quite independent. And I tend to knock things off of tables.
Have you picked up any new hobbies over the COVID-19 pandemic? If so, what hobbies?  
For a full year now, I've been posting daily questions (much like these!) on social media and really enjoying the ensuing responses and conversations. I've been playing RPGs and board games more frequently with friends and family. I've begun brewing my own kombucha. And I've been reconnecting with lots of old friends by phone and email and Zoom, which has been truly lovely.
View Comments (2)