People With Disabilities Excluded at Moravian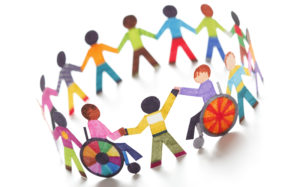 When I was an incoming freshman in the fall of 2019, Moravian College had a Peer Mentoring program that operated through the accommodations center.
As a student who needs accommodations, I was welcomed into the program and assigned a peer mentor who helped me greatly in transitioning from high school to college. 
At the time, the Peer Mentor program was there to help incoming freshmen understand what Moravian's Accessibility Services Center was and how accommodations could be made, how to effectively communicate with professors about accommodations, and how to successfully navigate through campus and campus life. 
Fast forward to last semester, when we all received an email from the Office of Diversity, Equity, and Inclusion (DEI), that encouraged us to participate in the Peer Mentor program. The program was extended out to DEI, which essentially took over the program. 
DEI claimed that this was "a new orientation program" for incoming freshmen of groups including "BIPOC, LGBTQ+, first-generation, and/or low income first-year and transfer students"– notice how disabilities is not on that list. 
Not only were there already students who utilized this program, but there were incoming students denied the assistance that I was lucky enough to have had in my freshman year at Moravian.
The biggest issue with this is that anyone could need accommodations and support at any point in their life, and this applies to any demographic. Additionally, people could need it now, and they are not receiving it.
The University shouldn't make it even harder for these students by taking away one of the few resources that was actually available. 
Recall what DEI stands for: "Diversity, Equity, and Inclusion." This group is excluding people who are disabled, physically or otherwise, and restricting their access to function equitably as a Moravian student. 
View Comments (2)