#LOVEweshall: MU Students Create Mural of Love and Diversity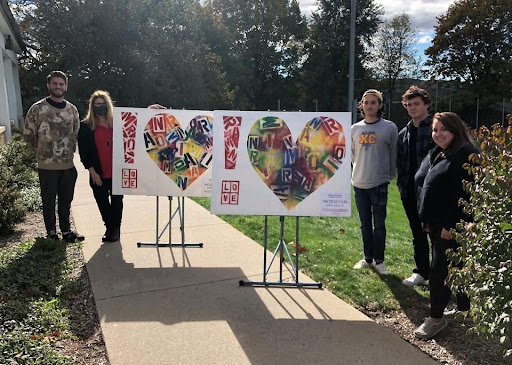 On Oct. 27, Moravian adjunct professor of graphic and interactive design Christina Galbiati led a #LOVEweshall mural creation as part of the school's InFocus events on Health and Justice. 
Participants first gathered in the HUB Snyder Room at 12:00 p.m. to become familiar with Galbiati's work and #LOVEweshall's history.
A graphic designer for 20 years and a teacher for 10, Galbiati's main focus is art and illustration. She explores the combination of word and image in order to communicate emotions and statements, and she inspires her students to use art in impactful ways.
"As graphic designers and artists," she said, "we have a responsibility to make a difference."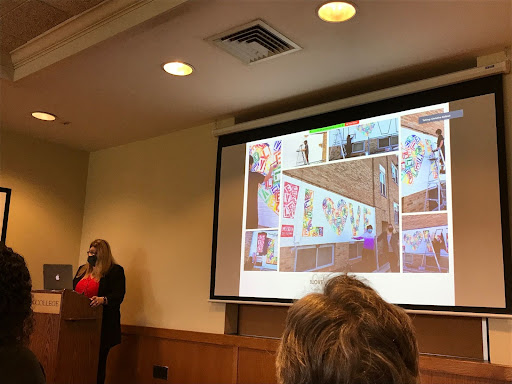 Partnering with the Hazleton Integration Project allowed Galbiati to directly involve young people in making that difference. In 2018, sixth and seventh grade after-school students helped create her mural "Diversity", which embodies HIP's mission of uniting people of different cultures in the Hazleton community. 
Through intricate typography, bright colors, and uplifting butterfly imagery, the mural interprets a quote from poet and civil activist Maya Angelou: "It is time for parents to teach young people early on that in diversity there is beauty and there is strength."
Following "Diversity", Galbiati again worked with HIP students to create "!LOVE" and "!HOPE". In these murals, the typography is composed of smaller letters spray-painted in all colors of the rainbow.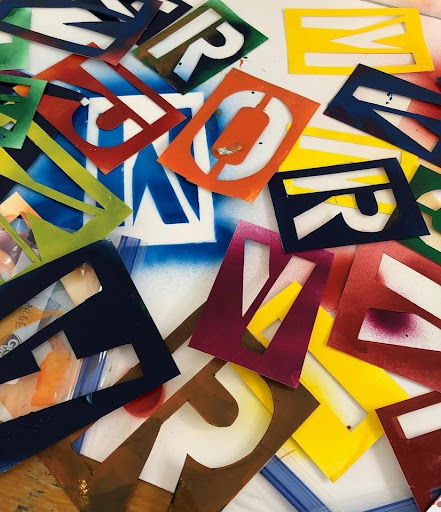 This medium made for an accessible creation process – students who had little experience in art could easily pick up a stencil and spray can and bring the designs to life. The words, set in a sturdy font, are emphasized through their preceding exclamation mark, and the range of bright colors conveys diversity and positivity.
The hashtag behind these creative, collaborative projects celebrating love and diversity is #LOVEweshall – a deliberate reference to the American civil rights movement's anthem "We Shall Overcome".
After the 30-minute presentation, Galbiati encouraged everyone to join her on the Portico right outside the HUB to create smaller-scale versions of the "!LOVE" and "!HOPE" murals for Moravian University.
"The act of doing is just as important as looking," she said.
The two murals and materials were set up under tents, and several student assistants guided the participants. 
Everyone chose a stencil of a letter from the word "Moravian" and spray painted the letter onto the larger shapes of an exclamation mark and heart.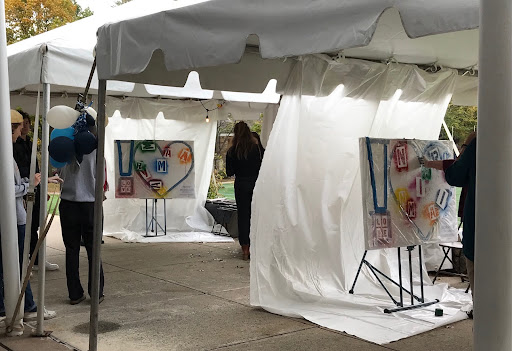 The main participants consisted of around 5-10 people, and many passing students were convinced to jump in and add a letter. By the end, each heart and exclamation mark was filled up with the colorful overlapping letters of "Moravian", with the point of the exclamation marks composed of "LOVE".
"Professor Galbiati's #LOVEweshall mural presentation was so inspiring," senior Annie McCarthy said. "I had such a pleasant experience learning the story behind why she took on this project, and the fact that she brought a little version of it to Moravian made us feel like a part of the movement. I'm so happy I was able to be a part of this event!"
Leave a Comment