If Your Diversity Doesn't Include Disability, It's Not Diverse Enough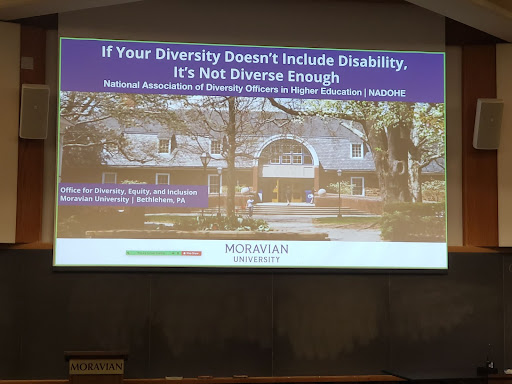 On October 28, 2021, from 1:00 p.m. to 2:30 p.m. in Dana Lecture Hall, Moravian University held a webinar titled "If Your Diversity Doesn't Include Disability, It's Not Diverse Enough."
Viewers could attend in-person or over Zoom. Those interested in watching a recording of the webinar can do so via the provided link. 
During the Zoom call, there were two sign language interpreters who took turns interpreting throughout the presentation. 
The overall event was hosted by the president of the National Association of Diversity Officers in Higher Education, Paulette Granberry Russell, J.D. The in-person/on-campus aspect of the webinar was hosted by Dr. Christopher Hunt, vice president and dean for equity and inclusion at Moravian. The webinar moderator was Clyde Wilson Pickett, Ed. D.
The presentation consisted of presentations by panelists Michael Martinez, Charnessa Warren, Jamie Axelrod, Paula Possenti-Perez, and Cheryl L. Lyons. 
According to Warren, the director of Student Disability Services at the University of Chicago, university recruitment has an ableist history in that it has been based on the false belief that disabled students are not academically capable, and therefore they were not welcomed on the campus; change was initiated only in compliance with the law. However, as Warren made clear, complacency does not equate inclusivity. 
Even though ableism may no longer be explicit in administration, it is still ever present as a reflection of our greater society. Policies and practices are laced with ableist strings. 
When universities begin to discuss implementing accessibility policies, they tend to have the idea that it is a slow and lengthy process. However, as COVID-19 has shown,  change can be rapid when necessary — for disabled students, change is necessary. 
Overall, college communities have a limited awareness and understanding of the disabled population on campus. They are oblivious to the presence of disabled students and staff, and they tend to believe that the topic is not relevant to their specific campus, even though it is most certainly relevant: they have current students and staff who are disabled, and those who are not, could become disabled at any moment, and they will continue to have incoming students who are disabled. 
However, while it is true that this population may not be large, it was explained in the webinar that such a state is not a coincidence. When administration, marketing, outreach (and so on) are not putting forth an accommodating front and actively welcoming disabled students and staff, it makes sense that these individuals would not be drawn to Moravian's campus. 
There are many ways in which academic communities can bring change. These are not "options" though — universities cannot simply pick and choose what they want to implement and what is too much work. They need to improve every aspect of their campuses for it to be enough of a change. 
The panelists of the webinar made the following suggestions: 
Professors: 
Begin to incorporate Universal Design of Learning (UDL) into your curriculum. In other words, design your courses with all types of students and learners in mind. Consider how difficult the design would make it for a disabled student to succeed. 
For example, most presentations set many disabled students up for failure when they are rigidly designed. A student with social anxiety or autism should not be forced to make eye contact during a presentation. Others should not be demanded to stand in front of the class. Scenarios like this are not designed in disabled students' best interests. 
In order to be accessible, you (and your course) must be flexible. One way to accomplish this is to provide options regarding the format of large assignments. Perhaps provide a choice of a paper or a video recording of some sort. 
Take this a step further and be open to feedback, then make improvements based on this feedback. 
Infrastructure: 
Always have accessibility in mind when discussing and planning infrastructure design. Ask yourself: is this building/room/space physically accessible? Could this design choice be harmful? What would help make disabled individuals feel safe and comfortable? Examples of potentially harmful infrastructure are flickering lights and fluorescent lights. 
Administration: 
Consider and thoughtfully include disability in marketing. Show potential students — don't just tell them — that this campus is welcoming of disability, as well as accessible and accommodating. And when you do this, go beyond the surface of simply including a student in a wheelchair in a group photo. Actively recruit students and faculty with disabilities. 
Community as a Whole:
Do not stop after recruitment! Charnessa Warren proposed a genius format termed the "3 Step AP Approach." Step one is to Acknowledge Prevalence. Step two: Action Plan. 
The third and final step is Accountability Promotion. Are we doing what we can to welcome disabled students? Are we doing what we can to support disabled students? What about staff and faculty? These questions and many more must be asked and asked repeatedly in order to truly be an inclusive and accessible campus.
Educate one another; listen to disabled voices. Paula Possenti-Perez, director of Syracuse University's Center for Disability Resources, even proposed expanding DEI into DEIA (or IDEA), including accessibility to the acronym.
View Comments (1)