Brace Yourself for Del Rey's "Blue Banisters"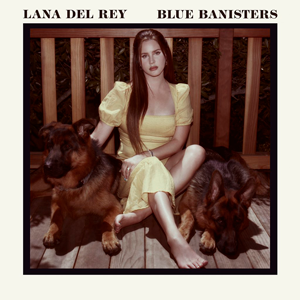 "I was just living on the edge, right between Heaven and Hell and I'm tired of it," croons songstress extraordinaire Lana Del Rey on "Living Legend," one of the highlights on her eighth studio album, "Blue Banisters." In a decade of monstrous singles, era after era of pure brilliance and achieving acclamation on sites such as Tumblr, Lana Del Rey has garnered massive respect from all corners of the music world and is seen as one of 2010s most beloved musical juggernauts. 
On her debut, "Born to Die," she embraced a vintage sound of decades long gone as she dabbled in the influences of Bob Dylan and Frank Sinatra. Accompanied by melodramatic lyricism, she developed a signature sound adored by millions and settled on a uniquely antique aesthetic. 
2014's "Ultraviolence" and 2015's "Honeymoon" come as a kind of packaged deal as both projects furthered the established vintage of "Born to Die." As her career progressed, she began diverging from the angsty, brooding image of a gangster Nancy Sinatra and grew a more mature, contemporary image. 2017's "Lust for Life" saw Del Rey challenging the polarizing problems America was dealing with, while combating her own demons and the growing pains of change; it has been often regarded as her most sonically diverse record as she embraced a blend of hip-hop and the sounds of the 60s Woodstock scene. 
However, the record that changed the trajectory for Del Rey and demonstrated a massive artistic shift is arguably 2019's "Norman F**king Rockwell." Highly regarded as Del Rey's most cohesive, dreamy and wondrous project, "NFR" immortalized Del Rey as an immersive and prolific lyricist and storyteller. Producer Jack Antonoff lent a tremendous hand on the lush, ethereal instrumentation and with Del Rey's profound lyricism and wispy vocals, it became one of her most critically acclaimed projects to date, cemented as a notably majestic musical venture of the 2010s.
2021 saw the release of "Chemtrails Over the Country Club" that, although followed similar musical patterns as "NFR", failed to leave a lasting impression on Del Rey's vast audience. Still, its craftiness and concordant tracklist is admirable to any avid music listener.
"Blue Banisters," her latest melodious miracle, seems to fall more in line with NFR than "Chemtrails Over the Country Club" and embraces woodsy instrumentation and melancholic lyricism that can read like a diary and provoke a sense of wanderlust. This project heavily utilizes acoustics but is daring enough to dip into different musical avenues, with Lana Del Rey bringing a blissful simplicity to each of these tracks as she shares the introspective ins and outs of her life.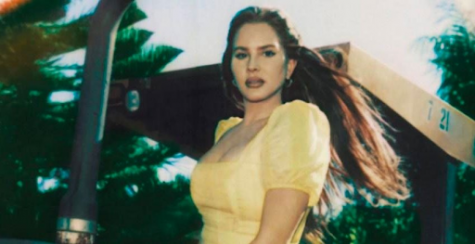 The "Blue Banisters" era kicked off with a trio of singles, "Textbook," "Wildfire Wildflower," and the titular "Blue Banisters," each containing their own helping of constructive storytelling as Del Rey updates her audience on her life and familial relationships. She does not shy away from the nitty gritty that plagues those relationships such as in "Textbook" as she admits that she, "…was looking for the father I wanted back."
Arguably the most ethereal and lavish of the singles has to be the fourth single, "Arcadia," which sees Del Rey wittingly comparing her physical aspects to the various landmarks in Los Angeles. With honeyed vocals backed by a flourishing section of strings and a delicate piano, "Arcadia" reads as an intimate ballad and a subtle proclamation of body love that transports the listener into a blissful dreamland. 
The tracklist enters an intriguing territory with "Interlude – The Trio" which includes Rumba-styled production, a Latin horn section, and boisterous trap beats. It is truly a remarkable point in the tracklist that is followed by the ballad "Black Bathing Suit," a low-key ballad that includes references to the pandemic and the loneliness that spawned from the isolation of the lockdown. It is not a particularly fascinating track that leaves a profound impression, especially with its lackluster chorus, but nonetheless it follows suit with the sentimental themes of the record and its inclusion of a toy piano adds warmth to the track. 
"If You Lie Down With Me" shows the influence of  Johnny Cash, but Del Rey confidently makes the tune uniquely hers as she urges her lover for honesty and reassurance in an uncertain world. What truly makes this tune phenomenal is the instrumental outro that sounds like a jazz salon from vintage Western films. "Beautiful," though not sonically impressive, provokes a melancholic feeling in the listener as Del Rey shares the depression that spawned from a particularly sour relationship. She cleverly references Picasso's "blue period" of art and utilizes the color blue as a symbol of happiness rather than depression, noting "how sadness can turn into happiness, I can turn something blue into something beautiful." 
Following the theme of liberation from a sour relationship, "Violets for Roses" is an empowering ode to simplicity and embracing individuality in spite of others. Del Rey confidently asserts all that makes her uniquely her despite someone trying to change that by making her trade her violets (individuality) for roses (conformity). This saccharine self-love ballad offers solace to the listener and ensures them to not drastically change themselves for the approval of others.
"Dealer" serves as a tremendous highlight to this record with its spacey light jazz production and steady tempo suitable for a coffee shop atmosphere. Singer Miles Kane takes over the verses and Del Rey dominates the chorus by powerfully wailing "I don't want to live" as she expresses the desolation of a one-sided relationship. Its bittersweet tone infuses the track with a sense of edginess which is countered by the airy instrumentals. 
Proceeding Dealer is the acoustically tender "Thunder," easily one of the most endearing and hopelessly wistful helpings on this project. This tune keeps a relatively upbeat country atmosphere, but its lyricism is infused with softly depressing lines on witnessing two polar opposite sides of a person and the heartbreak of having to break up with such a turbulent person. It leaves the listener with this soft melancholic feeling but holds a potent message of doing what is best for your mental health, even if it means breaking up with a lover.  
Finally, we reach the concluding songs of the record, most notably "Living Legend" and "Sweet Carolina," which both steer towards an optimistic route and ending the album on a saccharine note. "Living Legend" is an ode to a mentor and depicts a happier Del Rey wishing to make that mentor proud and keep pursuing what she loves. She makes a few callbacks to her earlier works, signaling how far she has come in her artistic career. 
"Sweet Carolina" concludes "Blue Banisters" perfectly as Del Rey croons in her angelic high register accompanied by a waltzy piano instrumental. It pursues a personal, intimate route as Del Rey appears to be singing to someone very close to her experiencing postpartum depression. She promises to help this person through those oh so troublesome "baby blues" and offers affectionate reminders that "I'll always be right here, closer to you than your next breath, my dear." 
In 15 neatly packaged songs, "Blue Banisters" continues an impressive musical trajectory for Lana Del Rey and her everlasting artistry. From its lavish and acoustically enchanting production to its detailed poetic verses, this project succeeds in immersing listeners into its woodsy realm of storytelling and serves as an easy listen for a nice drive or for simply a night at home. Though it may not reach the same highs of "NFR," "Blue Banisters" could definitely be considered a contender as one of Lana Del Rey's most homely and established projects in her discography. 
View Comments (2)