A New Dawn for 2022: "Dawn FM" (2022)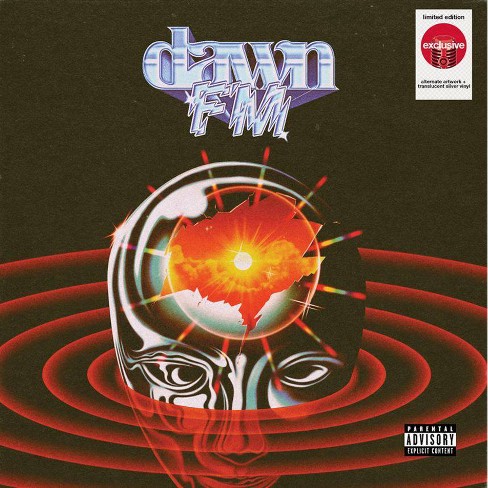 In 2020, a year drenched in infamy and perpetual uncertainty, many artists had found their creative sparks by reviving music eras of yore. 80s electronica and dance pop became revitalized, specifically thanks to artists such as The Weeknd, who solidified their positions as musical juggernauts.
Commonly and currently referred to as the king of R&B, Abel Tesfaye, known as The Weeknd, gained a promising start with mixtapes such as "House of Balloons" and "Echoes of Silences." These projects introduced the world to the lustful, yet melancholic nature of his lyrics and the sensual instrumentation that continued for many records to come. 
2020 sought the release of the electrifying "After Hours" that was not only a massive project in its own right, but a defining era for the music landscape. Heavily inspired by renowned films such as "Joker" and "Casino," The Weeknd confidently embraced the glitzy, glimmering 80s retro style and adopted a glorified aesthetic through his famous red suit and battered physical appearance. With this album, he further cemented his versatility through heaps of introspection, insanity, and romanticization, accompanied by synthpop and electronica. "Blinding Lights" and "Save Your Tears" dominated the airwaves immensely and it was safe to claim The Weeknd as 2020's most prized musician.
What is in store for the charismatic crooner now? The answer comes in the form of the newly released "Dawn FM," which continues down the path of 80s bygone glamor with spacey elements attached. In 16 packaged tracks, this new endeavor focuses more on an otherworldly, almost sci-fi vibe, and tones down the musical punchiness of "After Hours" with notable narrations from acting extraordinaire Jim Carrey.
An Intergalactic Joyride
Immersing in the stellar, otherworldly atmosphere, the album opens with the ethereal, synthwave title track, "Dawn FM," which introduces the radio station concept and the themes of isolation and loneliness that become so integral to the record. The Weeknd invites listeners to follow him along on this spiritual, solitary venture and by the end of the glitzy track, it is like the listener transcends into the radio world of 103.5 Dawn FM. Jim Carrey concludes the track with a short spoken word dialogue, encouraging the listener to "walk into the light" and be guided by the album's hypnotic, mystical ambience. 
"Gasoline" drenches the tracklist with a more eerie, skeletal atmosphere, but magnificently embraces hypnotic, robotic beats and nitty gritty, introspective lyricism. Utilizing his resonant lower register throughout the verses,The Weeknd opens up about his own feelings of nihilism and existential dread, and appears detached from his life, as he admits to abusing narcotics to cope. As desolate and dreary as this track gets, at times, he sounds endearing as he speaks about his lover who seems to be the one person who can help him through the dark abyss of his psyche. 
The dance-pop homage of "How Do I Make You Love Me?" adopts familiar, glimmering 80s keyboards that enhance the desperation for love and a quest for intimacy. Swedish DJ group, Swedish House Mafia, lend a hand with the production that makes it feel like the listener is ascending on an elevator to space. Though not a particularly memorable song, it features a gracious transition into "Take My Breath" and sets a consistent musical pattern of tracks transitioning into each other beautifully. 
"Take My Breath" is this record's mystical lead single and serves as a romantic space odyssey anthem of sorts. Fueled with a retro, sci-fi synth bass groove and stereo panning, this fiery tune ignites an adrenaline rush for the listener as The Weeknd croons about ethereal but deadly eroticism and asks his lover to "bring me close to heaven."
Switching to a more electro-funk feel is the flamboyant "Sacrifice" that finds The Weeknd 
admitting to his commitment issues and learns to treasure being by himself. Although it may come off as pure selfishness, the delivery in this song is assertive and self-reassuring when it comes to personal well-being.
The spoken word passage, "A Tale by Quincy" and the lush "Out of Time" come as a moody packaged deal on dark pasts and the effects trauma has on relationships. In this jazzy interlude, featuring a sleek bass, renowned music producer Quincy Jones reflects deeply on his troubled childhood with a mentally unsound mother and emotionally unavailable father. 
Transitioning into the sonically sentimental "Out of Time," Tesfaye laments over similar circumstances and his emotional unavailability, noting, "There's so much trauma in my life, I've been so cold to the ones who loved me, baby." As the tune continues, it is clear that his experiences have affected his ability to love his partner and he fully expresses his regret with backing velvety guitars, glittery descending synths and a slick outro by Jim Carrey. For a tune called "Out of Time," it honestly feels timeless and everlasting.
Uncertainty mixed with bitterness and acceptance seep into "Here We Go…Again" featuring Tyler, The Creator. The twinkly, starry instrumentals blend seamlessly with The Weeknd's stunning vocal performance and Tyler, The Creator's nonchalant delivery that focus on vulnerability in a new relationship. Additionally, this truly outstanding tune reflects heavily on the uncertainties of finding new love after an unstable relationship. Although you may tell yourself that you won't fall hopelessly for someone, you probably will, hence "I told myself I'd never fall but here we go again."
Gritty, punchy beats backed with synth strings, "Best Friends" depicts the complexity of friends with benefits and The Weeknd finds himself warning a close female friend to not fall for him and instead, "Focus on the friendship." In ways, this nearly 3-minute song reads as a cold letter of rejection of intimacy and it feels undeniably hypnotic.
As immersive as this project feels, "Is There Someone Else?" and "Starry Eyes" don't feel like very engaging tunes that enhance the magic. Sure, they stick to the nostalgic aesthetic and have sleek production, but they feel hollow and lack elements that make them sparkle. "Is There Someone Else?" is arguably the better of the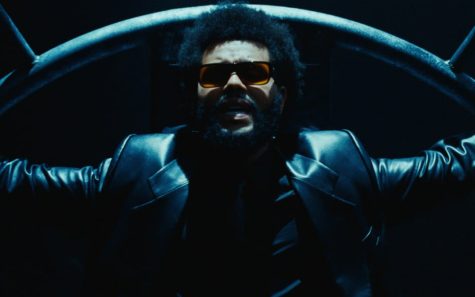 two, projecting insecurity and envy layered   on a steady groove that expands into a synthesizer symphony in the outro. Being a celestial ballad, "Starry Eyes" is a decent change of pace, but with barebones composition and uninspired lyrics, it falls flat and doesn't leave a profound impact on the listener. 
We delve into another spacey interlude with "Every Angel Is Terrifying" that features galactic vocal rifting and a spiritual dialogue on Biblical angels and their terrifying, bizarre beauty. What makes this interlude really spark is its message on existentialism and the afterlife, just like "Gasoline" did. The afterlife is often described as the ultimate paradise that is advertised to us, and eventually the track showcases this by transforming into a glorified radio advert on the afterlife and subtly noting how people are manipulated by religion. 
Returning back to singing in a lower register, The Weeknd expresses a mix of sensuality and vulnerability on the glitchy, mechanical "Don't Break My Heart." With a blend of electropop and brooding R&B, it's a mesmerizing, soft and sensitive club banger that dramatizes heartbreak as something that can kill. Its production also takes clear inspiration from the likes of 80s visionaries, such as Phil Collins and Tears for Fears.
Following the theme of possible infidelity hinted throughout "Is There Someone Else?" is the entrancing, spunky "I Heard You're Married" supported by a bumping bass and an irresistible hook. Maturity comes to fruition here as The Weeknd asserts his disdain towards a married woman's infidelity and being seen as the other man. Once he found out she's married, he croons bitterly, citing that, "Girl, I'm way too grown for that deceiving." He doesn't believe a relationship in which he has to share someone is worth being in and he would be much more content by himself. Lil Wayne offers a croaky but assertive verse that further embraces the complicated feelings towards a married woman. 
"Less than Zero" serves as the album's final fully musical track and winds down the album beautifully with summery acoustic guitars, keyboards and ascending synth lines; it could perfectly be a summer soundtrack jam. Such nostalgic instrumentation evokes a sentimental, eternal feeling while reflecting on a faded relationship. A phrase such as being "less than zero" perfectly encapsulates feeling inadequate or worthless, or perhaps it means being emotionally cold, which has been discussed in "Out of Time." For having such a euphoric sound attached to it, it is an undeniably heart-wrenching, evocative song and probably will have you hopelessly yearning for someone from your past. 
Finally, Jim Carrey concludes "Dawn FM" with a ghostly spoken word piece on "Phantom Regret by Jim" that sounds like it is being broadcasted on a cold, distant planet. As an epilogue to the entire record, it summarizes many of the themes of uncertainty, pessimism and numbness, but also delves into the dark side of remorse. Jim Carrey touches deeply on growing old and looking back on past mistakes and wanting to do things differently, which strangely relates to the album's cover that shows an elderly Abel Tesfaye. Perhaps it's an overarching message on making good decisions so your future self won't look back regretfully.
Many of the lines dealing with uncertainty and how "all future plans have been postponed" even can easily be related to our current life adjusting to COVID-19 and the mask mandates. By the end of the passage, Carrey wishes the listener to find their own spiritual peace, and though it reads like Dr. Seuss book, I find it to be a fitting conclusion to this joyride of an album. 
Overall?
With such a vast catalog under his belt, The Weeknd once again supplied another high-quality project that encapsulates the 80s synthwave aesthetic with seamless transitions and dazzling keyboards. It may be tempting to compare this new body of work to "After Hours" but I believe fans and casual listeners will admire this new album as its own immersive creative endeavor. At times, it falters with the slower, less memorable ballads, and probably could have been reduced to possibly 11 or 12 essential tracks. Nonetheless, "Dawn FM," for its intergalactic, sci-fi ambience, consistent radio station concept, iconic appearances and continuing down a synthpop trajectory is…an 8/10.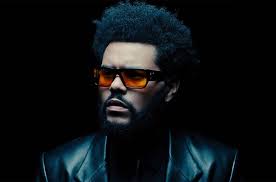 View Comments (1)