Dom Reviews: "Three Dimensions Deep" (2022)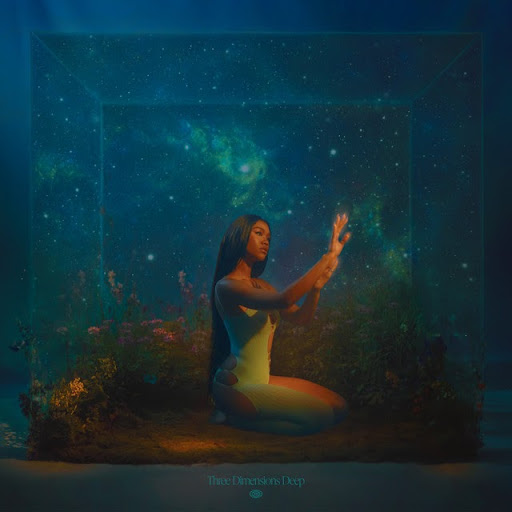 Amber Mark is a singer, songwriter, and producer from Tennessee. In the five years that she has been making music, Mark has released two EPs (2017's 3:33am and 2018's Conexão) and a smattering of singles. Three Dimensions Deep is her debut album and acts as the culmination of the R&B, soul, hip-hop, and indie-pop sound she's been working towards for the past few years. While her work up to this point has ranged from decent to good, this album feels like her first definitive mark (pun intended) in the sand as she carves a sonic palette she totally nails.
I first caught wind of Mark through music critic Anthony Fantano's "Top 50 Singles of 2021" video. The song he highlighted was "Foreign Things," a song that I instantly adored because of its pristine production, groovy bassline, sharp piano keys, and a hook that I couldn't get enough of. It's a danceable, fun, and tropical song that encouraged me to listen to the other singles leading up to this album's release.
On Three Dimensions Deep, Amber Mark guides listeners through a rich, gorgeous, groovy, and glittery feminist-fueled journey across her life, professional career, and experiences with love.
Track by Track
On opener "One," Mark combines a smooth rap flow on the verses with strong, layered vocals on the chorus. Mark's vocals on this song, and throughout the album by extension, are generally fantastic and easily rival the biggest pop stars of today. Her harmonies and vocal layering are top-notch and a delight to the ears. The jazzy hip-hop/R&B instrumentation combined with the great sampling work on this track is a treat. Lyrically, this track sees Mark describing the current state of her career, her mental health, and her struggles to make the people in her life happy. The song sounds timeless – simultaneously old school and fresh at the same time. 
This is followed up by the impeccable slow-burner "What It Is." This track works because of the confidence Mark exudes (which is true for the majority of the album), the amazing hook, and the incredibly groovy instrumentals, especially the synth work. The song doesn't change up too much over its five-minute runtime, but the beat is so core-shakingly good that I wouldn't have minded another minute of it. To top it off, the song ends with an unexpected guitar solo that somehow works incredibly well for this genre. 
"Most Men" begins with some somber organ keys as Mark croons about a toxic relationship. The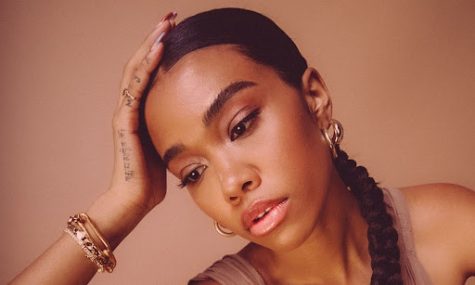 track reads like Mark giving relationship advice to a friend, telling this person to "cut that player out." However, given how personal her music tends to be, combined with how intimate the song feels, it could very well be about a relationship of her own. I thought this unique perspective was a nice touch. The chorus is a little trite with its repetitiveness and lyricism, but I like the shuffling drum beat and the bassy synths, which give the song some freshness. The track feels a bit like it's over before it gets started, especially for a song over four minutes in length. Part of this might have to do with the fact that it's only a verse followed by a chorus. Generally, it's a solid way to kick-start the feminist themes of the album.
"Healing Hurts" is the perfect companion song to "Most Men" as Mark sings about the hardest parts of the breakup process. It's got a modern trap instrumental that you'd find at home on an Ariana Grande album, but Mark's performance sells it as her own. It's a really well-written track and successfully captures the pain of such a difficult situation. The chorus is grand and very catchy with some great harmonies. I honestly just wish the song was longer. The fantastic production keeps the familiar beat from feeling cheap.
I find "Bubbles" to be one of the weaker tracks of the album with its somewhat half-baked chorus, which features these chopped-up vocal samples, yet I appreciate the song's dancy instrumentation and Mark's sharp flow. It's simply not on the same level in terms of impact or memorability as the highlights on the album. Despite this, the song does switch things up just enough to justify making it on the album, at least.
"Softly" is an intimate, sexy, and smooth track with a Latin beat and an irresistible vocal performance, particularly on the chorus. The harps on the instrumentation give the track this dreamy feel, yet the pounding bass drums keep it grounded and dirty. It's definitely one of the album's highlights. 
"FOMO" picks things up tempo-wise as Mark sings about pushing herself to experience new things to avoid the fear of missing out. The dance beat and the swelling synths sound like something out of Dua Lipa's Future Nostalgia. Mark throws us a sharp rap break on the bridge with a syncopated beat to keep the listener on their toes. I really like the staccato string flourishes on the chorus and the bouncy beat. It's a fun track that sets up the next few on the album thematically, yet I wish it reached slightly greater heights. It can feel a bit one-note on repeated listens. 
"Turnin' Pages" sees Mark celebrating her body and cherishing the intimate moments with others. I love that Mark really switches up her vocal delivery on this song, relying heavily on her falsetto,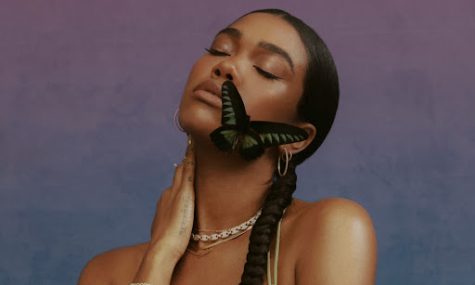 which sounds really great on this track. This track features a hip-hop instrumental but incorporates a bunch of strings to fill out the sound. The extended outro, which drops out the drums, sounds really pretty. It's a really catchy tune, I just wish she had added in an extra verse or two because it suffers from similar problems as "Most Men." However, if I think of the song as more of a transitional track between "FOMO" and "Foreign Things," (given the track's brief runtime) it makes a lot more sense story-wise as we see Mark starting to let her hair down a bit more. "Foreign Things" is then Mark fully embracing her new adventurous lifestyle. In that sense, "Turnin' Pages" works perfectly, but maybe not as well out of context.
As I mentioned before, I completely adore "Foreign Things" and I wouldn't change a single thing about it. 
"On & On" has a slow, hard-hitting beat and some ghostly synths to accentuate the bass drum hits. This slower tempo compliments the lyrical content, which sees Mark start to break down and lose her confidence. When the chorus rolls around, we are introduced to these bright, twinkling piano keys in the back of the mix. An orchestral break accompanied by Mark's background vocals comes in the form of a post-chorus. I really like the outro of this song with its deep, growling synths. It's a solid helping of vulnerability from Mark.
"Out Of This World" is the moment when Mark finds true love and begins to escape the darkness. The instrumental of this song reflects this shift in tone as it is noticeably more spacey, especially in the production of the piano keys and the arpeggiated synths. It's a gorgeous song with yet another extended outro, but it works because of its fantastic production and Mark's writing, which has a bunch of metaphors and similes about flight and space. The track sounds like floating up to space with the person you love next to you on a clear summer's night.
"Cosmic" is a clear highlight on the album and could have very well been an album-closing moment because of how cinematic and rich the sound is. It follows up the previous track really well with its glittery and other-worldly production. Mark's vocals and melodies on this track are instantly memorable and absolutely gorgeous. It incites such a strong feeling of nostalgia and warmth in me, even on my first listen. The drums are sharp, the background vocals are heavenly, the piano keys are pretty, and the bass rounds it all out. It's such a good song that my description simply won't do it any justice.
"Darkside" is one of the most unique songs on the album because of how differently it is produced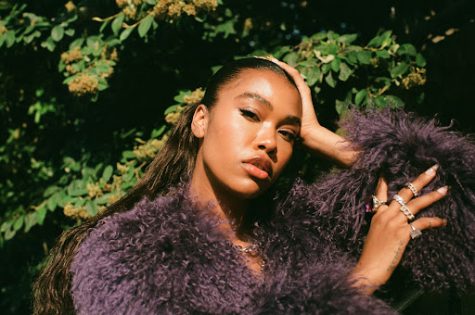 and performed. It opts for a rougher, more industrial-sounding type of production with chant-like melodies and tribal drums. I appreciate that we can still be served fresh sounds this deep into an hour-long album. The repeated outro lines of "The dark side gets a little, ay/The dark side gets a little, oh," although nonsensical, are so catchy I can't get mad at them. I would have preferred a more exciting finish for such a rowdy song instead of a fade-out.
"Worth It" and "Competition" are both clear highlights on the album as Mark regains a new sense of confidence. The former opts for a Latin beat while the latter chooses a modern trap beat. The vocal melodies on "Worth It" are some of the best on the entire album and it includes a really cool beat switch halfway through the song, while "Competition" follows the same great production cues as "Foreign Things." Both are extremely infectious, uplifting tracks with unique flavors. They work well together back-to-back. Mark really earns the "Damn, I really made it" lyric on the tail end of "Competition" through how good these tracks sound.
"Bliss" sees Mark leaning into her falsetto again, but I can't tell if I like how much she pushes it on the chorus. It almost sounds like she's straining herself in a slightly negative way. The beat is both groovy and bouncy with its wacky-sounding synth work and driving bass line. The track reinforces this newfound enlightenment she's found in the second half of the album through its lyrics.
"Event Horizon" closes the album with a lush, ethereal sound to match the album cover. A soft acoustic guitar accompanies gentle piano keys, swelling strings, and a delicate vocal performance from Mark. This song is the word "pretty" personified and is a fantastic closer to an album filled with equally pretty moments. 
Final Verdict
It will be a damn shame if Three Dimensions Deep doesn't shoot Amber Mark up to international stardom. For a debut album, it's phenomenal. It's lush, it's confident, and it reinforces Mark's amazing vocal and melodic talent. Not every song is as fleshed out as I would have hoped for, but that doesn't change my mind that Amber Mark is an artist to keep your eye on. 
Rating Scale:
0 – 4 = Negative feeling toward the record
5 = Middle-of-the-road
6 – 10 = Positive feeling toward the record
Final Rating = 8.4/10
Leave a Comment