Professor Spotlight: Dr. Eric Sanders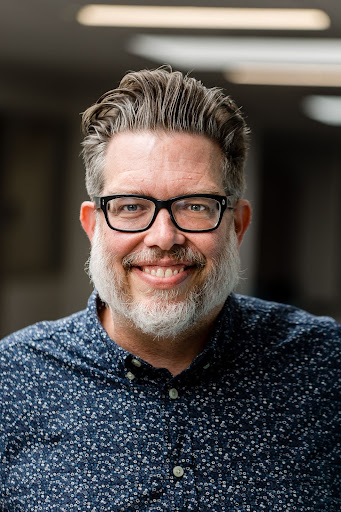 Dr. Eric Sanders is an assistant professor of Speech-Language Pathology at Moravian University. His degrees include a Ph.D. and an M.S. from the University of North Carolina at Chapel Hill in Speech and Hearing Sciences, and a B.S. in English from Florida International University. 
He specializes in child language and literacy development and spent six years practicing as a speech-language pathologist in the Miami-Dade County Public Schools, including three as an augmentative and alternative communication (AAC) specialist. 
What inspired you to go into your field of study?
Before I became a speech-language pathologist, I was a middle school English teacher. I originally thought I was going to pursue a Ph.D. in English. While I was teaching, I met a speech-language pathologist and fell in love with the idea of working with children who had complex disabilities and needed help learning to communicate and read and write. Speech-language pathology was a perfect mix for me because it combined my love of teaching with my love of language.
What research are you currently working on?
Currently, I research how services are provided in schools for students who require the use of augmentative and alternative communication (AAC) to communicate. The students might have disabilities such as cerebral palsy or autism and need support to communicate. Examples of AAC might be using something like an application on an iPad or a communication book. I am interested in topics like how clinicians are taught to work with those who require AAC, the confidence they have with those students, and how we can improve services in schools for these students.
What do you think is the most recent important development in your field of study?
Because AAC is considered an assistive technology, it is always evolving. One of the cool things that we have seen over the last few years is improvement in the technology that is used to help individuals with complex motor impairments access communication devices through eye gaze. This technology is still not perfect but has improved and become much cheaper over the last 15 years. Additionally, the use of tablets with communication software has been an important development in our field although, like eye gaze, it is still not perfect for everyone.
What job would you have if you couldn't be a professor, regardless of salary and job outcome? Why?
I love being a professor and being a speech-language pathologist. If I couldn't do either, I would probably have been a DJ on the radio. I have DJed at a lot of different colleges and community radio stations. I love music and sharing that love.
What do you know now that you wished you knew when you were in college?
I wish I had been more flexible as an undergraduate student. My undergraduate degree was in English education and the vast majority of classes that I took were either in education or English. If I could do it all over again, I would take a variety of different classes. As a former first-year advisor, I found myself being really jealous of all the amazing classes that were open to our students!
What is your biggest student pet peeve?
The biggest thing is messaging in class. I'm the type of professor that really likes to move around in class. Sometimes when I see students with their messaging application up on the computer screen, I get a little bothered by it!
What was the last streaming show that you binge-watched or the last good book that you read?
I binge-watch a number of shows online. The latest one that I've been getting into is "Station Eleven" on HBO. While the show is amazing, it is a bit dark. Therefore, I often need a palate cleanser of something a little bit sillier in between episodes.
What is something interesting about you that most people don't know?
I DJ around the Lehigh Valley and online. Often, I do this with musically like-minded friends. I also make mixes from records and post them on an online site called Mixcloud. I have posted
over 100 of these mixes since the beginning of the pandemic. The mixes are often a single genre and format such as old soul 45s and tracks from Jazz LPs. If you're interested, you can find the mixes here.
What animal do you feel you identify with? Why?
I am definitely a cat person. I identify with them because they are both independent and social!
What is one album that you think every person should hear?
This is a really difficult question to answer. I have thousands of albums and so many of them mean so much to me. I guess if I were to select one it would probably be "Forever Changes" by the group Love. This album is from 1967 and it is a perfect mix of rock, folk, and psychedelia. I've been listening to it for well over twenty years and consistently go back to it!
Leave a Comment