Friday Forums Get Campus Talking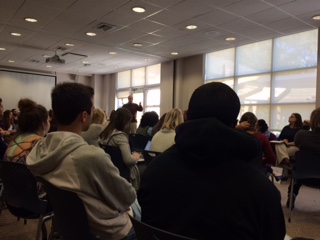 Friday Forums were recently instituted by the Center for Intercultural Advancement & Global Inclusion to provide a platform for the Moravian College community to be a part of national conversations.
The Friday Forums will explore topics that focus on social justice and activism, diversity and inclusion, and culture and media. The overall goal of the forums is to partner with students, clubs, faculty, staff, and departments to generate discussion topics that will analyze pressing topics that affect our society and the world.
"The development of Friday Forums is based on consistent patterns of social injustice and the marginalization of entire groups of people in our society and around the world," said Christopher Hunt, Director of Intercultural Advancement & Global Inclusion. "This initiative provides a platform and serves as a part of our need for ongoing institutional dialogue."
The first Friday Forum took place on Sept. 30 and was dedicated to raising conversation about the Black Lives Matter movement. The forum began with small group discussions that were moderated by four individuals who later served on the panel.
Tamara Garraway, President of the Black Student Union is one of many students who is finding value in the forums. "The Black Lives Matter movement is important to discuss on campus because it not only addresses the issue of police brutality, but also brings to light the deprivation of basic human rights for black people, which is a worldwide problem because everyone deserves to be treated fairly and with dignity," said Garraway.
The forum discussed the issues with a panel that consisted of community members, including Thomas Brim '19, a political science major at Moravian College;  Captain Ashley Heiberger '00; J.D., Bethlehem Police Department; Dr. James Jackson, associate professor at Kutztown  University; Dr. James Teufel, assistant professor & Director of Public Health at Moravian College.
"I expected a healthy response and attendance, but I was very pleased to see nearly 70 members of the community assemble in the UBC room," said Hunt. "We will consider different formats throughout the series of forums to elicit conversations around the room. I also appreciated the informal and formal assessment of the program as attendees provided post commentary as well as submitted electronic surveys of the program."
The first forum was a success because it generated conversation and raised awareness about an issue that impacts many lives. The forum's continue to generate positive community awareness on Oct. 14 members examined the perspectives of international faculty on the U.S. presidential elections. The conversation on Oct. 28 was called, "LGBT Q&A: What's in An Acronym?"
"I think students should attend the Friday Forums because it is so easy for us to get wrapped up in our own little "student world" without realizing that there are worldwide issues that are happening that affect us as students and more importantly as adults who live in a diverse world," said Garraway. "These events help to give a place to discuss current issues on campus as well as give students, faculty and staff in attendance an opportunity to share their opinions as well as learn different perspectives on current issues."
Leave a Comment