Payne Gallery's "Loving Kindness Art Exhibition" Displays Mindfulness Through the Eyes of K-12 Students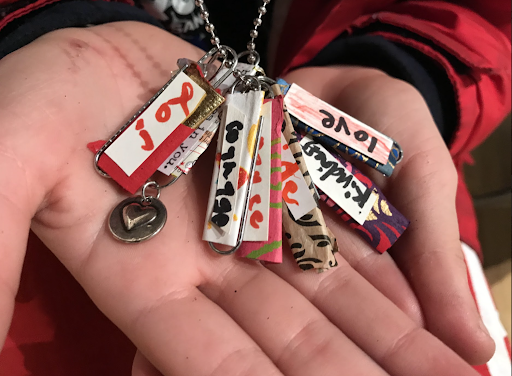 "Loving Kindness: A Children's and Teens' Art Exhibition about Mindfulness" opened its doors at Moravian University's Payne Art Gallery Jan. 27. The exhibition will end on March 13 with "Loving Kindness: A Mini-Conference on the Benefits and Cautions of Mindfulness in Education."
A year in the making, the Loving Kindness Exhibition was spearheaded by co-curator Dr. Kristin Baxter, Moravian University's associate professor of art and director of the art education program. She was inspired to create this exhibition after she recognized her growing interest in the topic of mindfulness.
"I have been teaching art and mindfulness at the Northampton County Juvenile Justice Center in Easton, usually at least once per month," Baxter said. "Since I started teaching there, I've become more interested in mindfulness and I've also noticed how often it is integrated into K-12 public school curriculums. In 2017, I also started teaching a First Year Writing Seminar on 'yoga, art, mindfulness and writing' and saw how much my students benefited from these practices. So I've been thinking about doing a show like this for a while!"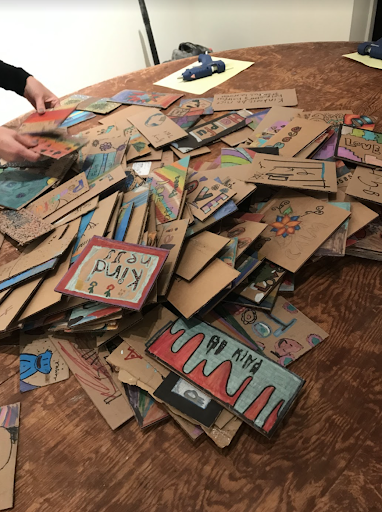 Who better to help Baxter with an exhibition about mindfulness than Moravian University's assistant professor of Asian religions, Dr. Kin Cheung.
"[Dr. Baxter] reached out to me to co-curate the exhibition in order to plan a panel that addresses the religious roots of mindfulness and yoga because the religious aspects are generally ignored according to her experience in K-12 classrooms," Cheung said.
The two realized that programs centered around mindfulness were becoming more common in K-12 classrooms. In fact, even schools in the Bethlehem area, including Liberty High School and Donegan Elementary, have developed spaces dedicated to meditation for their students and faculty.
Additionally, educators in these schools are beginning to promote mindfulness and meditation in art classes, giving students the opportunity to express themselves through various forms of art with mindfulness as the main focus.
After a few months of organizing the event and gathering artwork, the Loving Kindness Exhibition opened to the public on Jan. 27.
"It was great to see the place abuzz and filled with visitors of all ages," Cheung said. "I was especially pleased to see attendees make use of the art stations that Dr. Baxter planned."
One of these art stations included making "positivity charms" out of paperclips that could then be attached to keychains or necklaces.
In addition to Baxter's art stations, the exhibition attendees were met with over 39 pieces, including a handful of murals, that were all designed by K-12 students in the Bethlehem Area School District.
"I hope visitors can see the rich, multi-disciplinary experiences that children and teens can have in their art classes in school," Baxter said. "The artwork on display is really meaningful to the children who created it, and to the teachers who took the time to submit the work on behalf of their students."
Loving Kindness attendees, both young and old, have appreciated all of the artwork featured throughout the exhibition.
"I find this exhibition to be really cool and unique because every single one of the pieces are from K-12 students," Moravian University art major Liam Fitting said. "The different artwork highlights what these students are being taught and how it is impacting them."
Having the opportunity to admire students' artwork was refreshing for many, including Baxter.
"I love the "mark-making" abilities of children," Baxter said. "If visitors look closely at the artwork, they can notice the really expressive lines, marks, shapes, forms of the paintings and drawings. Children and teens create artwork that is much less self-conscious than adults. Their work has an honesty that is so endearing. It's like they are sharing really personal things about themselves through the ways in which they draw and paint, or take a photograph or make a sculpture."
It is important to note that there is more to this exhibition than just looking at student artwork. Baxter and Cheung really wanted to place an emphasis on the religious foundations of mindfulness, something they feel is often overlooked.
As a result, the exhibition's conclusion on March 13 will feature a mini-conference that will focus on the religious ties to this practice.
"The goal is to promote religious literacy – in other words, awareness of the religious roots of mindfulness practices and what that implies about cultural appropriation when bringing them into K-12 classrooms, art spaces, or other public spaces," Cheung said.
The day will consist of a group mindfulness session, panel discussions, an art-making workshop, and even some yoga.
For those interested in visiting the Loving Kindness Exhibition, Payne Gallery is open Tuesday through Sunday 12 p.m.- 4 p.m.. The upcoming mini-conference on March 13 is free and open to the community, though prior registration is necessary.
Leave a Comment