Recapping Valentine's Day: A Costly Holiday of Love
Over the past couple of years, Statistica has conducted various online surveys inquiring about the financial impacts that come as a result of Valentine's Day. Every year couples all over the country rush to their local Targets and flower shops to show their love for their partner, but just how much money is being collectively spent for this holiday of love?
 I've always had a love-hate relationship with this holiday. Whether it be due to being in an unhappy relationship, alone, or just being cynical I find it quite silly just how much we as Americans empty our pockets just to show we care.
Last year Americans spent an average of $164.76, causing a collective total of $21.8 billion spent overall. That is an absolutely crazy amount of money to be spent on Zales jewelry and chocolates. In the year prior, almost one month before the pandemic started, people spent 5.6 billion more dollars than in 2021. Individually, each person spent an average of $196.3 and a collective amount of $27.4 billion. With all this money we could probably start paying off the American debt!
As someone who does not typically celebrate this holiday, I knew that my view may be skewed, so I took it to the public and released an online survey. After collecting information from people of all different genders, ages, relationship statuses, and incomes here are what I found.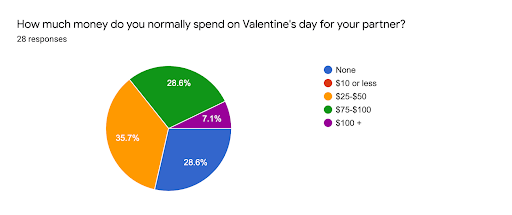 Of the students surveyed, eleven people said they are in a relationship, three people claim it's complicated, and fourteen people say they are single. When posed with the question, "How much money do you normally spend on Valentine's Day for your partner?" eight people answered $75-$100, eight people also answered that they spent nothing at all. Ten participants stated they spent $25-$50, and finally, two were willing to spend $100 or more for Valentine's Day. What I found to be extremely surprising was how the results of the next question were the complete opposite. That question being "How much do you expect your partner to spend on you?" I have to say that some of my faith in humanity was restored with the responses. 
Five people said they expect their partner to be spending $75-$100 on them, six said they'll be satisfied with having $25-$50 spent on them, three said they want their partner to spend $10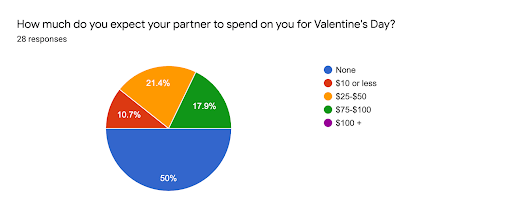 or less on any gifts. But what I am most proud of is the fact that fourteen of the participants said they do not expect their partner to spend even a single cent on them. That fifty percent is what I appreciate about the world, those are people who believe that care can be shown in ways other than feeding into the consumerist manner that Valentine's Day brings.
 Another question that was asked in my survey was whether or not Valentine's Day is a real holiday, or simply another man-made attempt to lessen our inter-human connections. Out of the twenty-eight surveyed, nineteen of them believe that the holiday of love is make-believe, and nine individuals feel that this holiday is as real as true love itself.
All in all, I think that we as humans have learned now more than ever how valuable the human connection can be. We need to appreciate the people around us more, but that doesn't mean we need to spend our entire life savings on them. We can show our love and care towards our loved ones in so many other ways that don't involve getting an advance on your paycheck. To truly put it into perspective, if you were to add the total amount of money spent on Valentine's Day per year, over the last decade, it would be equivalent to $223,700,000,000. That is $91.1 billion more than Bill Gates' current net worth.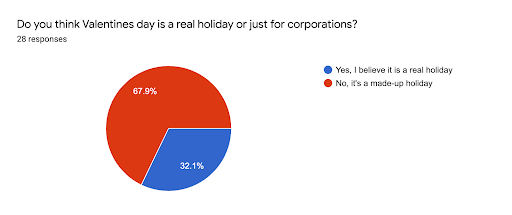 Leave a Comment