Purposefully Pink: An InFocus Breast Cancer Journeys Conversation

In conversation with the 2021-2022 First-Year reading of Audre Lorde's "The Cancer Journals," Moravian's InFocus: Health and Justice program held a discussion panel on breast cancer journeys. This panel invited breast cancer survivors to detail their experiences pre-diagnosis and post-diagnosis, their experience with medical care, and how breast cancer has altered their outlook on life. 
Dr. Belinda Waller-Peterson, co-director of Health and Healthcare and assistant professor of English, introduced each panelist, including Vice Provost Carol Traupman-Carr, who steered the conversation, asking fellow panelists their observations living with breast cancer.  Traupman-Carr discussed her own experience losing her mother to cancer and undergoing breast cancer herself and the solace she found in journaling and from members of a choir she participated in. She asked fellow survivors to describe how it felt to learn that they had breast cancer. 
Panelist Leah Naso, Executive Director for Equity & Compliance, recalled being in the middle of a difficult divorce, a job change and the death of her two grandmothers in one summer before finding lumps on her body and realizing she had breast cancer. Dr. Ann-Marie Potter, occupational therapy program director, noted the terror of going through mammography, an x-ray procedure that detects signs of breast cancer, and ultimately realizing that "the person who cares most about my health is me." 
Traupman-Carr then asked survivors to share what they have learned post-diagnosis. Dr. Stacey Zaremba, professor of psychology, recalled becoming weary and putting off tasks until an interaction with her daughter made her acknowledge the value of life and what is important, such as relationships. Panelist Jocelyn Rice shared that her diagnosis made her see mortality in a different light, noting that death is a final destination and to make the most of the life you have.
One issue that panelists touched on is medical care and the lack of comfort from doctors. Several survivors noted their unpleasant experiences with healthcare and doctors' lack of extensive knowledge on how to handle breast cancer.
Panelist and HBCU-educated dentist Dr. Bobbi Peterson noticed how pre-diagnosis, she used to overdiagnose patients and provide extensive details on conditions – until she went for a diagnosis and found herself in the position of a patient. She remembered losing faith in medical practice when she was confronted with a lack of care and a misdiagnosis from her first doctor and was under poor health insurance.
Once she switched doctors, she became aware of the capacity of knowing the struggle of breast cancer that many doctors did not have. Having a caring doctor helped her tremendously.
This conversation also weighed in on the lack of sufficient medical care when it comes to biopsies and mastectomies, and how the attitude of a doctor matters greatly. Patients deserve straight-forward, detailed explanations for procedures like chemotherapy. 
Traupman-Carr also emphasized the importance of being your own advocate. She suggested the value of seeing things half-full and that when getting tested and screened, you should bring a clear-headed person with you or someone who could ask questions that you may not be comfortable asking yourself. Sharing information on a diagnosis is also a good way to help other women, she said.
Based on her experience, Jocelyn Rice advised survivors to feel their emotions as they can't be strong forever. Zaremba said it was important to associate with other survivors and reach out; she detailed an instance where she reached out to an acquaintance with breast cancer and the two had an intimate conversation that lasted for hours and gave her clarity. 
Panelists then discussed their full appreciation of external support with gestures such as gift baskets and how they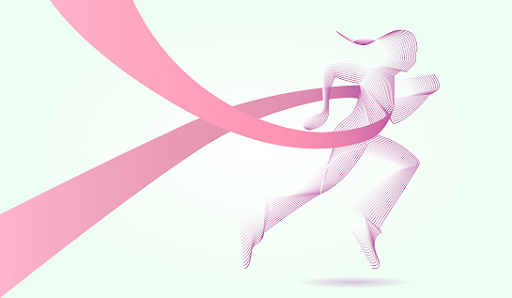 tried out hobbies to uplift their spirits post-diagnosis. Zaremba said that she took up knitting as a form of coping and it became her go-to relaxation tactic. Dr. Bobbi Peterson described trying out journaling, and even though it wasn't the best fit for her, she said writing out your feelings can be cathartic. Traupman-Carr also tried journaling, connecting with her choir, and gathering a strong, steady support system. She brought out a jar of pebbles of different colors, each color representing the spectrum of emotions when it came to her treatment. She said that the jar served as a tapestry of her cancer journey, an art piece to have on display of what she went through and how she completed such a rigorous journey. 
Finally, as the event came to a close, Waller-Peterson shared some advice when it came to breast cancer advocacy and knowing where your money goes when it comes to buying merchandise or donating to breast cancer research. Make sure your money is going to an organization that seeks to contribute to breast cancer research, she said.  Traupman-Car ended the discussion by saying that women should never be afraid of the "C-word," as having cancer is not automatically a death sentence but can be a life sentence to living your life to the fullest and viewing your life through a completely different lens. 
Leave a Comment