The Wizard of Moravian's Athletic Department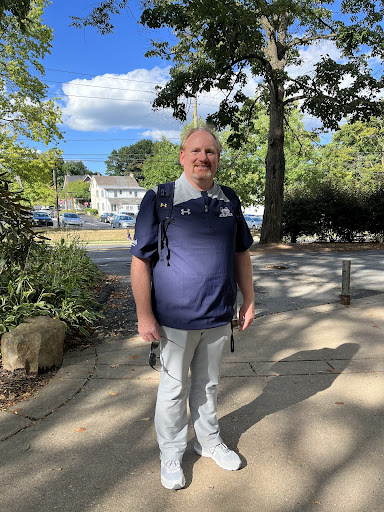 One way to tell how much a person's job has meant to them over the years is to note how well they remember the minor events from their career. 
So, note Mark Fleming, who seemingly remembers everything from his twenty-five years as Moravian's director of athletic communication, be it the score of some long-past playoff game or the name of a sophomore who kicked the winning goal
For Fleming, keeping score of Moravian's vast accomplishments on the playing field – and remembering them – is all in a (long) day's work. 
If you can call it that, which Fleming – who is usually the first one in and last one out on game days, getting in at 9 a.m. and leaving well past 10 p.m. – certainly doesn't. "A lot of the time it doesn't feel like work," he says, even when referring to his early years here, when Fleming ran the entire department with little more than a rotating group of interns and work-study students. 
Little wonder some came to see him as a wizard. For many a Hound in the Moravian athletic department, he's shown his magic as mentor, colleague or father figure.
Now, after decades of reporting on the accolades of Moravian athletes, Fleming has an accolade of his own: Last June, the College Sports Information Directors of America (CoSIDA), a national organization of sports communications professionals at the college level, inducted Fleming into its prestigious Hall of Fame. 
An Early Sports Fan
Growing up in northwest Pennsylvania, in Edinboro, Fleming became a die-hard Pittsburgh sports fan. In school, he played all types of sports himself, with a particular passion for basketball and baseball.
As a high school freshman, he played junior varsity basketball and baseball. But after an injury sidelined him, Fleming pivoted to keeping the team scorebooks and calculating player statistics.
Thanks to his father, who worked at Edinboro University, Fleming as a high school senior got an internship with the university's sports information director. That year, he left school an hour early and for two hours every afternoon worked in Edinboro's sports information office, mostly covering the football and basketball teams. From there, his college plans were set: he was going to Edinboro. 
At first, Fleming planned to major in education. The internship changed his mind. "I switched to a communications major before I even stepped on campus," he said. "After seeing what Todd Jay did [as sports information director], I decided,"That's what I want to do.'" 
When Fleming graduated from Edinboro, he continued to work in the university's sports office. Shortly afterwards, boss and mentor Jay put Fleming in contact with the sports information director at East Stroudsburg University, where Fleming would go on to get his graduate degree and become the graduate assistant in the Sports Information Department. Since it was a one-year program, he helped the department in all athletic broadcast needs before getting another internship at Bentley College outside of Boston. 
At the end of his internship there, Fleming went for two job interviews: one at Moravian and the other at a college in New York. Fleming believes he may have had a leg up on the Moravian position, because he could offer the good connections with local media that he'd made at East Stroudsburg. His intuition was spot on. Days after the interview, Moravian offered him the job.
Becoming a Hound 
In the beginning of his career here, Moravian didn't even place him in the athletic building. His office was in the marketing and communications department, where he worked as part of the public relations team, even though his job was entirely based around athletics. 
Fleming got right to work, helping design and build the department website, networking with and expanding his list of contacts, and mentoring staff and students. 
His supervisor, assistant athletic director, Brynn McNamara oversees and works very closely with Fleming. Meeting him for the first time in an interview, McNamara recalls that Fleming impressed her with his intelligence and the long groundwork he'd laid at Moravian. 
Fleming's longtime assistant and good friend LJ Smith started working for him as a student in 2015. After his graduation in 2017, Smith got a job at Cedar Crest College. He said that just knowing Mark Fleming gave him the "in" when going to interview for the job. When the assistant job opened up at Moravian and he came back to work for Fleming, Smith was nothing less than excited. "There are just so many little interactions in the office, at a sporting event and something we just witness together," he says, of the things he most enjoyed about working with Fleming. "We had those moments together." 
Fleming has taken on a mentor's role for Smith that mirrors his relationship with Jay. Smith has looked up to Fleming since he first started working for him his sophomore year; from watching Fleming, Smith realized that he, too, wanted to pursue his mentor's career. As with Jay and Fleming, a friendship formed between Smith and Fleming. Even after Smith left Moravian, he emailed Fleming at least once a day with questions.
Hall of Fame Material
Smith said he is impressed with Fleming's work ethic and ability to work in what sometimes can be a chaotic space, being able to answer questions or to give facts without looking up from his computer as he writes press releases or programs for an upcoming game. Smith was thrilled to watch his mentor get inducted into the CoSIDA Hall of Fame. 
Fleming counts his induction as his biggest accomplishment so far. He has sat for three terms on the board of directors and chair for the advisory committee for CoSIDA. He was the guy who knew everyone – the guy with the long email list – and who talked to all the members. 
Fleming has received many opportunities to move on to larger schools. Fleming said he interviewed and was offered a job in the mid 2000s that paid more and had better benefits. 
Fleming was up front with his bosses. Moravian countered with an offer that didn't match, he said, but it showed Fleming that the university cared about him and appreciated the work he had done for the school. He decided to stay. 
When asked why, Fleming said it was the many relationships he had made here. Because of them, he said, being at Moravian, "a lot of time, it doesn't feel like work."
Leave a Comment