Azerbaijan Attacks Armenia After Ceasefire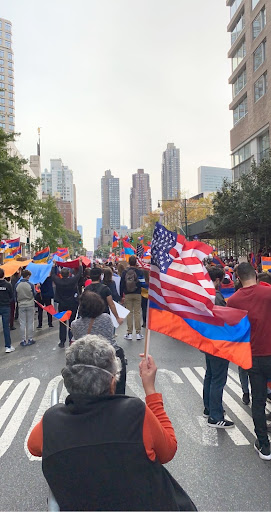 On Sept. 13, 2022, at 12:05 AM, news spread that Azerbaijan broke a near two-year ceasefire against Armenia. I woke up to the horrific news with many others who either are Armenian or know someone who is. 
Armenia is bordered by the Black Sea, Turkey, Georgia, and Iraq; Azerbaijan is surrounded by Russia, Georgia, and Iran. According to CNN, Azerbaijan began firing at Armenian positions in the direction of Jermuk, Goris, and Kapan among other villages. The Azerbaijani armed forces were firing from artillery and large-caliber firearms. There have been 49 Armenian soldiers confirmed dead as a result of the conflict and 99 dead on both sides. 
According to BBC News, the attack comes on the heels of the First Nagorno-Karabakh War that took place between February 1980 and May 1994 and the Second Nagorno-Karabakh War in 2020 where the two countries fought to claim the territory and surrounding region. 
My boyfriend's parents left Armenia before the First Nagorno-Karabakh War began, leaving behind friends, family and life as they knew it. To suffer through a pandemic and watch as their country was again terrorized was absolutely devastating for them.
The Nagorno-Karabakh region is officially part of Azerbaijan, but the majority of the population is Armenian and the region voted to become part of Armenia which sparked the two wars. The Nagorno-Karabakh region remained part of Azerbaijani territory but was supported by Armenia and under the control of a separatist ethnic Armenian group. Both countries were ruled by the Soviet Union for a time. Russia is now trying to mediate conflict between the two countries. 
As of 9:00 PM on Sept. 13, tensions still remained between the two countries. 
At this time, shellings in the direction of Inner Hand, Verin Shorzaha, Artanish, and Sotk have diminished significantly. As has occurred in the past, Azerbaijan has committed devastating war crimes against innocent Armenian citizens. Six civilians have been wounded and over 2,570 have been displaced as a result of these attacks on innocent villages. 
According to Holocaust Encyclopedia, war crimes have been committed against Armenia since the Armenian Genocide of 1915, led by current-day Turkey. The Armenian Genocide was against Armenian Christians living in the Ottoman Empire where as many as 1.2 million of them died. 
The Prime Minister of Armenia, Nikol Pashinyan, said, "We want to sign a paper, as a result of which we will be criticized, scolded, called a traitor, even the people may decide to remove us from power, we will be grateful if as a result of this, Armenia will receive lasting peace and security on an area of 29,800 KM2. I will sign a solution that will ensure this. I am not interested in what will happen to me next, I am interested in what will happen to the Republic of Armenia." 
He claimed that he would willingly sign documentation giving Azerbaijan territorial claims of Nagorno-Karabakh to bring an end to the suffering of his citizens. Many were upset about Pashinyan's statement, not wanting to leave their Armenian brothers and sisters defenseless in Nagorno-Karabakh, they staged a protest in front of the National Assembly. 
According to AP News, the Turkish president, Recep Tayyip Erdogan, had a phone call with the Azerbaijan president, Ilham Aliyev to discuss the situation at hand. Erdogan reiterated Turkey's constant support of Azerbaijan and expressed condolences for the lives of Azerbaijan soldiers who lost their lives during the conflict. The Turkish president also plans to meet with Vladimir Putin, Russia's president, to discuss the fighting and tension between the nearby nations. 
On Sept. 14, the Secretary of the Security Council of Armenia, Armen Grigoryan, issued a statement that said, "Thanks to international partners, a ceasefire agreement has been reached. At the moment, no documentation will be signed. Everything that is on the negotiation table is public." 
Many Armenians, including my boyfriend and his family, are troubled by this. They believe that this ceasefire is pointless and will result in the same repeating cycle. Azerbaijan will continue to break these ceasefire agreements without consequences or written documentation. 
Unlike the Russo-Ukraine War, there has been little news coverage of the recent attack, or either Nagorno-Karabakh Wars. 
Many Armenians are left to watch their country struggle without the support of larger nations, unlike the circumstances of Ukraine. "For the Black Lives Matter Movement, where a lot of different communities showed up for that protest, we would also like to see these communities become activists again for our issue, and not just focus on one issue. There are multiple different levels to humanitarian issues around the world that people should see," said Araz Merguerian. 
"It's terrible how it's not being reported on, and that there is no support for Armenia," my boyfriend said. It is important to support and speak up for Armenia during these troubling times just as you would any other county in need. 
There are many ways you can support and help during this time. It is important to amplify pro-Armenian voices and to be wary of the attempts of Turkish and Azeri online bots to cause division online. 
Sources that provide credible information about the situation include an Armenian news email subscription, Zartonk Media, The Armenian Report on Twitter, The Armenian National Committee of American-Western Region, and @theusarmenians on Instagram. If you are able, also consider donating to The Armenian Fund, found here: https://www.armeniafund.org.
Leave a Comment