Rant of the Week: Same Sitch, New Week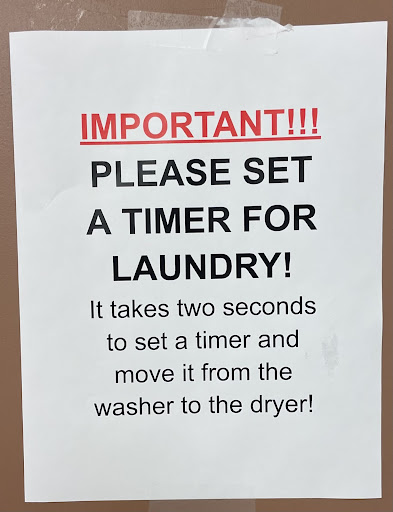 Hello, Greyhounds! You may have seen a Liz Kameen's rant on the Bernhardt-Wilhelm laundry room fiasco in our September 30th edition. This isn't the same article, but rather a revisit, to show how things have progressed for the worse. 
As Liz mentioned, one of the washing machines was recently pulled from the wall, revealing piles of clothes that were left unattended and wet. This Tuesday I was lucky enough to see not one, but two washing machines completely out of service, filled with water.
New mountains of clothes were discovered once again over the dryer machines, making a resident's regular chore all the more difficult –longside a beautiful lake of leaking water from the machines.
Emails were sent out to the residents, not that it seemed to have much of an affect on the non-unfolding going on in the laundry room. 
Another resident and I could not even set our clothes to wash because of the forgotten cycles already in place. 
Unfortunately, I was running on a busy schedule that night, so I did what I had to do and ended up moving two full piles of clothes from the washing machine to the dryers. Trust me: if I'd had the option or the time I would've waited and gone the extra mile for people to come down and reclaim their clothes.
Unfortunately since this wasn't the case, I had to put all my trust in these people's clothes to be washed correctly, not just watered down. 
With allergy season I've thankfully had my sense of smell lowered. Even then someone shouldn't have to wait almost half an hour for someone to claim a lengthy pile of clothes to be easily moved to a dryer. After that, the other resident and I could not find a dryer to put our clothes in so we just decided to share one. 
As my fellow reporter Liz stated, a timer can really do the bare minimum of keeping track of your wash and drying cycle. You'd think people would pick up the habit and schedule washing their own clothes since it's just a common courtesy of living in a shared building. Not to mention the amount of soap bubbles leaking from the washing machines from the overuse of detergent. 
At the end of the day no matter if you're a few minutes late, using just one pod, or accidents happening the entire building shouldn't be affected by your mistake no matter how big or small.
Sure even I had to adjust to washing my clothes the first few weeks of school with these machines, but entering almost the third month of school, Bernhardt still has this problem. We're at the point where physical signs have been placed in the laundry room to remind residents of the need to set a timer. A
ll there is to do now is see how many people care for this simple change. 
 Until then that's it from me.
Leave a Comment