How to Make the Most of ELEVATE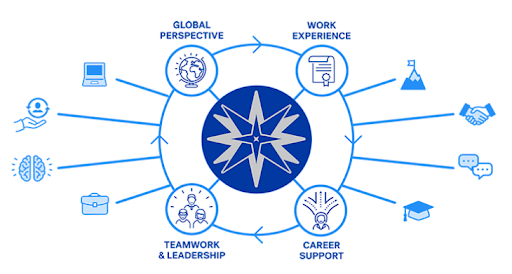 ELEVATE is a program for Moravian's full-time undergraduate students that prepares them for their future careers. The program was introduced to Moravian students in the fall of 2021. Because of this, it is important to note that the program is only available to the Class of 2025 and beyond. 
Students are required to complete a badging program through the Suitable app that makes them eligible for the Moravian Career Promise. It provides post-graduate students with career and financial support if a student is not accepted to a graduate program or employed after six months of their graduation date. 
There are four areas of focus that ELEVATE targets: Teamwork/Leadership, Global Experiences, Professional Opportunities, and Career Support. 
Students are assigned a Career Development Strategist to give one-on-one support in career planning. Students are required to meet with their Strategist twice a semester during all four years of undergrad to be eligible for the Career Promise. Students can make an appointment with their Strategist through Handshake. 
There are many ways that students can utilize the resources available from their Career Strategist and the Center for Career and Civic Engagement. "For first-year students, a Strategist can assist with deciding a major and help to identify career options or the major you are considering," said Kelly Gallagher, Career Strategist. Sophomores can utilize "job shadowing or career exploration activities to learn about different career choices." 
While current juniors and seniors are not eligible for the Career Promise, their Career Strategist can help them to look and apply for internships and assist with job and grad school applications. jJuniors and seniors who are interested in the program, can utilize the LinkedIn virtual badges. To learn more about this badging program, read here. 
Each year of the ELEVATE program has different features and focuses. First-year students will be introduced to Moravian's Apple technology, take a career assessment that aids in the decision of declaring a major, take an online course called Moravian 101 that answers many questions, and meet with their advising team. 
Second-year students officially declare their major (and minor), have the opportunity to partake in the Global Greyhound Trip and utilize the RISE program that focuses on teamwork and leadership. 
Third-year students focus on internships, take part in undergraduate research, and focus on civic engagement.
Fourth-year students can utilize the honors program that allows for a year-long study focused on a special interest, begin networking, and apply for jobs and/or grad schools.
To learn more about each year's focus, you can visit here. 
The Career Readiness Digital Badging Program is necessary for undergraduate students to complete for eligibility of the Moravian Career Promise. Students must achieve a bronze, silver, gold, and green (complete) badge in eight categories. 
Each year, students must accumulate at least 50 points in the eight categories to stay on track. There are over 800  points that you can earn in different ways. Some ways to earn these points are by attending events, being involved in clubs/ other activities, and many other activities. 
When downloading the Suitable app, register with your Moravian email address. To gain points, click on the activities page button, which looks like a check inside a box, found at the bottom of the homepage. There, you can search for the activity you have completed and earn your points. You can also scan QR codes available at campus events to earn points. 
Examples of some activities you can complete through the suitable app to earn points are having an off-campus job, being a member of a club, and attending campus events such as the Grad School Fair and the Internship Fair. Students are also able to earn points by watching TedTalks/other videos and attending InFocus events and writing a short reflection on their thoughts. 
For those who feel they are struggling to obtain points, "They can talk to their Career Strategist by scheduling a meeting and we can find things they are already doing to get points or make a plan to find things that will get them points" said Gallagher. 
The ELEVATE program and Career Promise are tools that all students can be utilizing to make the most of their time on campus. 
Leave a Comment