The Comenian Sits Down with Dr. Blockson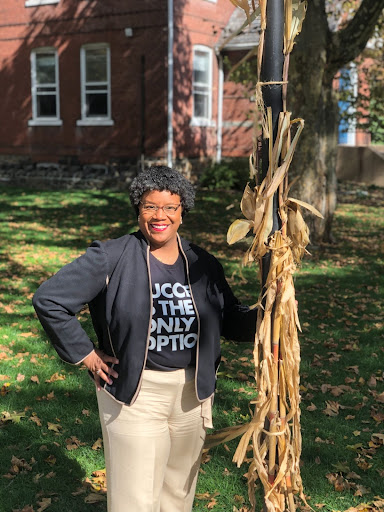 Dr. Laquita Blockson is the inaugural dean of the newly established School of Business and Economics at Moravian University. An Ohio native, Blockson earned her bachelor's and master's degrees at Florida A&M University. She eventually earned her doctorate at the University of Pittsburgh's Katz Graduate School of Business. Blockson has extensive experience in guiding a wide range of businesses and organizations. She has also served as a faculty member of a number of academic institutions, such as Florida International University, the University of Northern Iowa, and most recently Agnes Scott College.
Don't be surprised if you see Dean Blockson walking around campus sometimes wearing a t-shirt with her business suit. She started #TshirtTuesdaywithDeanBlockson on social media as a creative way to display the large number of t-shirts she accumulated during the pandemic. She loves wearing shirts with motivational or inspirational messages on them. She encourages students (especially students in the School of Business and Economics) to wear t-shirts with affirming messages with their business attire on Tuesdays. If she sees you wearing a t-shirt with a suit on Tuesdays, she'll take a selfie with you.
Q: What made you choose to come to Moravian?
A: I appreciate Moravian University's values and the direction in which the university is going. I also have great appreciation for the liberal arts and for the professions, of which business is one. And coming to Moravian allows me to be able to bring together the synergies that can be manifested with the liberal arts and business or the professions.
I [also] like that Moravian University is in a transformation. As an entrepreneurship professor, business professor, and business owner, [I find it] exciting to be [a part of that] transition and transformation.
Q: Was Heritage Day a big indicator for you of Moravian's values?
It's nice to know and good to know that Moravian University has this tradition, of giving back and finding ways of what scholars in my field call "neighbors of choice." So we want to be a great local citizen of our Lehigh Valley community. These are ways in which we can make sure we are engaging with our community and to make sure that we are aware of what their needs are and what role we can play in addressing those needs.
Q: What are some of your goals as the dean of Business and Economics?
A: My role as dean is to be able to advocate and encourage the faculty within the School of Business and Economics to be their best professional selves in terms of their research and their scholarship, in terms of their instruction in the classroom, and how they engage and challenge students in their work, so that the students in turn, both within the classroom setting as well as with co-curricular or external professional development activities, can become their best professional selves.
We want students, when they graduate from Moravian University as a whole, and the School of Business and Economics, in particular, to be able to demonstrate they have the knowledge, skills, and tools that will allow them to be career ready and professional in any of their chosen work environments, that prepares them for long-lasting career success.
Q: What made you originally interested in business and economics?
A: I wanted to be an accountant ever since I was in seventh grade. I decided not to become an accountant. But I did take several accounting classes in my undergraduate program. I decided [during] my first few years of college to study marketing. But I still took a lot of accounting classes. I used to love doing taxes and filling out tax forms when I was in junior high and high school. So that partly informed my interest in accounting, and I still do accounting work.
Q: What is, in your opinion, the most important recent development in business?
One of the biggest challenges that organizations are facing, particularly businesses or profit organizations are facing is, How do they make decisions that will allow them to be able to sell their products or rent or services in an economically-sustainable manner? In other words, to be able to make a profit, but to also do so in a manner where they're being very socially responsible. So being very mindful of climate change and issues regarding our ecological climate or the natural environment. Questions regarding how we engage with each other from a diversity, equity inclusion, and belonging standpoint. How do we engage with those who work within our organizations and make sure that they are valued and affirmed, as well as our customers or our buyers or suppliers – anyone who we interact with? How do we make sure that we are affirming the needs and the dignity of the various individuals who we encounter–either we work with and work for, in essence, and how do we do this, of course, as a result of COVID? But [it] served as an example and brought to great light a lot of different disparities that people face within the healthcare system.
Q: Where did your nickname, Business Renaissance Guru come from?
A: I came up with that moniker. Guru was a nickname that was given to me at one point in my life because I was a bookworm. [Now] I help organizations go through a renaissance and a transformation from being one kind of organization to another that allows them to be profitable, but also to be very effective and able to affect positive social change.
Q: So it sounds like forward-facing values are very important to you.
A: Absolutely. The clients who I've worked with [recognize] areas where they would need to improve and transform themselves. Some of them did not have [that] priority on the top of their head. Yes, diversity, equity, and inclusion work is hard work. Yes, ecological sustainability is hard work. Yes, social responsibility and being a global citizen, and being ethical in one's practices is not easy work. There are many difficult decisions that may need to be made that are not easy. And there's no manual sometimes for it. There are guidelines but no manual.
I help them through those processes to determine what values they uphold, or [that] they want to uphold, and how they exercise those values, while in the meantime, also transforming how their organization functions so that they can be profitable or at least be able to maintain their ability to remain solvent.
Q: A lot of businesses really struggle with that.
A: You're right about that. Some industries have a more difficult time. [And in some cases] the history or the norms that [they] have practiced for several years and in some cases, decades makes it difficult to [make] long-standing systemic change. Of course, you have various organizations and companies that may engage in socially-responsible practices. Granted, not every organization has adopted them, [and some] are adopting them because otherwise [they'll] feel left out.
Note: The interview was edited for brevity and clarity.
Leave a Comment