'And In The Darkness, Hearts Aglow' (2022)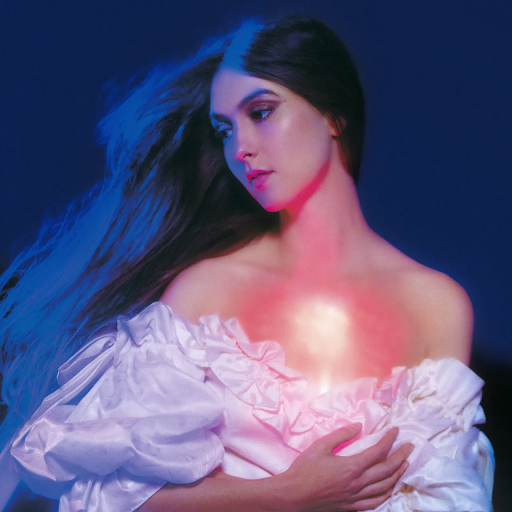 With a decade worth of nostalgia-infused indie rock material to her name, Natalie Mering AKA Weyes Blood, has compelled listeners with her own distinctive helpings on the genre, incorporating styles from the 70s and enchanting masses with her deeply existential lyricism. Over the course of her career, critics have seen her as an indie enchantress, able to conjure wistfulness and enhance any project she works on, whether it's her own music or on collaborations like with Lana Del Rey. 2019's "Titanic Rising" proved to be her most significant creation and a proclamation of her artistry that critics and fanatics alike raved about. She accomplished so much on the 10-track odyssey, each song lush and orchestral in its own right and reflective and esoteric in lyricism. 
On her fifth project and newest composition, "And In The Darkness, Hearts Aglow," Mering still seeks the comforts of her nostalgic roots with the continuation of her psychedelic, hypnotic creations. Like "Titanic Rising," this new album dabbles in the main theme of love but branches out into other fervent philosophies and emotional relevancy in its 10-track run. 
Into the Darkness We Go:
Mering brings forth the energy of Joni Mitchell and Karen Carpenter on "It's Not Just Me, It's Everybody," a soulful tune on the universality of dreading change. Estrangement from our reality is introduced here and becomes a prominent subject for most of the tracklist as she notes how "we've all become strangers, even to ourselves." She finds strange solace in the collective anxieties and loneliness found in everyone nowadays, subtly telling the listener that they are not completely alone in their struggle because "we all bleed the same way."
Poignantly poetic and refined in galactic softness, "Children of the Empire" seems to be a ballad for younger generations about loss. With rich vocals, Mering sings of existential uncertainty, new horizons, and the quest for hopefulness, "trying to break away from the mess we made." On an even more analytical level, some lyrics suggest that this song is tackling the current climate crisis, making it an environmental statement as children of the empire (humanity) seek to "seize control of what they made before we all fade away." In the midst of its lyrical allure, there is an eclectic array of instrumentals used, like a 70s-styled piano melody, otherworldly acoustic passages, chirpy tubular bells, a string section, and a heavenly harp outro. 
The acoustic stunner, "Grapevine," trades the record's transcendental wonderland ambiance for rustic, more stripped-down instrumentation. Serving as the second single and an "emotional cowboy" hymn of sorts, Mering yearns to comprehend the intricacies of love with many of her lyrics suggesting toxicity to a relationship where a man "can block your sun all day" and "He can make you small." The fruitful symbolism of the grapevine connects the listener to this entwinement of all of our past pain and old wounds, as Mering puts it in an interview. With its native Californian charm, the tune brings out an earthly intimate side of a record, enchanting the listener with its wanderlust and nomadic storytelling.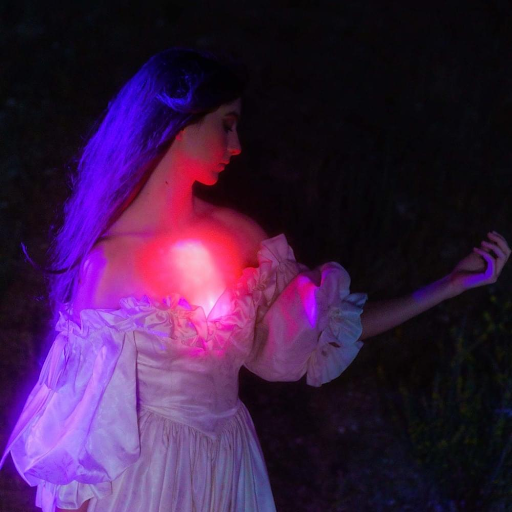 "God Turn Me Into A Flower" starts small with its lone organ chords, Mering's saccharine vocal passages, and three short verses. Ultimately, the track progresses into a lush expansion of delicacy and flowery softness. Gradually, it becomes a culmination of glittery strings, harmonious hums and "aah"'s, satisfying synth quirks, and the ambient sounds of a rainforest. "You shatter easily and can't pick up all those shards," she croons in an impassioned upper register, just one example of the complexity of emotions she displays in her enriched lyricism. According to Mering, this desire to be a flower comes from the myth of Narcissus, whose excessive vanity led to his death and being turned into a flower; this mythical tale relates to modern narcissism bred by capitalism and how being turned into a flower would be "the perfect way to deal with everything that was going on."
Contemplative on apocalyptic times and the new anxieties of the last few years, "Hearts Aglow" is a mystical odyssey of uncertainty and conflicting optimism for the future. Whether it's "looking for love in all the wrong places" or "I've been without friends, oh, I've just been working for years and I stopped having fun," Mering ponders profoundly on what this post-pandemic world has in store for us and the difficulties found in moving forward. However, reassurance is found in "hearts aglow" even if "we don't know where we're going, we just keep getting higher." Supplied with enchanting seaside imagery and heaps of softness, this track is quintessential baroque pop perfection with its orchestral instrumentals guided by a dreamy harp, mellow guitars, and a shimmering harpsichord. 
"Twin Flame" diverges from pop baroque stylings into unconventionally exotic chamber pop psychedelia with the use of a peppy drum machine and ethereal upper register background vocals. Although sultry and sensual in sound, the lyrics are quite brooding at their core, reflecting on indifference and neediness in a relationship with burning questions of "Did I do something to wreck it all?"
If "Hearts Aglow" was a small step into what it can be like to survive in post-pandemic times, "The Worst Is Done" is an entire leap into the subject. Verse after verse and chorus after chorus, Mering embraces apocalyptic introspection and analytical rumination, the "what will happen"'s and the "where can we go from here"s. She acknowledges that "It's been a long, strange year" and "Everyone's sad they lost what they thought they had, we lost our voices," even making direct references to hyper-isolation. She tackles the newfound complexity of the world that we live in now as we become hyper-aware of our planet. Her reflection is such a profound expression of generational anxiety in the digital world, oozing with painful relatability and reaching the deepest crevices of sentimentality. Although we may hear that "the worst is done," uncertainty hides in the shadows, and we must learn to navigate our futures in this vastly different world. 
Not the most philosophical statement to end the record on, "A Given Thing" still accomplishes its pathos of intricacies of love in a dreamy landscape and serves as a pleasant conclusion for such a colorful collection of songs. With steady piano chords guiding the track, Carpenters-esque musical themes are executed well enough even if they don't leave a long-lasting impression on the listener. I wish it was a more musically compelling tune to tie the entire album together but for what it is, it is far from a completely unlistenable track. 
Overall?
From its wistful poetic wisdom to its symphonic baroque pop palette, "And In The Darkness, Hearts Aglow"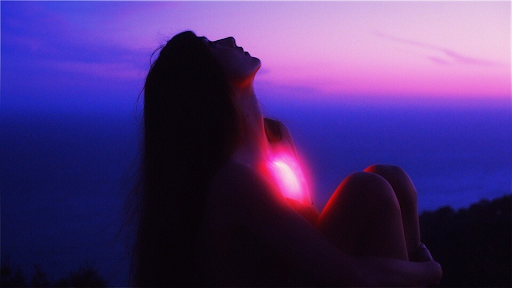 contributes significantly to the canon of Weyes Blood and the indie pop music scene. Calling it an enjoyable listening experience feels like a severe understatement to the lyrical brilliance and sonic elegance brought forth. In essence, its messages on psychological pondering, love, and digital vanity and its varied orchestration make it easily one of the most delightfully insightful projects of the year and very deserving of high praise and recognition.  
"And In the Darkness, Hearts Aglow," is…a 9/10. 
Favorite Tracks: Children of the Empire, Grapevine, God Turn Me Into A Flower, Hearts Aglow, Twin Flame, The Worst Is Done
Least Favorite Track: A Given Thing
View Comments(1)