Professor Spotlight: Ann Thompson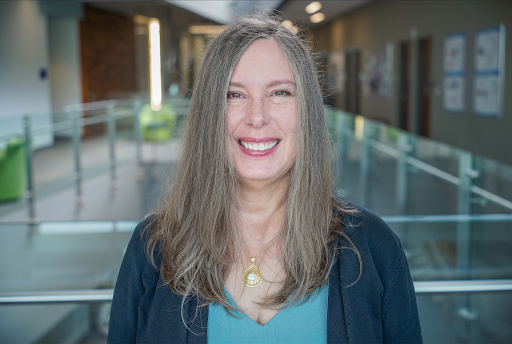 Professor Ann Thompson is an adjunct professor at Moravian in the English department. This fall was her first semester teaching at Moravian. She works full-time at Lehigh University as a Distance Education Coordinator. She earned her B.A. at Tennessee State University and her M.A. at Austin Peay State University (Clarksville, Tennessee). 
What inspired you to go into your field of study?
To say I love learning is an understatement. At university, I carried my TI-60 calculator in my purse long after I switched majors, midstream, from mathematics to English literature. As important as seeing the diverse ways of solving a problem are, it is as important to understand how to encourage the human spirit. My earliest inspirations to read and write were horse stories and poetry; later it was American literature and Shakespeare. I did not "discover" Jane Austen until grad school, but I adore her writing. It took me a while to realize this in the real world, but two of my biggest passions are higher education and the written word.
What research are you currently working on?
Currently, I am researching Australian aboriginal languages and how they shape their worldview.
What do you think is the most recent important development in your field of study?
Although perhaps not considered recent, creative nonfiction is important for those of us who did not obtain MFAs but who want to become better writers of true stories; creative nonfiction includes literary journalism, memoir, and travel writing. The most recent important development in higher education is diversity. I love learning about other countries and cultures by meeting and talking with folks from around the world or with those locals who embrace their own ethnic diversities.
What job would you have if you couldn't be a professor, regardless of salary and job outcome? Why? 
If I were not teaching, I would still be in higher education in some capacity. Learning and helping others is my life's work.
What do you know now that you wished you knew when you were in college?
In college, I wish I had embraced the importance of connections. I was idealistic in the sense that knowledge alone would get me where I wanted to go. I wish I had had an advisor who was also a mentor, and I especially wish I had been encouraged to look for internship opportunities. That would have saved me a lot of time.
What is your biggest student pet peeve? 
I'm old school, it bothers me that students now are so distracted by technology, myself included.
What should students expect from your classes? What is the secret to succeeding in your classes?
Students should expect me to be excited about my subject, and they should know I care and want to know what they think and what their experiences have been. The secret to succeeding in my class is simply to be open to responding to our readings and be determined to learn how to make your writing as clear as possible. 
What was the last streaming show that you binge-watched or the last good book that you read? 
The show I am binge-watching (again) is "Gilmore Girls"—sometimes I relate more to Rory and other times Paris, unfortunately. The last good book I read—besides "Pure Land" for my class—was "The Other Half of Augusta Hope" by Joanna Glen. Augusta Hope will be inside me forever, as this character resonates with me more than any has in recent years. Beautifully written, it is about finding your true self and your home.
What is something interesting about you that most people don't know? 
Most people do not know my first solo trip was to Australia during my beloved mother's extended illness. I am just now fully processing and writing about that eight-day journey and how the entire experience has shaped my life and who I am.
What inspired you to teach LinC 101V: The Power of Personal Story?  
I made two decisions last year: the first was to be part of a memoir writing group and the other was to teach as an adjunct. Moravian provided the perfect opportunity to me for which I am so incredibly grateful. Like the old saying, when the student is ready the teacher will appear. Moravian is a wonderful teacher!
View Comments(1)