Moravian's Own Chocolatier: Erica Konczyk
Have you ever dreaded the monotony of an average workday? We ask Moravian's very own Erica Konczyk. The former English teacher in France turned chocolatier might say differently. 
These days Konczyk has traded her work as a chocolatier for an accounts payable position at Moravian University. Instead of measuring sugar and chocolate, she is fixing student timesheets and paying the entire university. 
Before working at Moravian, Konczyk was a student here. She graduated in 2013, majoring in French and then studying abroad at Université de Poitiers in the west-central part of France. Shortly afterwards, Konczyk moved an hour outside Paris to the small city of Rambouillet, where she taught English at a local high school.
Konczyk eventually returned to the Lehigh Valley and picked up a few odd jobs, including one working at a pizzeria in the Easton Public Market. It was there that she passed by the chocolate shop Chocodiem, and soon struck up a friendship with the owner, JP, a native French speaker. 
"When I first spoke to [him], I probably said something like, 'Salut! J'ai appris que tu viens de la belgique? C'est vrai?' which translates to 'Hey, I heard you're from Belgium. Is that right?' From then on we'd speak in French while passing," said Konczyk. During one of those exchanges Konczyk mentioned that she was looking to change jobs; on the spot, JP offered her one at his shop – and she happily accepted. They quickly became a formidable team: he the culinary artiste, she the grounded realist. 
Konczyk helped create and bring to life new flavors of chocolate that JP had not considered. In a previous job JP had used peanut butter to trap mice, so he was very hesitant about putting it into food. Konczyk told him that Americans love chocolate and peanut butter and convinced him to let her create a chocolate peanut butter truffle, which later proved to be one of the shop's most popular selections. 
Konczyk admits that working at Chocodiem turned her into a "chocolate snob" who began to look down at the big name chocolate brands she'd grown up with.
"The difference between Hershey's top chocolate and what we [at Chocodiem] consider 'real chocolate' is that Hershey's chocolate doesn't have any cocoa butter in it," said Konczyk. Mass chocolate producers tend not to use cocoa butter because the ingredient makes the chocolate more difficult to work with, she said, but gives the finished product – like the ones at Chocodiem – a better appearance and texture.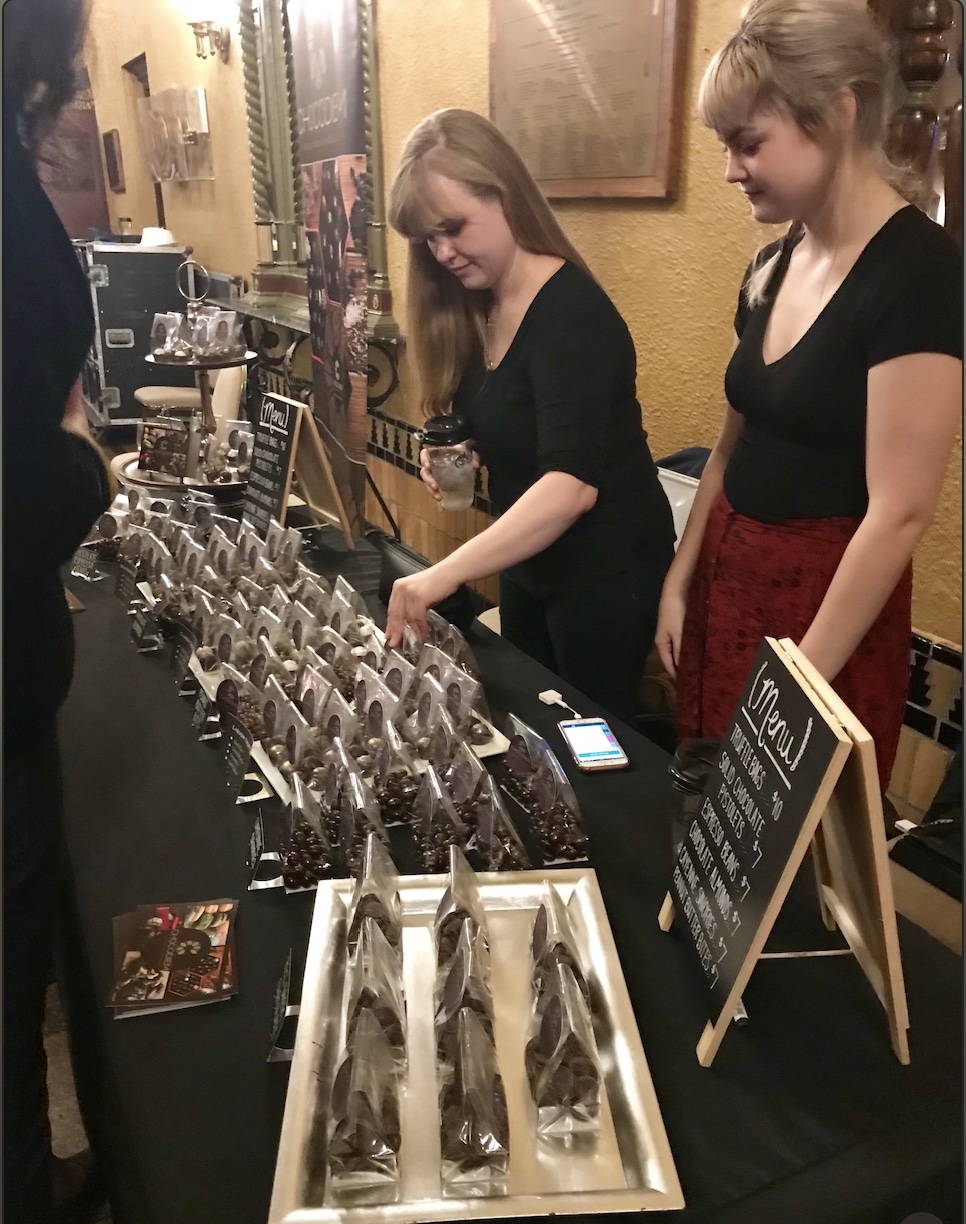 During her time at the shop Konczyk moved from chocolatier to manager when the company expanded to a new location. She assumed more responsibilities, including taking over many of the day-to-day operational duties, such as the hiring of staff. Konczyk's younger sister was one of her first hires. 
"She had been struggling with depression, and my parents were getting divorced," said Konczyk. "[My sister] never really left her room, so I was like, I need to get her out of that environment." For over two years Konczyk and her sister worked together, and happily.  At Chocodiem, the sister found a welcoming second home, where she gained new experiences and new friends.
Konczyk left Chocodiem after three years, but she still bakes, sharing her culinary creations with her enthusiastic co-workers in Moravian's business office. Today, she's known as the queen of confections, whose cream puffs, banana cinnamon cupcakes, chocolate peanut butter cookies, chocolate pot de crème (a baked custard), and pistachio cookies are the talk of Colonial Hall. 
"Oh, yes. She could bake for me anytime," said Lynn Masters, accounts payable clerk. "I just want her recipes!"  
Kerri Finkle, Moravian's payroll coordinator, agrees. "We really appreciate that she uses us as her guinea pigs, because everything she's brought in so far has been delicious."
For Konczyk, the road from Moravian student to a forever-chocolatier leads from her decision to live abroad. "Just being able to get out of the country for an extended period of time was a really big experience for me," she said. "I feel like I really grew as a person. It's really important to be outside of your culture. It broadens your horizons." 
And, as Koncyzk found, often your palate, too. 
View Comments (1)