Do We Even Need A Reason Why: Paramore's 'This is Why'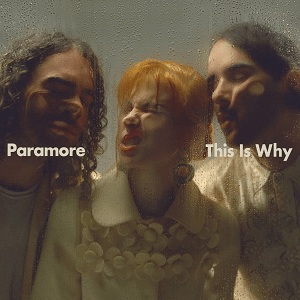 A paramour for pop-punk: 
"I still need a certain degree of disorder," croons Paramore pioneer, Hayley Williams, on the motif of disorderly internal dissonance prominent on the band's new record.
 Nearly two decades of sublime relevancy, Paramore is a name attached to the quintessence of pop-punk music with their throne among other greats such as Green Day, My Chemical Romance, and Fall Out Boy. "Misery Business" still captures the hearts of long-lived emo kids and out-far scene kids who understand the grit in Williams' insane vocal caliber.
 The trio, consisting of Hayley Williams on vocals, Taylor York on guitar, and Zac Farro on drums, have resumed their musical trajectory with a new rock record, "This is Why," a departure from the new-wave aesthetic charm of their last full-length project, "After Laughter." What can one expect from "This is Why?" A return to emo angst and a twinge of 2000s aesthetics? An alternative novelty to bring the genre back into the mainstream?
Why and How?
Where "After Laughter" meshed introspective, poignant lyricism with an optimistically 80s synth haze for a packaged musical therapy session, "This Is Why" discards upbeat production for a gritty, more tone-fitting alternative sound that directly interlocks with neo-melancholy and collective generational unease following the pandemic. Pandemic-inspired projects are nothing new, and nearly every well-known artist or collective has had their say on the affective invasion of pandemic anxiety. However, Paramore's approach to post-pandemic haziness comes from an emboldened sense of realism, to be able to simultaneously look inward and outward for plaguing problems and to use music as a conveyance of psychological unrest. 
The title track, "This Is Why," is a proclamation that sets the mood for the disorderly psychology and philosophy of this project. Not only is it subtly reflective of the polarizing cyber-world that absorbs people in the nastiness of online anonymity, but it also adopts an agoraphobic perspective and the fear of taking "one step beyond your door" to find a completely remolded world waiting for you. From softer-toned verses to a compelling hook that is electrifying to sing along to, this track stamps its statement and makes itself known as Paramore's reinvention and self-realized dogma in this new world. 
Engaged in the fervent affairs of the world, "The News" reflects on the unwavering helplessness that comes with seeing what is on the news. Most of the concerns align with the inadequacy of being a world away while others are in constant suffering across the globe. Moreover, it questions journalistic integrity and the loaded connotations when it comes to the performative and the exploitative. 
"Running Out Of Time" begins with this strange musical technique that sounds like a sound bit from Spongebob. However, it doesn't detract from the austerity expressed by the concept of time evading us. Sonically, the track values a dance-rock groove which is undermined by the low-key nature of the verses. In terms of lyrics, its relatability comes from a cheeky assessment of poor management skills and admitting to always letting time slip away.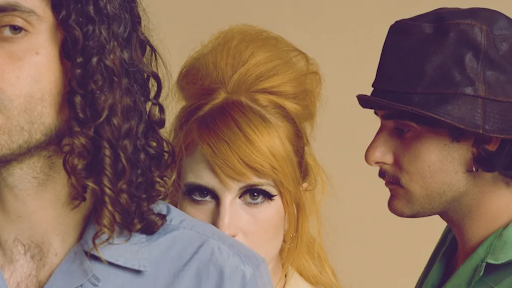 The unapologetic "C'est Comme Ça" is arguably the record's more stimulating song, conveying the messy pleasure of mental unhinge and chaotic gratification. From having social life about as fun as a chiropractic appointment to having a debilitating caffeine addiction, Williams reels listeners in with a monotone, sardonic spoken-word piece in the verses before ironically going all out in the chorus with the apathy of a phrase like "C'est Comme Ça" ("it is what it is") and some infectious "na-na-na"'s. 
Implementing a soft woodwind section as the backbone of its composition, "Big Man, Little Dignitiy" trades crashing hard guitar passages for mellow, summery gliding guitar compositions to underscore the dismantling of toxic masculinity. It illustrates a portrait of a man exuding excessive amounts of masculinity but lacking in the integrity department. Precise in its messaging, the feminist undertones unleashed by William's short belting bursts show the indignation as she talks about an unchanging man that she knows "could get away with anything, so that's exactly what you do," an austere commentary on what men can unfairly get away with.  
The seeming dissonance of "You First" translates into a psychological conflict of dichotomic good and evil. It seems like the tracks seek to strive for a moral grey zone when it comes to internalized tension with yourself. "Everyone is a bad guy," and yet, "there's no way to know who's the worst." The animalistic comparison to the human condition gives this visceral realism that resonates with an internal philosophy that we all have to suffer through. 
"Figure 8" does not do it for me sonically as it fails to. I do like the wind chime-like effects and the musical shouts in the pre-chorus but the track does not seem to stick in terms of musicality. Nevertheless, even without a captivating catchiness, I can get behind the thematic expression of going through the motions and being trapped in a perpetual figure 8. Its lyrical divination also comes from defiance of expectations, and Williams is not afraid to unleash her stellar upper register to convey her desire to escape mental imprisonment.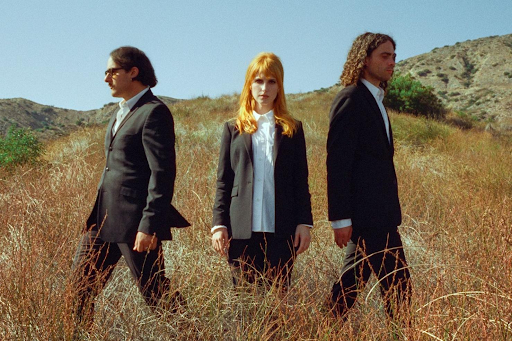 The three-track run of "Liar," "Crave" and "Thick Skull" is the album's celestial high point and bridges together all the themes expressed on the album thus far, not to mention the innovative musical deliveries.
Taking a more somber and starry approach, "Liar" adapts the traditional ballad form into alternative melodiousness. Williams' vocals are much softer and velvety, a display of comfort that directly parallels the delicate, love-riddled wordsmithing. The prominence of hesitation and uncertainty in newfound love in the lyrics are quickly dispelled as you think, "And why should I deny what's all at once so crystal clear?" and "Don't be ashamed of it." Paramore has always been good at detailing the intricacies of love in their ballads, and this track is certainly no exception. 
Another summery musical helping, "Crave" layers on blankets of nostalgia for times long gone, a theme more prominently observed in the band's last effort, "After Laughter." The romanticization of the past is an unhealthy mechanism, and one can even find themselves "when all it took to make me cry Was bein' alive." Nostalgia fuels depression, and this track takes this point to heart, with the band being more aware of the unhealthiness of excessive yearning on the psyche yet acknowledging that it can be difficult to keep yourself grounded in the present. 
Something about "Thick Skull," the record's epiphanic closer, feels inspired by Fiona Apple, especially after the first chorus implements drums, shoegaze guitar passages, and those Apple-esque piano chords. Much of the lyricism is reflective of the reception of the band over the year and the insecurities that have sprouted within its members. Williams denotes the melodrama surrounding the band's history as "a magnet for broken pieces" and how they are "attracted to broken people." At its core, the intention of this track seems fitting to end the record on a final act or chapter to conclude the themes of the record and hope to move onto greener, less depressive pastures. 
Overall?
Being a sonic departure from "After Laughter" and divorcing itself from the expectations of a purely "emo" record, "This Is Why" celebrates reinvention and a continued trajectory of rediscovery of oneself as we age. The exploration into the human condition and tricky external subject matters that deserve attention serves as a substantial basis for the record's philosophy and translates well through alternative and grunge perfections with some extensions of unconventional musical quirks. For its alternative music palette idiosyncrasies, honest realism, and for being a monumental return for Paramore, "This Is Why" is…a 9/10. 
Favorite Track(s): This Is Why, The News, C'est Comme Ça, Big Man, Little Dignity, You First, Liar, Crave, Thick Skull
Least Favorite Track(s): Figure 8
Leave a Comment