Moravian Grad Walks Around the World (With His Dog)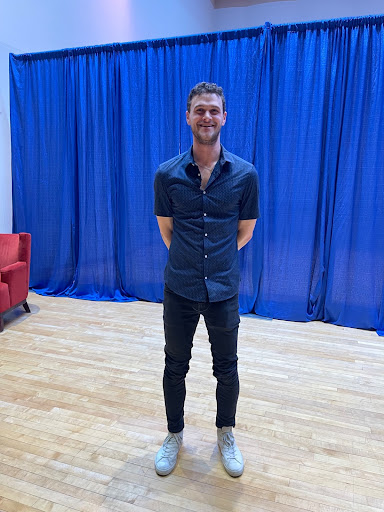 In 2021 Tom Turchich became the 10th person to complete a walk around the world. Over the course of seven years, he and his dog Savannah walked over 28,000 miles, through 38 countries and six continents. 
Before Turchich even began to think about embarking on this long journey, he was a student at Moravian University, where he was a member of the tennis team and the fraternity Omicron Gamma Omega.
"I think Moravian did give me this passion for learning that I didn't have, and I don't think I would have if I didn't come here," said Turchich, in a talk he gave in Foy Hall on February 16th.
Although he wishes that he'd studied harder throughout his time at Moravian, Turchich gained a passion for psychology here; he graduated in 2011 with a degree in both psychology and philosophy. 
For a while, he had an office job – and hated it. Turchich then decided to start paying off his student loans and saving money by working at his father's solar panel installation company. 
That's when he began to discover another passion: writing.
"So, I really enjoyed installing solar panels, and then I also started to write. I read 'Hitchhiker's Guide to the Galaxy,'" Douglas Adams' comedic science fiction series. "[I] thought it was such a crazy book. I was like, 'You know what? If I was gonna write a book, what would it be?' And for whatever reason, I just started writing and kept writing," he said. 
In the midst of all of this, his close friend Anne Marie died. This caused Turchich to reflect on what he wanted out of life — and the idea to walk around the world was born. 
"I realized initially how fleeting, potentially, my time is here," he said. "And so part of what I wanted was to be forced into adventure because I knew I wouldn't seek it out. I wanted to set myself out on a path where I was forced to see the world and grow."
Although Turchich could have chosen to bike or swim across the world, he decided to walk in order to gain the most from the experience. 
"Walking is like the most immersive way that you can [travel]," he said. "Even if you cycle somewhere, you can go down, and you can blast by these villages. But when you're walking, you will have to be there. You have to be in the places that maybe you don't even want to be. You have to be in the places that make you uncomfortable."
Walking also gave Turchich the opportunity to really think about life and reflect on his insecurities. 
"When you're out walking around the world, that's all that's there, and it's like you and your thoughts and there's no hiding from it at all," said Turchich. "So you're very exposed. It's really healthy in a lot of ways because any trauma you have, any idiosyncrasies that need to be resolved, they're all exposed to you."
In the beginning, Turchich was walking alone, but around the fourth month, he went to a shelter and adopted a puppy named Savannah. 
By the time Savannah was five months old, and the pair had reached Mexico, she was walking 24 miles a day with Turchich. 
Over the course of their journey, their bond grew strong.
"We went through so much together," said Turchich. "We were going through Central America, and we'd kind of navigate these things as one unit."
After they made their way through South America, Turchich and Savannah began to face larger obstacles when Turchich got a bacterial infection. 
He ended up going home for a few weeks, but his infection caught up to him when he was in Ireland and Scotland.
Usually, Turchich and Savannah would walk anywhere over 15 miles a day, but when he could only manage six, he knew something was really wrong. 
"I ended up spending a month in the hospital for infectious diseases," he said. "They ran all sorts of [tests] to figure out what I had, and then I came home. I was home for seven months before they figured it out."
Between getting the infection and then coming down with COVID-19 when he was stuck in Azerbaijan, a small country in Central Asia below Russia above Turkey, a five-year journey grew into seven. 
COVID-19 also impacted where Turchich was allowed to travel during the end of his journey. 
"Ultimately, I wasn't able to get to three countries that I would have hoped, which were Kazakhstan, Mongolia, and Australia," he said. 
Despite all the obstacles, Turchich still devoted time to writing and photography.
When asked about his favorite country, Turchich couldn't name just one. He did say he has a certain appreciation for Copenhagen due to how easy it is to travel through the city just by walking. He also expressed a lot of admiration for Georgia, the country. 
"It's  this young, vibrant democracy, democracy with great food culture and young, excited population."
Currently, Turchich is living in Seattle with Savannah, though he spends a lot of time giving talks about his journey and sharing his passion for traveling and learning about the world. 
More information about his journey across the world and his photography can be found on his website.
View Comments (2)