Humanities Fellowship Supports Student Passions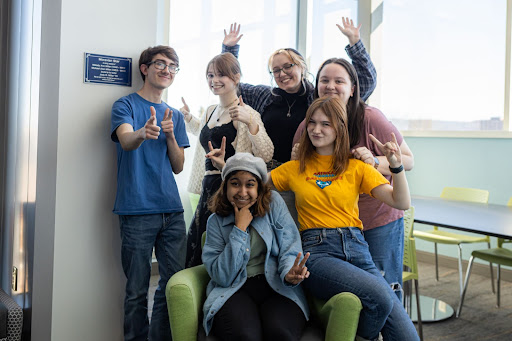 The Humanities Fellowship Program was founded two years ago with the initial hope of cultivating a love and respect for vocational applications within the humanities. The course organizes a small group of like-minded students into a full-year seminar course and a larger group meeting of all cohorts every two weeks.
The four-year fellowship is directed by Dr. Kelly Denton-Borhaug, professor of global religions, and Dr. John Black, professor and department chair of English and Writing Arts. The program aims to teach students how to turn their passions in the humanities into jobs.

Every year, the seminar addresses various prominent topics in the humanities. Last year, the course was Death, Dying, Rebirth and Murder, Mourning, Memory, taught by Moravian professor Kin Cheung, assistant professor of global relations. 
This year, Spanish professor Dr. Claudia Mesa is teaching the seminar titled Cinematic Encounters: Travel and Migration.
In Mesa's seminar, students learn about diverse aspects of migration often not discussed in existing academia, such as modern, spiritual, physical, and even culinary migration. The syllabus includes numerous films and readings, like the 1961 "West Side Story" and Alfonso Cuarón's ​​"Gravity." 
"The course has given me a new perspective on the plethora of ways that migration can be undergone," said history major Nathen Pynchon '26. 
In addition to growing their academic interests, Fellows work to develop an interest in social justice.

"[Students] are using the humanities to pursue questions of social justice that they are passionate about," said Denton-Borhaug. "They are taking time for a real conversation with one another about what really matters to them personally and about so many quandaries we face in our world. They are expanding and expressing their creativity and intelligence through a vast variety of mediums."
The cohorts organize a group-led project every year to increase the acknowledgment of and engagement in the humanities through various mediums and multimodal efforts. This year, the first-year cohort is currently working with the Moravian marketing team to record a short video explaining the program to interested students.
The fellowship especially focuses on how students can apply the humanities they are passionate about to their future lives and careers. 
"Through the humanities, one builds communication and critical thinking skills that are beneficial no matter what path one takes in life," Pynchon said. "They help us understand ourselves and our world, as well as prepare us to be better citizens after college."

The Humanities Fellowship prompts students to think about where this exploration will lead them in their futures, referring to this as vocational development. Vocational development is a process of profound understanding combined with hands-on experiences and plenty of conversations with people from various walks of life. 
The fellowship seeks to support students engaging in the humanities through educational, occupational, and social interactions with other like-minded students, even if the majors differ. 
"The fellowship has not only given me the opportunity to meet people outside my field but other students pursuing similar goals to mine," said Pynchon. 
"The unbelievable gift of the humanities is that it opens doors we never even knew were there," said Denton-Borhaug. "This kind of deep and open-ended growth is counterculture to many of the trends of today's world, where too many people fearfully grab for the lowest hanging fruit, a job path toward whatever seems most immediately certain and secure."

The first-year Humanities Fellows cohort meets twice weekly in the seminar course and also meets bi-weekly to prepare a descriptive video with Moravian Marketing. The sophomore Fellows are currently meeting over dinner to organize their collaborative project. 
Fellows are eligible for an additional $5,000 scholarship on top of their merit scholarships. 
"It takes courage and vision today to pursue the humanities.  [But] it's worth it," said Denton-Borhaug. "Stop for a moment to speak with some of our Humanities Fellows; discover for yourself what is irreplaceable about the humanities."

The time commitment of the fellowship is similar to that of a class. Credit-wise, Fellows should expect to enroll in a total of 1.25 credits for their first two semesters in the program and then another .25 credits for their third semester. 
"Having the opportunity to be a part of this cohort has given me the chance to be a part of an amazing support network of incredibly driven, kind, and overall just amazing people. As we each pursue our own personal projects, the rest of the cohort is there to cheer each and every one of us on," Pynchon said. 
If you are interested in learning more about the Humanities Fellowship and how to join, click here. 
View Comments(1)