Praise of the Week: B&G Dining Workers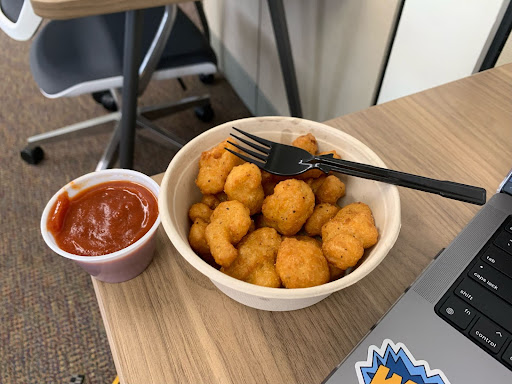 This Praise of the Week may be coming a little sooner than expected, as our Editor in Chief, AJ Minnich, also wrote an article of a similar nature last refresh. However, our newspaper staff just cannot get enough of the B&G–we love it! 
My first praise is the unbelievably friendly staff, which extends far beyond the B&G. The Star and Clewall workers are so incredibly friendly, something I didn't appreciate until I visited my boyfriend's college. 
At his college, the workers were, for lack of better words, very rude and unapproachable. In addition, his college doesn't have any sort of general store like the B&G to buy quick snacks outside of the dining hall hours, really making me realize the privilege of Moravian's food selection. 
Additionally, I have never been met with anything except kindness by any dining worker at Moravian. The vibe in the B&G is simply unmatched. I love walking into the store after class and hearing the workers sing along to Queen or other amazing music. It really seems like the staff cares about their students, and they greet everyone with a smile. 
The staff at the B&G are so impressive that they started to recognize my side sauce without me having to ask for it. Special shout out to Derrick, who always makes my cauliflower bites perfectly and remembers my name with my order. Small things like that make my day, so thank you!
I am one of the pickiest people ever, but the B&G always has something for any mood I'm in. The cauliflower bites deserve some sort of reward–maybe even the Nobel Peace Prize. I could have the worst day; one taste of those cauliflower bites will immediately calm me down. 
I pay six dollars for something I believe is a divine gift. And they are somewhat healthy, or at least I tell myself that. I willingly subject myself to mouth burns every time I order these cauliflower bites, and it's completely worth it. 
Not only that, the B&G feels so accommodating. There are a ton of gluten-free options and so many options for people with food sensitivities. 
As another sensitive food staple, the peanut butter and jelly sandwiches at the B&G are my lunch every day; to whoever makes them: thank you so much. You are single-handedly fueling my academic success at Moravian University, so thank you for your service. 
And, no matter when I order, my food is quickly prepared and hot. Even during the craziest rush hours, the B&G workers always seem to keep their cool and provide everyone with their proper orders. 
As another incredible feat, my order has only been messed up once in the entire time I've been at Moravian, and that was because I didn't realize how to order correctly at first. The B&G staff manages to create fantastic food quickly and efficiently, and I cannot credit them enough for this. 
My following praise is that they always seem to want to improve. You can try to hate Dining Services all you want, but I know they are constantly looking for student feedback on how to better accommodate. Whenever I had a complaint, it was almost immediately fixed, and I give them so much credit for that. 
I remember complaining about how there were not any sweet tea options in the B&G, and within weeks, there was sweet and extra sweet tea to choose from. 
The staff also stayed open late for me one night and took my order by hand, something I will never forget. Shoutout to Aaron for being so kind and helpful!
In addition, I feel like the refrigerator restocks have become a little more steady and frequent, and I usually can find a good amount of grab-and-go options, no matter the time of day. I have so many nice things to say about the B&G and the workers that this article could go on forever. 
Seeing students being rude to our dining workers is frustrating because I know how difficult and laborious food service can be; our workers are too friendly to be treated like that. One time, I asked a dining worker how they were doing, and they said I was the first person to ask them that for their entire shift–and hearing that broke my heart. 
Dining does so much for our students and deserves kindness and recognition. So, be a little nicer to the food workers today.
View Comments (2)