MU Basketball Alum Trains Superstars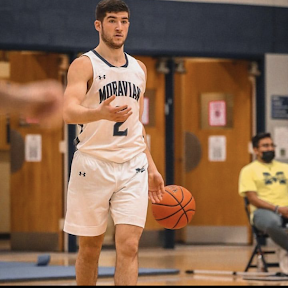 Danny Cooper, a graduate student and basketball player at Moravian University, lives a double life all basketball fans dream of.
Not only is Cooper studying at Moravian University while playing collegiate basketball, but he also spends his time traveling to train NBA basketball players, including the 2023 NBA Dunk Contest Champion Mac McClung.
Cooper grew up loving the game of basketball with his father even building him a court in his backyard. After a successful high school career racking up multiple Division III offers, Cooper decided to try walking on to the Penn State University Division I basketball team. 
"I was always like Division one or bust," said Cooper. 
Two years went by and Cooper was still not able to earn a roster spot at Penn State University. He decided he missed playing basketball too much and wanted to go to a school where he had the opportunity to be on the basketball team. 
"I knew the assistant coach on Moravian from my hometown and he was like come to Moravian," said Cooper. "So I pretty much just took a leap of faith and decided to transfer."
At Moravian, Cooper's injuries caused him to miss a lot of game time. In his junior year during COVID-19, he missed all nine games of the season because of a broken foot. In his fifth year, he sprained his ankle causing him to miss the second half of the season. 
Nevertheless, when Cooper was healthy, he was a must-play for the Greyhounds basketball team. In Cooper's senior year, he started and played in all 25 games, averaging 15.4 points per game, and in his fifth year before his injury, he started and played in all 14 games, averaging 12.1 points per game.
As much of an impressive playing career Cooper had at Moravian, his resume for training basketball players is arguably even more impressive. Starting at the age of 16, Cooper was trying to find ways to make some money and came across the idea of basketball training. 
"Growing up, I was always a gym rat," said Cooper, "so I started to just work kids out in my community."
Cooper continued to train players throughout high school and in college, where he landed an internship that would massively change his life.
In his sophomore year of college at Penn State University, Cooper attended a two-day basketball training conference in Illinois, where he met professional basketball trainer Drew Hanlen, who trains NBA stars, such as Joel Embiid and Jayson Tatum. After staying in contact with Hanlen, Cooper was able to land an internship working with Hanlen for NBA pre-draft workouts in Philadelphia. This is how Cooper entered the realm of training NBA players and where he first met Mac McClung.
In Philadelphia, Cooper and McClung started to form a strong relationship, training twice a day almost every day of the week. 
"Mac and I pretty much clicked instantly," said Cooper. "We were only a year or two apart and related on a lot of things." 
McClung would go on to be undrafted and sign a G-League contract with the South Bay Lakers, based in Los Angeles. 
Cooper tried to stay in contact with McClung, and after a busy first few months in LA, Cooper flew out to meet with McClung again. After talking in LA, Cooper got invited to help train McClung in Gate City, Virginia. 
"I drove down from Moravian to Gate City, and the rest is history," said Cooper. "We've been rocking together for the last year so."
The rest has been literal history. 
On Saturday, February 18th, 2023, McClung went viral worldwide when he won the 2023 NBA Dunk Contest. Cooper was there in front-row seats to witness it. Cooper created a video with behind-the-scenes access to McClung's journey through NBA All-Star week and released it on his YouTube channel "Danny Cooper Basketball" where there are also workout videos and interviews with McClung. 
After McClung's impressive performance, NBA legend Shaquille O'Neal would go on to say, "[McClung] saved the dunk contest." 
Cooper's journey in basketball has allowed him to have experiences unlike any average University student, such as training with NBA stars like Tyler Herro, Kelly Oubre, and Marcus Morris. Cooper has also traveled to numerous different cities to train basketball players like Los Angeles, Philadelphia, Chicago, and Miami. 
On the week of April 3rd, 2023, as Moravian University students started to get ready for their end-of-semester workload, Cooper had other plans, "I'm going to Europe to help one of my trainer friends run clinics in Iceland and in Milan."
For Cooper, his journey of learning about basketball training is far from over. "I just try to learn from everyone that I can and be a sponge studying the game," he said. When asked if he had any future goals, Cooper said, "Ideally run clinics around the world and train a couple more NBA guys, documenting the process, creating free content and just having a good time." 
Leave a Comment